Today's team review is from Noelle, she blogs at http://saylingaway.wordpress.com
Noelle has been reading Echoes of Time by Anne Allen
I fell in love with books about the Guernsey Isles when I read The Guernsey Literary and Potato Peel Pie Society by Annie Barrows. Until then I had known nothing of the Channel Islands and what their inhabitants had endured during WWII. This book returned me there and had the added attraction of being a time slip novel, alternating between the present time and the time during that war.
In 1940, Olive Falla, a fairly independent young woman, who works as a farmhand on her father's far, married Bill Falla. Falla owns his own farm, and Olive thinks this is the best future for her. She soon discovers she's made a horrible mistake – Falla is a harsh, unloving, and demanding husband, who sees his wife as a slave to work the farm, take care of him, and give him children. Soon he finds any excuse to beat her. By chance, when collecting sticks for scarce firewood on an estate taken over by the German occupation, Olive meets Major Wolfgang Brecht, a veterinarian. She falls in love with the gentle and caring Wolfgang, who makes excuses to visit the farm to inspect the cows.
Flash forward to 2010, when Natalie Ogier returns to her homeland of Guernsey to escape her stalker, a man with whom she had a relationship but who turned abusive. She buys a beautiful cottage, built on the site of a secluded and burned out farmhouse. Her immediate neighbor is Stuart, the grandson of the original owners, Olive and Bill. His mother, their child, has lived off the island since she was old enough to be on her own, leaving her mother and her life there behind.  Stuart knows nothing of his grandparents because his mother is silent on her past.  When strange and eerie things begin to happen in the cottage, accompanied by a threatening voice, Natalie initially tries to tough it out on her own. Eventually she confides in Stuart and her parents.
Natalie wonders whose spirit is inhabiting her cottage, and after meeting Stuart's mother, she becomes convinced that it has something to do with his grandparents. What happened to Olive, Bill and Wolfgang? What spirit inhabits Natalie's cottage? Is it malevolent and how can it be banished? What links Stuart and his mother to that place? You'll have to read the book to find out!
I thoroughly enjoyed this story. It has several compelling threads and the jumps back and forth in time left me hanging and wanting to read on. The only problem was the prolonged diversion to France, where Natalie is invited to attend Stuart's mother's marriage to a gentle and understanding man. It went on far too long, and added virtually nothing to the progress of the story, so I skipped through it. I think it could have been omitted or vastly shortened.
Other than that, the author has created believable characters, lovely descriptions of Guernsey, and lots of tension, along with a healthy dose of history.  It is clear why she is a popular author. Well worth the read!
Book Description
Betrayal, injustice and revenge echo down the years… 
1940. Olive marries farmer Bill Falla. The Germans occupy Guernsey. 
All too soon Olive realises she's made a mistake. 
Her life changes when she meets Wolfgang, a German officer- 
but there's a price to pay. . . 
2010. Natalie Ogier returns to Guernsey to escape an abusive relationship – only to be plagued by odd happenings in her beautiful cottage on the site of a derelict and secluded farm. Disturbing dreams, disembodied voices and uncanny visions from the past. She becomes increasingly ill at ease as someone else's past catches up with her own… 
Her only immediate neighbour, Stuart, is the grandson of the original owners, Bill and Olive. 
Thrown together in a bid to find out what really happened to Olive, can they each survive the repercussions of the past and move on? 
About the author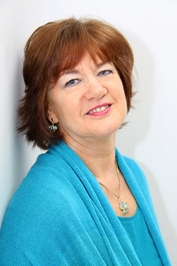 Anne Allen lives in Devon, by her beloved sea. She has three children and her daughter and two grandchildren live nearby. She was born in Rugby, to an English mother and Welsh father. As a result she spent many summers with her Welsh grandparents in Anglesey and learnt to love the sea. Her restless spirit has meant a number of moves which included Spain for a couple of years. The longest stay was in Guernsey for nearly fourteen years after falling in love with the island and the people. She contrived to leave one son behind to ensure a valid reason for frequent returns.
By profession Anne was a psychotherapist but has long had creative 'itches', learning to mosaic, paint furniture, interior design and sculpt. At the back of her mind the itch to write was always present but seemed too time-consuming for a single mum with a need to earn a living. Now retired from the 'day job', there's more time to write and Anne has now published five books in The Guernsey Novels series (as at August 2016). A sixth will be published in 2017.