Today's team review is from Karen, she blogs here http://sassyredheadbookreviews.wordpress.com
Karen has been reading The Betrayal by Anne Allen
A great read that takes place in the 1940s and 2000s. I loved the way the book was written to give you a background of what happened during the German occupancy of Guernsey in the 1940s and goes to current day where we find out who the betrayer was as well as what happened to Leo's families valuables. The book was well written and moves effortlessly through between the decades.
This was my first time reading Anne Allen, and I now want to go back to read the other books in the Guernsey Novels. The mystery of the belongings found and the rightful owner takes us through the years and how the items came to be hidden as well as their value in present day.
If you enjoy a good mystery and the connections made while trying to figure out who the bad guy is, then this book is a good choice. I give this book 5 stars.
Treachery and theft lead to death – and love
1940. Teresa Bichard and her baby are sent by her beloved husband, Leo, to England as the Germans draw closer to Guernsey. Days later they invade…
1942. Leo, of Jewish descent, is betrayed to the Germans and is sent to a concentration camp, never to return.
1945. Teresa returns to find Leo did not survive and the family's valuable art collection, including a Renoir, is missing. Heartbroken, she returns to England.
2011. Nigel and his twin Fiona, buy a long-established antique shop in Guernsey and during a refit, find a hidden stash of paintings, including what appears to be a Renoir. Days later, Fiona finds Nigel dead, an apparent suicide. Refusing to accept the verdict, a distraught Fiona employs a detective to help her discover the truth…
Searching for the rightful owner of the painting brings Fiona close to someone who opens a chink in her broken heart. Can she answer some crucial questions before laying her brother's ghost to rest?
Who betrayed Leo?
Who knew about the stolen Renoir?
And are they prepared to kill – again?
Anne Allen lives in Devon, by her beloved sea. She has three children and her daughter and two grandchildren live nearby. She was born in Rugby, to an English mother and Welsh father. As a result she spent many summers with her Welsh grandparents in Anglesey and learnt to love the sea. Her restless spirit has meant a number of moves which included Spain for a couple of years. The longest stay was in Guernsey for nearly fourteen years after falling in love with the island and the people. She contrived to leave one son behind to ensure a valid reason for frequent returns.
By profession Anne was a psychotherapist but has long had creative 'itches', learning to mosaic, paint furniture, interior design and sculpt. At the back of her mind the itch to write was always present but seemed too time-consuming for a single mum with a need to earn a living. Now retired from the 'day job', there's more time to write and Anne has now published five books in The Guernsey Novels series (as at August 2016). A sixth will be published in 2017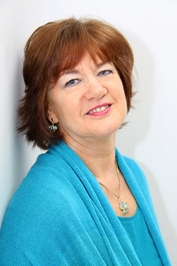 Goodreads | AmazonUK | AmazonUS | Twitter