Today's team review is from Liz, she blogs here https://lizannelloyd.wordpress.com/
Liz has been reading The Betrayal by Anne Allen
The Betrayal is set mostly in Guernsey but in two eras.  First, we find ourselves in 1940, where Teresa Bichard is distraught at leaving her husband, Leo, on the island while she flees to her family on the mainland with their baby daughter.  The Germans are expected to invade imminently but Leo feels he must look after their home and antique business in Guernsey. Fast forward to 2011 and we meet Nigel and his twin sister Fiona, who have bought that antique shop, but from a different owner.
While decorating, the twins find a hidden trap door concealing some paintings which seem to include a Renoir.  As an art historian, Fiona has the contacts to authenticate the painting, so she returns to London, but while she is away, events take a sinister turn.  Nigel appears to have committed suicide but Fiona (and the reader) does not believe this so she employs a private detective.  Is his death connected to the painting and to the betrayal of Leo Bichard, who was sent to a concentration camp in 1942?
This book is full of detailed descriptions of the beautiful beaches and stunning views on the island and delicious meals served in sumptuous surroundings.  All Fiona's friends are wealthy and live in amazing properties which is delightful to read about, but seems slightly like leafing through a glossy homes magazine.
In some ways a cosy mystery but with thrilling use of tension and a warm budding romance, it is a pleasure to read.  The inclusion of events during the occupation made it particularly interesting to me.  Although book 6 of Anne Allen's Guernsey novels, it is a standalone story.  I shall be seeking out earlier volumes in the series.
Treachery and theft lead to death – and love
1940. Teresa Bichard and her baby are sent by her beloved husband, Leo, to England as the Germans draw closer to Guernsey. Days later they invade…
1942. Leo, of Jewish descent, is betrayed to the Germans and is sent to a concentration camp, never to return.
1945. Teresa returns to find Leo did not survive and the family's valuable art collection, including a Renoir, is missing. Heartbroken, she returns to England.
2011. Nigel and his twin Fiona, buy a long-established antique shop in Guernsey and during a refit, find a hidden stash of paintings, including what appears to be a Renoir. Days later, Fiona finds Nigel dead, an apparent suicide. Refusing to accept the verdict, a distraught Fiona employs a detective to help her discover the truth…
Searching for the rightful owner of the painting brings Fiona close to someone who opens a chink in her broken heart. Can she answer some crucial questions before laying her brother's ghost to rest?
Who betrayed Leo?
Who knew about the stolen Renoir?
And are they prepared to kill – again?
Anne Allen lives in Devon, by her beloved sea. She has three children and her daughter and two grandchildren live nearby. She was born in Rugby, to an English mother and Welsh father. As a result she spent many summers with her Welsh grandparents in Anglesey and learnt to love the sea. Her restless spirit has meant a number of moves which included Spain for a couple of years. The longest stay was in Guernsey for nearly fourteen years after falling in love with the island and the people. She contrived to leave one son behind to ensure a valid reason for frequent returns.
By profession Anne was a psychotherapist but has long had creative 'itches', learning to mosaic, paint furniture, interior design and sculpt. At the back of her mind the itch to write was always present but seemed too time-consuming for a single mum with a need to earn a living. Now retired from the 'day job', there's more time to write and Anne has now published five books in The Guernsey Novels series (as at August 2016). A sixth will be published in 2017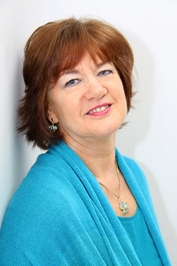 Goodreads | AmazonUK | AmazonUS | Twitter