COVID-19 The Battle for Humanity by Loralyn Mears
This is a hard science and medical thriller that you won't be able to put down!
2020 started off full of promise with a new year and a new decade. And then the world changed. The economy collapsed, healthcare systems were overrun and governments were exposed as woefully ill-prepared.
It was the perfect storm.
Seemingly overnight, daily life stopped. The COVID-19 global pandemic, caused by the novel coronavirus, SARS-CoV-2, created a ripple effect that was felt around the globe.
But science would save the day.
Peg Araro, PhD, an epidemiologist at Virubio, takes readers on an intense and thrilling ride in her quest to find a cure. Steeped in science and anchored by actual events, this Sci-Fi thriller demonstrates the power of "we."
Join Peg and her collaborators on a journey fraught with peril, suspense and intrigue.
Genre: Contemporary fiction
Format: Mobi
Season Of Second Chances by Aimee Alexander (286 pages)
Grace Sullivan flees Dublin with her two teenage children, Jack and Holly, returning to the sleepy West Cork village where she grew up. No one in Killrowan knows what Grace is running from – or that she's even running. She'd like to keep it that way.
Taking over from her father, Des, as the village doctor offers a very real chance for Grace to begin again. But will she and the family adapt to life in a small rural community? Will Grace live up to the doctor that her father was? And will she find the inner strength to face the past when it comes calling?
Genre: Women's Fiction
Format: download code for book funnel mobi / e-pub options
The Vermeer Deception: An Art Mystery (Zelda Richardson Mystery Series Book 4) by Jennifer S. Alderson (191 pages)
An art historian finds – then loses – a portrait by Johannes Vermeer in this thrilling art mystery set in Munich, Heidelberg, and Amsterdam.
When Zelda Richardson investigates a new lead about a missing portrait by Johannes Vermeer, no one expects her to actually find the painting in a retired art dealer's home in Munich, Germany. Not her parents visiting from America; her boss, private detective Vincent de Graaf; or the rightful owner of the Nazi-looted artwork.
However, Zelda's jubilation turns to horror when she arrives to pick up the portrait and finds the art dealer dead and several frames smoldering in his fireplace.
Was the Vermeer a fake and its 'discovery' a cruel joke played on a Nazi victim? The Munich police, Zelda's family, and Vincent certainly think so.
Yet the art dealer's best friend believes he was murdered and the real Vermeer stolen by an underground network of art looters, one established during World War II and still active today. The problem is, no one believes him – except Zelda.
Zelda soon finds herself in a dangerous game of cat-and-mouse with immoral art collectors, corrupt dealers, and an all-to-real killer who wants her to stop searching.
Can Zelda uncover the truth about the Vermeer before she is painted out of the picture permanently?
Genre: Mystery
Format: Mobi
Taken In Nuala by Harriet Steel (book #8 of The Inspector de Silva mysteries) (ARC now for June publication)
When an American millionaire and his glamorous daughter visit Nuala, the splendour they bring to the town's high society is soon tragically tarnished by a vicious crime.
With many avenues of inquiry to follow, including the involvement of a mysterious fortune teller, Inspector de Silva will need all his resources to unravel the evidence and avert further disaster.
A gripping mystery with lots of twists and turns set in the colourful and fascinating world of 1930s Ceylon.
Genre: Cosy mystery
Format: Mobi
Burntbridge Boys by John F Leonard (80 pages – ARC now, due out April 9th)
It's 1979 and Sammy Rafferty is on the run. From the past. From the police. And, perhaps more importantly, from some rather unfriendly criminal types.
He thinks his football dreams are over, but that might not be the case. He's run to Burntbridge Lye. A place where dreams don't always die.
Genre: Horror
Format: Mobi
The World Without Flags by Ben Lyle Bedard (ARC now for June publication 539 pages)
Ten years after a plague of parasitic worms decimated humanity, turning some of them into zombies, the world has become a dangerous country of bandits and hunger. Across this landscape, a young woman must overcome terror and isolation to survive. Driven by determination and loyalty, she must leave the only home she has ever known, confronting both death and her past. Pushed to her uttermost limits, she will discover who she is and what she is willing to sacrifice.
Genre: Post-apocalyptic
Format: Mobi / e-pub
Conquer Depression In 10 Steps by Sylvester Quill (279 pages)
On one eventful day, Mr Quill decided to give himself a shot at a better life. And he never regretted his decision. Now he is confident about himself, has run a marathon and volunteers with a palliative care organization. He has also become so spectacularly productive that he was promoted twice within 2 years.
Genre: Non Fiction
Format: Mobi / e-pub
Home At Last by Judith Keim (ARC now for April publication) 233 pages.
Louise "Lulu" Kingsley is thrilled to discover after years of wishing for a sibling, Cami Chandler is her half-sister. When Cami invites her to live with her at Chandler Hill, Lulu jumps at the chance to leave behind all the heartache in her recent life. Not the spoiled little rich girl the media would like everyone to think, Lulu digs into marketing for the inn and winery, feeling more comfortable there than she ever did in California with her political father. Better yet, her mother is becoming a stronger, happier person and shares the idea of becoming part of a new family. Even though Lulu is aware that Miguel Lopez is the kind of guy who represents everything she's trying to forget, she's attracted to him. Following a heartbreaking situation, she steps away from their relationship. Lulu settles in at Chandler Hill, coping the best way she knows—by working hard. But when Cami's beloved grandfather, Rafe, has a stroke, Lulu realizes life is short and knows she must make things right with Miguel, and learns that home is where your heart leads you.
Genre: Women's Fiction
Format: Mobi / e-pub
The Girl Who Wasn't There by Nick Clausen (ARC now for April publication – novella length)
Monsters are real. And they steal children.
 
A girl named Rebecca disappears without a trace. The police have no clue as to what might have happened. The severed family is thrown into despair as days go by, then weeks, and still no Rebecca.

Her older brother Andy begins looking for her on his own at night. Soon he becomes convinced that a supernatural being has taken Rebecca. Unfortunately, it turns out he's right …
Genre: Supernatural thriller
Format: Mobi or epub
The Devil's Bidding by P.L. Doss (352 pages)
Hollis Joplin, death investigator for the ME's Office in Atlanta, is looking forward to his wedding in the spring. But his rare sense of optimism is shattered one morning when he receives a set of crime scene photos depicting his former girlfriend. Her fiancé, a prominent black attorney, becomes the chief suspect, and her father, a retired Marine Corps general, wants Joplin to be part of the investigation. Concerned that the person who sent him the photos is trying to implicate him in the murder, and even more concerned the murderer may be someone close to him, he agrees.
Meanwhile, hotshot lawyer Tom Halloran, sometime friend and occasional bane of Joplin's existence, becomes involved in the appeal of a TV star's conviction for murdering his wife. The case is eerily similar to Joplin's: The actor is black, his dead wife was white, and both victims were strangled. Reluctantly, as always, Joplin and Halloran begin to share information.
Against a backdrop of racial tensions in a community that's becoming polarized by newspaper headlines describing a "modern-day Othello," they focus on whether the murders were committed by the same person. When more deaths occur, the answer seems clear—but as both men have discovered in the past, appearances can be deceiving, and villainy comes disguised in many forms.
Genre: Mystery
Format: Mobi
Perseverance Flooded the Streets by Abbey Seitz (164 pages)
In the midst of a chaotic, unbound city, Lovelyn's silence is haunting her.
Lovelyn is a 25-year-old graduate student in Madison when she is offered a research position in Bangalore, India. Before stepping foot in Bangalore, Lovelyn wakes to a harsh depression after being assaulted. As Lovelyn travels through the colorful and dilapidated landscape of urban India, she must confront her broken mental world, all while trying to understand, and overcome, the complex social and cultural norms that continue to hold women back.
Moving, intimate, and beautifully written, Perseverance Flooded the Streets is a book for a rising generation of girls and women; a novel that at once reminds us that resilience resides in all of us, ebbing and flowing like waves through despair and triumph.
Genre: HistFic
Format: Mobi
Mountain Climbing With Dinosaurs by Doug Goodman
Survivors of a high school shooting are climbing a mountain peak to memorialize their fallen friends and classmates. But they will have more than steep inclines and harrowing overhangs to deal with on this climb because this mountain is populated by hungry meat-eating dinosaurs.
Genre: Horror
Format: Mobi
You Can't Force Love by Marie Drake (216 pages)
From different towns and social backgrounds, Jordan Fry and Kimberly Orvine experience life-altering abuse, lose a parent and land in the same foster home. Angry, and self-deprecating, fiery redheaded Kimberly is deadset on lousy behavior and suffering the consequences, punishing herself for former sins. Scared by his inner darkness, pyromaniac Jordan has vowed to change for the better. He focuses on Kimberly as the key to his success, but she intends to make him break his promises. Unaware of Jordan's atrocious actions in the past, she's dangerously close to unleashing the evil he struggles to contain during their epic battle of wills. Can they both survive?
Genre: Psychological Suspense
Format: Mobi or Gifted from Amazon.com
The Last Resort by Emily Gallo (332 pages)
An old sixties musician and his trim mama run a pot farm in the Emerald Triangle of northern California and welcome an exonerated ex-con, a Las Vegas prostitute, a union organizer from the Bronx, an escapee of a sex slave cult, a retired carney with Parkinson's Disease, and an old Mississippi blues guitarist down on his luck. Together they create a last resort, a modern version of home and family.
Genre: Literary Fiction
Format: Mobi / e-pub
The Alexandrite by Dione Jones (328 pages)
Who is the stranger found dead in the woods, outside Pamela Lady Scawton's family home? Why was he carrying a stone that changes colour and a threatening letter?
The quest leads from World War One to the present day and from an English village to New Zealand farmland, to discover how past events are intertwined with the present. To unravel the mystery Pamela is forced to confront truths that shatter her beliefs about her family and their place in the world.
The Alexandrite is a story of class conflict, hidden sins, and deceit.
Genre: Cosy mystery
Format: Mobi or e-pub
An American Weeia in Paris by Elle Boca (#4 in the series can be read as a standalone)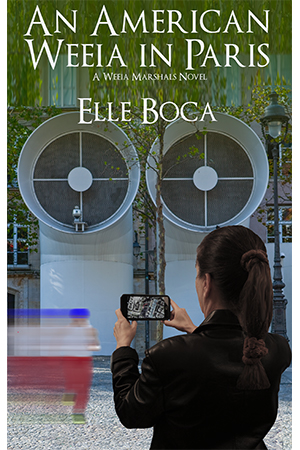 Parisians are delighted with the mysterious new superhero that has made the city safe from an out of control plague of robbers and criminals. The superhuman authorities, on the other hand, are non too happy because they suspect the superhero is one of their own, who is violating a prime directive, to keep their identity secret from humans. Danni, acting head of the Paris Weeia office, is tasked with apprehending the rogue superhero. Will she succeed before a well connected upstart beats her to the goal and steals her job?
Genre: Urban Fantasy
Format: Mobi
Ten Things My Cat Hates About You by Lottie Lucus (362 pages)
When Clara's ginger cat Casper chases yet another romantic prospect out of the door she's ready to give up on love altogether. But then the fussy feline causes two meet cutes in the space of a day and suddenly Clara has two gorgeous men driving her to distraction! But who is in control of her happy ever after? Clara, fate… or the cat who started it all?
Genre: RomCom
Format: Mobi
Hands Off by D. E. Haggerty (Love In The Suburbs #3 200 pages)
I am done with men. D – O – N – E. DONE!
I don't care how much billionaire Roman Cadwell pushes (and, oh boy, does the sexy man push ALL my buttons), I am not dating him. Especially not when he's wearing a golden band around his ring finger. I do not get involved with married men. Call it my line in the sand. If a man can't be faithful, I want not one single thing to do with him.
But what if Roman isn't really married? What then? No, no, no. I will not fall into Lying McLiarson's trap.
Only every time the man touches me, my body forgets I'm a good girl and wants to give in. Hands off, Mr. Lying Pants, before I forget I'm a good girl.
Although – no one said I had to be a good girl forever.
Author's Note: This romantic comedy contains absolutely, positively NO cheating. None. But it does have a whole bunch of witty dialogue and a super sweet happily ever after. And maybe more drama than the author originally intended. What can she say? The characters have minds of their own.
Genre: RomCom
Format: Mobi / e-pub
The Spinner's Child by Crispina Kemp ARC now for March 21st publication (519 pages)
Spliced with dark material, sprinkled with the mystical, Kerrid journeys through the timeless first days… and into the Spinner's Web.
Cursed, friendless and shunned, fraudulent seer Kerrid, born of a fisher-hunter clan, holds two beliefs. That in her psychic abilities and exuded light she is unique, and as Voice of the Lady she's exempt from an arranged marriage. Both convictions are shattered when nine boats arrive from the east carrying the ancient Chief Uissinir who wants her for his wife, and five of his sons who emit lights and share tricks like her own. Forced to make an unwise judgement, a trail of death follows.
Questions plague her. Why does she dream of babies dying? Why does a voice in her head taunt her: Suffer the loss, suffer the pain? And what is she that no matter how lethal the wound, she does not die? What is she to kill with a thought?
Set in the between-time, when hunter-gatherers turned to settled agriculture, when spirits and demons morphed to gods, the five books of The Spinner's Game takes Kerrid's story across continents and weaves through ages fraught with floods and droughts to become the prototype of our most ancient myths.
Genre: Fantasy
Format: Mobi / e-pub
Dead Set: A Florida Urban Fantasy Thriller (332 pages)
What if your favorite wizard grew up? An urban fantasy with heart—and a frustrating teenage daughter.
Magick demands sacrifice, and as Gene Law is about to find out, so does family.
For Eugene Law, one of West Florida's few active Magicians, coastal life in the Sunshine State is a great place to raise a family. It's got pleasant winters and plenty of opportunity–that is until an army of the damned rise up to ruin his little slice of heaven.
It isn't long before Gene is neck deep in the mystery of New Dead, Hell Fleas, Minor Demons, and a daughter that's a magnet for the dearly departed. Along with a less-than-helpful apprentice, our Magician will discover it's going to take every ounce of Magick he's got, and more than a little he doesn't, for him to survive this one intact.
When the darkness falls, will Gene find a way to save the ones he loves, or end up just another member the Dead Set?
Genre: Urban Fantasy
Format: Gifted from AmazonUS
The Empress of the Clouds by Desiree Ultican (365 pages)
At the turn of the 20th century, Evaline Amstel's inventor husband Heinz has been murdered, taking a dangerous secret with him to the grave. Heinz had promised to build and deliver a revolutionary airship, "The Empress of the Clouds," to Erasmus Marchand, an embittered Southern millionaire who resents the fact that the damned Yankees won the Civil War. Now that Amstel is dead, no one in Joplin, Missouri, a zinc/lead mining boomtown, knows where the Empress is . . . or if it even exists. Count Ferdinand von Zeppelin also has a stake in finding the airship. He has accused Evvy's husband of stealing the original designs from him and is determined to recover the ship in order to build up Germany's military might.
Evvy takes over her husband's failing airship company and the company thrives for a time. But Marchand is fanatical in his quest to find the Empress—to arm it with a weapon of mass destruction at a pivotal moment in history and instigate anarchy. He'll stop at nothing to achieve his vision and Evvy is proving to be a huge impediment. It's up to her and local deputy Sean McTavish to find the airship before Marchand or Zeppelin does, because the future of the United States is in peril.
Genre: Steampunk
Format: Mobi
Secrets of the Galapagos by  Sharon Marchisello (292 pages)
Shattered by a broken engagement and a business venture derailed by Jerome Haddad, her unscrupulous partner, Giovanna Rogers goes on a luxury Galapagos cruise with her grandmother to decompress.
At least that's what her grandmother thinks. Giovanna is determined to make Jerome pay for what he's done, and she has a tip he's headed for the Galapagos.
While snorkeling in Gardner Bay off the coast of Española Island, Giovanna and another cruise passenger, tortoise researcher Laurel Pardo, both become separated from the group and Laurel is left behind. No one on the ship will acknowledge Laurel is missing, and Giovanna suspects a cover-up.
When the police come on board to investigate a death, Giovanna is sure the victim is Laurel. She's anxious to give her testimony to the attractive local detective assigned to the case. Instead, she learns someone else is dead, and she's a person of interest.
Resolved to keep searching for Laurel and make sense of her disappearance, Giovanna finds that several people on board the cruise ship have reasons to want Laurel gone. One is a scam involving Tio Armando, the famous Galapagos giant tortoise and a major tourist attraction in the archipelago. And Jerome Haddad has a hand in it. Thinking she's the cat in this game, Giovanna gets too involved and becomes the mouse, putting her life in jeopardy. But if she doesn't stop him, Jerome will go on to ruin others.
Genre: Mystery
Format: Gifted kindle copy from AmazonUS (May be a mobi available as well)
Obsession – A Crime Of The Heart (Noir Nights 3) by Robin Storey (121 pages)
He's lonely and desperate.
But he wants far more than her attention…
The one thing Benny wants more than anything is a relationship. But he's not smart or good-looking, so women ignore him or run the other way.
Then Olivia moves into the neighbourhood. It's love at first sight for Benny. Olivia is beautiful and kind, his fairy tale princess.
But there are two big obstacles.
Olivia doesn't love him. Yet.
And her abusive ex-husband Lucas is still hanging around, making life difficult for her.
There's only one course of action. But it will change everyone's lives.
Forever.
Genre: Crime novella
Format: Mobi or e-pub
The Dark Stalkers by Henry Bassett (68 pages)
In a town not too dissimilar to yours lived Martha Railer; a solitary individual who lived by herself, yet enjoyed the company of her close friends whom she spent time with on days out. In a realm outside of human perception, something sinister had been put into motion, and inhuman dark figures arrived in her town. They stalked Martha on her day to day activities, but was she chosen or was it chance or, perhaps, even fate? However, a simple choice of a short cut home would change everything for her…& them.
Genre: Dark fantasy short story
Format: Mobi / e-pub
Sinner by Blakely Chorpenning (225 pages)
"The only difference between the saint and the sinner is that every saint has a past, and every sinner has a future." ~Oscar Wilde
Alice's life is spiraling out of control. After an accident leads to a tainted blood transfusion, Alice descends into the supernatural world of vampires, addicted to blood, destined to sin. Only, that's her second largest problem. The first might kill her for real.
With no sire or formal keeper, Alice is among the feral vampires, marked by white eyes and the ability to live without drinking blood, unless the cravings prevail. Caught between old rivals, Alice doesn't know what she wants to be, a sinner or a saint. Wolf, an enigmatic firecracker, has the power to make Alice embrace her troubles as strengths, no matter if she is wicked or kind. But Gesick cools Alice's anxiety, accepting the paranormal activity surrounding her presence.
Will Alice choose Wolf, a woman with little standing in her way, or Gesick, a man who knows a little something about temptation?
Triggers: Addiction/Overdose, Anxiety/OCD, Grief/Depression
Genre: Na horror
Format: Mobi
Into the Suffering City: A Novel of Baltimore by Bill LeFurgy (318 pages) ARC now for April 15th publication
Baltimore, 1909. The city is jumping with danger and excitement. New thrills are everywhere: cars, cocaine, ragtime music, moving pictures. Old troubles also thrive, including murder, corruption, and the painful divisions of gender, class, and race.
Dr. Sarah Kennecott is on the autism spectrum—a trait that is unidentified and unappreciated at the time. Her passion is justice for murder victims, and after getting fired for looking too closely into the killing of a showgirl, she refuses to back down from the investigation. Sarah forms an unlikely bond with Jack Harden, a tormented, down-on-his-luck private detective. Jack pushes the case into Baltimore's seedy underworld, a vitally corrupt realm of saloons, brothels, and burlesque theaters.
When Sarah and Jack pull the pieces together, they discover a stunning pair of secrets, each of which is worth killing to keep.
"Into the Suffering City" is a fast-paced, emotionally immersive story that combines originality and historical detail to explore the lives of people living in Baltimore during the early 1900s.
Genre: HistFic thriller
Format: Mobi or e-pub
Iliad: The Reboot by Keith Tokash (157 pages)
History cares about kings, but the gods love a buffoon.
The hapless young soldier Gelios faces execution for offending his king. Desperate, he accidentally volunteers his cousin to chronicle the coming war.
Equipped with only a sword and a stunning lack of judgment, Gelios must keep his cousin alive amid the greatest war of an era. Worse, he must survive the egos of the two most powerful kings in their army.
But his deadliest struggle is with his mouth. Can he keep it shut long enough to make it home alive?
The Iliad has long been the definitive source of knowledge surrounding the kings, gods, and heroes of the Trojan War. Now, for the first time, readers can experience the clash of two ancient superpowers through the eyes of the biggest jackass in history.
Genre: Ya satire
Format: Mobi
The Redpoint Crux by Morgan Shamy (ARC now for June 9th publication)
When Megan gets kicked off the U.S.A. Climbing Team, she has no choice but to return home and leave her climbing career behind. With no coach, no money, and no prospects, she joins the corps de ballet, determined to improve her strength and agility. But the ballet theater is in dire straits. Not only does a series of murders occur, but the ballerinas are becoming deathly ill. As Megan investigates, she meets Bellamy, a tortured young man who lives beneath the depths of the theater. Megan is intrigued by Bellamy, but something is off about him.
It isn't until the company announces they're doing Giselle for the fall performance that Megan recognizes the parallels between the ghost story and the lives around her. Megan must find a way to save her climbing career and stop the murders and dying girls before she, too, is numbered among the dead.
Genre: Ya gothic mystery
Format: Mobi
TEDESKIMMA: A vast, grim, bittersweet, character driven epic, set in a dark, dystopian world by 100 Lick (431 pages)
This book takes whoever chooses to experience it on an epic journey across a planet, one that is beautiful and breathtaking, and yet, often dangerous and apathetic. The themes this book delves into are explored through the lives of the characters that make up the various parts of the book. There are 11 such characters in all; 11 stories that are smaller books unto themselves. However, each of these stories is connected to the others in the most surprising of ways.
Genre: Literary Fictionm (short stories)
Format: Mobi
Hollow Men by Todd Sullivan (136 pages)
Men from South Hanguk undertake quests to gain social standing, to stand above their peers, to make names for themselves.
To become heroes.
Few ever return.
Ha Jun, sixteen years old, possesses a glyph sword crafted in foreign lands. Alongside a soldier, a knight, and a monk, he travels across the country to destroy a demon lurking beyond the running trees of Naganeupseong Fortress. Accompanying them is the dark elf, Windshine, who emigrated to South Hanguk from her own war-torn country centuries ago.
Distrusted by the people of South Hanguk, Windshine has the Emperor's protection and is tasked with recording the valiant acts of quest groups battling creatures born from nightmares.
Ha Jun becomes drawn to Windshine as they near Naganeupseong Fortress, but when he discovers the blood connection between the demon and the dark elf, he will either succumb to his fear, or rise up and become a hero.
Genre: Fantasy
Format: Gifted kindle copy from AmazonUS only.
THREADS: A Depression Era Novel by Charlotte Whitney (327 pages)
It's a boring, hardscrabble life for three sisters growing up on a Michigan farm in the throes of the Great Depression. But, when young Nellie, digging for pirate treasure, discovers the tiny blue-black hand of a dead baby, rumors begin to fly. Narrated by Nellie and her two older sisters, the story follows the girls as they encounter a patchwork of threatening circumstances and take it upon themselves to solve the mystery.
Genre: HistFic
Format: Mobi
Beyond the Yew Tree by Rachel Walkley (270 pages)
In an old courtroom, a hissing voice distracts reluctant juror, Laura, and at night recurring nightmares transport her to a Victorian gaol and the company of a wretched woman. Although burdened by her own secret guilt, and struggling to form meaningful relationships, Laura isn't one to give up easily when faced with an extraordinary situation.
The child-like whispers lead Laura to an old prison graveyard, where she teams up with enthusiastic museum curator, Sean. He believes a missing manuscript is the key to understanding her haunting dreams. But nobody knows if it actually exists.
Laura is confronted with the fate of two people – the man in the dock accused of defrauding a charity for the blind, and the restless spirit of a woman hanged over a century ago for murder.
If Sean is the companion she needs in her life, will he believe her when she realises that the two mysteries are converging around a long-forgotten child who only Laura can hear?
Genre: Women's Fiction
Format: Mobi / e-pub
Zepharius: Volume 1 by Mel Snyder (317 pages)
The planet Gisaawek is prospering in its government and is growing in military power and security. Everyone is dedicated to their assignments. Their objective is serving their planet to the best of their ability.
Zepharius is a soldier in Gisaawek and works with that objective in mind.
Throughout the years, however, she becomes aware of abnormalities that reside within her world. People do not speak to each other unless it is necessary for them to do so. Improving strength on the planet is their only objective. Events and memories before a certain point in time have been obliterated.
More importantly, there are people within the planet which disappear faster than they are appearing. Their existence is dubbed "dangerous and forbidden". They are Gisaawekians who have an ability to choose their own objective, which can lead to destruction of both themselves and the planet. They are called dïfakàténs.
She comes to realize that the world she lives in is not as perfect as it seems. What will happen when she comes across secrets that could explain why?
Genre: Scifi
Format: Mobi
The Living Sword by Pemry Janes (120 pages)
Eurik was found adrift by the san and raised by them. Though he had read much about the outside world, he'd never considered leaving home. Not until his teacher revealed what he had inherited from his parents: a living sword, a sentient blade of rare power . . . and with it, the names of his father and mother.
Reluctant to go, yet curious, Eurik sets out to discover who they were, and what happened to them. But is he ready for all the attention his inheritance will earn him? Can he survive in a world he has only read about?
Genre: Coming of age fantasy
Format: Mobi
Beyond The Moon by Catherine Taylor (496 pages)
In 1916 1st Lieutenant Robert Lovett is a patient at Coldbrook Hall military hospital in Sussex, England. A gifted artist, he's been wounded fighting in the Great War. Shell shocked and suffering from hysterical blindness he can no longer see his own face, let alone paint, and life seems increasingly hopeless.
A century later in 2017, medical student Louisa Casson has just lost her beloved grandmother – her only family. Heartbroken, she drowns her sorrows in alcohol on the South Downs cliffs – only to fall accidentally part-way down. Doctors fear she may have attempted suicide, and Louisa finds herself involuntarily admitted to Coldbrook Hall – now a psychiatric hospital, an unfriendly and chaotic place.
Then one day, while secretly exploring the old Victorian hospital's ruined, abandoned wing, Louisa hears a voice calling for help, and stumbles across a dark, old-fashioned hospital room. Inside, lying on the floor, is a mysterious, sightless young man, who tells her he was hurt at the Battle of the Somme, a WW1 battle a century ago. And that his name is Lieutenant Robert Lovett…
Two people, two battles: one against the invading Germans on the battlefields of 1916 France, the other against a substandard, uncaring mental health facility in modern-day England. Two journeys begun a century apart, but somehow destined to coincide – and become one desperate struggle to be together.
Part WW1 historical fiction, part timeslip love story – and at the same time a meditation on the themes of war, mental illness, identity and art – Beyond The Moon sweeps the reader on an unforgettable journey through time.
Genre: HistFic Time Travel
Format: Mobi from a dropbox link
Tying The Leaves by Jane Toher (366 pages)
Jamie, a timid Virginia boy, and his three friends time travel seventy years into the future where they are horrified at a barren Earth devastated by climate change and dirty energy pollution. They return to the present and launch an international kids' crusade to save the planet from the same toxic gases threatening the life of Jamie's little sister.
Insisting that the U. S. lead the world in changing the future, Jamie and his close pals team up with a maverick U.S. senator on a controversial environmental bill, fight the fossil fuel industry, and counter Washington backroom politics. But things are often not how they seem, and what the youths experience shocks them all.
This magical realism, cli-fi tale tracks an improbable activist as he and his millions of  global followers race against time to beat the forces starting to imperil the human race. This is also a story about the power of sibling love and the discovery of a power much greater than that.
Genre: Ya Cli-Fi
Format: Mobi / e-pub
The Midas Touch by Manuel Dorado (506 pages)
Miguel Le Fablec, a young European university professor, appears to have the ability to turn his imagination into reality – the so-called Midas Effect. Unaware of his power, Miguel attracts the attention of the CIA and NASA. They want to investigate his power and draw him into overwhelming international intrigues and secret service operations. Everyone wants to control and use him, but he himself cannot control a power such as this. And even worse, he cannot destroy it.
Genre: Techno-thriller
Format: Mobi / e-pub
Highland Cove by Dylan Morgan (ARC now for March release)
Book cover coming
Highland Cove Sanatorium sits abandoned on a desolate island one mile off the Scottish mainland. It's a dark, foreboding place, filled with nightmares. Even darker are the asylum's secrets: a history of disease and mental illness, macabre experiments and murder.
The tales of ghostly appearances are said to be more fact than fiction, but no one has ever documented the phenomenon. Codie Jackson aims to change all that. Arriving from London with his small independent film crew, they plan to make a documentary that will forever change their lives.
But when one of the crew disappears, things begin to spiral out of control. A storm closes in to ravage the island, and in the darkness Highland Cove's true horrors are revealed. Now lost within the institution's labyrinthine corridors, Codie and his team realize that their nightmare is only just beginning.
Genre: Horror
Format: Mobi / e-pub
Sayville Tales by Lawrence Jay Switzer (480-500+ pages depending on format)
Twelve strangers, two ghosts, and the Devil–while sharing a long railroad journey–concoct a storybook of tales and trifles as hours of blank pages unfurl ahead of them. Not since Chaucer's pilgrims hit the road with tongues wagging have travelers had this much to babble and gabble about with their fellow wayfarers. Meanwhile, the expansive, crumbling mural that is commonly referred to as America flashes past the windows, and the lies, the truths, and the grandiose exaggerations keep coming on both sides of the glass.
Talk is cheap and tickets are cheaper, but what are the rules? First of all–as your mother surely told you–be sure you are wearing clean underwear because anything can happen. Second, recognize that there aren't any rules. It's every passenger for himself.
Sayville Tales is a tragicomic hotchpotch of hot air on wheels. It's also a glimpse of happenstance's possibilities, resembling a roll of vividly imagined wallpaper imprinted with a design that never repeats itself unless it's for a greater effect. The real question is, how could you possibly know what the ride is like if you don't get on the train?
Genre: Tales in the style of Canterbury tales (recommend checking the 'look inside' option on Amazon)
Format: Mobi, e-pub, paperback (US only)
Singularity Syndrome: Finder Series: Book Two by Susan Kuchinskas (229 pages) ARC now for Feb 26th publication
All humans have a complex colony of microorganisms living in our guts. This microbiome influences our health, our thinking and our moods. If you can change someone's microbiome, can you control their thoughts?
That's the plan of Thom Elliott, a power-mad tech titan who wants to create a new world order where humanity is ruled by Sekai, the most powerful artificial intelligence ever created.
Finder is a brilliant detective who hates people. He might agree with Elliott that an AI could do a better job of running the world. But when Finder's own microbiome is contaminated with Elliott's brew, he wages a guerilla war against Elliott and Sekai, aided by the Parrot, a dog/bird chimera, and Altima, a human/baboon chimera.
Genre: Scifi
Format: Mobi
Stories With A Scowl by Levar Reval (398 pages)
Explore the sinister side of life in this collection of psychological suspense tales for older readers—four short novels and a short story.
Join characters both heroic and horrible as they face all sorts of deadly doings—unsolved knifings, dangerous gangs, dire domestic secrets, government conspiracies, and more—with thought-provoking drama to go with it.
Handle with care. These stories have a mind of their own, and they like to roam the most desolate forests and darkest corners of the world. Read this book and you'll be biting your nails in suspense—if the book doesn't bite you first…
Genre: Suspense story collection
Format: Mobi
My Life in Horses: Part One: Disappearing Dreamscapes by Jan Ruth (78 pages)
This is the memoir of an ordinary horse-girl. Fifty years of riding schools, borrowed horses and long lost dreamscapes. Fifty years of a passion which has seen considerable changes from the gradual demise of the public riding school, to the loss of access to safe bridleways. But My Life in Horses is not filled with sad nostalgia, it's also a kaleidoscope of hope and inspiration. From the dappled sunlit lanes of Cheshire to the rugged mountains of North Wales, and beyond.
Genre: Memoir
Format: Mobi
The Midnight Before Me by Elizabeth Lo (354 pages)
The girl, Midnight Thunder is the town crazy person; the Demon Eyes girl. The girl whose existence rests on a curse that saves her from death yet sets her on a path to an inevitable end.
In a world of spells, curses, enchantments, and everything in between, it should be a whimsical place. But instead, little by little, Midnight's country has begun to fall apart beneath its own mistakes. The queen's gone a little bit more than mad, the military has collapsed, and of course, the only way for her to break the deadly curse at the root of it all is to sacrifice… herself.
Genre: Ya dark fantasy
Format: Mobi
Head on Backwards, Chest Full of Sand by Sandy Day (ARC now, due out Feb 14th 2020)
A tender story of love-obsession, the second novel from Sandy Day, Head on Backwards, Chest Full of Sand chronicles a young woman's coming of age during the height of the 1970s women's liberation movement.
Teetering on the edge of womanhood, clinging to the first love of her life as if her survival depends on it, 17 year-old Livvy is torn between subjugating herself for love and claiming her identity and independence.
When Livvy, lovesick and artistic, spends the summer with the aunt she adores, she crosses paths with a cast of memorable characters in the coastal community of Margaree, Cape Breton Island.
While Livvy's cousins torment her, house renovations disturb her, an annoying young islander tries to befriend and teach Livvy to disco dance, Livvy prepares for the much anticipated arrival of her boyfriend, Kane.
With poetic fluidity and breathtaking revelations Sandy Day draws you into Livvy's obsession. Such a deep dive into the dire and agonizing crannies of a love-obsessed young woman establishes Head on Backwards, Chest Full of Sand as a memorable coming of age story.
Genre: Coming Of Age
Format: Mobi / e-pub