What authors are saying about Rosie Amber's Review Team:
'I rely on Rosie's review team for honest and thoughtful reviews. I know they love reading and the reviews they post express both that love and their opinions of my (and other writers') novels. Long may they continue. Their support has been invaluable.'  Carol Hedges, author of Victorian murder mysteries and YA
'As well as introducing me to talented authors in other genres, I'm grateful to Rosie's review team for helping raise awareness of my books to new readers.'  Tony Riches, Amazon best-selling historical fiction author.
'Without doubt the best book review service I've used. Always a quick turnaround, always honest reviews, and as an author you can't ask for more than that.'  Dylan J. Morgan, author of horror, Sci-Fi, dystopian and post apocalyptic fiction.
'Rosie Amber and her team of reviewers/bloggers are professional, dedicated and fair minded. As an author, I know that I will receive a fair critique of my novels from them. I am happy to use them as go-to reviewers for any new novel I publish. I am also happy to recommend them to other authors.'  Lizzie Lamb, author of romantic comedies
'Rosie's team bring authors and readers together in the nicest possible way.  Reviewers who care about books – what more can an author ask for?  David Ahern, mystery author
"Smaller authors don't have the same publicity budget as the big publishers and it is a struggle to reach potential readers. Rosie and her team provide an invaluable service not only with providing good quality reviews but also with sharing those reviews on social media to reach a larger audience." Diane Febry thriller author
Book Review Team Booklist
Below will be a list of books team members can request for review. Please read and write a review for any chosen book within a month of receipt. Reviews should be posted on at least 2 sites, these can be your own blogs, Amazon, Goodreads, Smashwords etc.  Plus a copy of the review should be e-mailed to me and I will post it here on my blog with full recognition going to the reviewer.  I shall endeavour to keep this page as up to date as possible and match book requests to reviewers on a first come first served basis.
Members of the book review team and authors are spread across the world and it's time zones so a little patience may be required at times.
All books will be in e-formats.
Team members should contact me via my e-mail to request their choice of book/ books and FORMAT. I will pass on their request to the author. Do check spam and contact me if you think you haven't received your book after a reasonable 48 hour wait.
Once you've written your book review please send a copy to me via e-mail and also tell me where you will be posting the review. I will post the review on my blog as soon as is reasonably possible with full credit to the reviewer. Please provide a link to your blog if you intend posting the review there as I will pass this on to the authors.
New Book review Team members are always welcome, please make initial contact via the Book Review Team Tab at the top of the blog.
Twitter Hashtag #RBRT
The Book List
How to get a Mobi or PDF file onto your Kindle
1. Each kindle has it's own e-mail address which is NOT your private e-mail.
2. To find yours, go to your Amazon account. Under the heading "Hello…" click on the drop down menu and go to "Manage your devices"
3. Click on "Your devices" in the new window and it should show your kindle and on the bottom of the screen, quite small, is an email address. You can edit this and make it more personal. Ok make a note of this e-mail address.
4. Go to your personal e-mails and add your kindle e-mail as a new contact.
5.  When you are sent a Mobi or PDF book file by an author, save it to your computer. (Don't open it, just save it)
6. Next compose an e-mail to your kindle. In the subject heading write the word "convert" (without the speech marks)
7. Leave the body of the e-mail completely blank, and attach the mobi or PDF file (only do one at a time) and press "Send"
8. In a few minutes the file should appear on your kindle, make sure your wi-fi is on. If it doesn't turn up in 3-4 mins. Switch off your kindle, then switch back on. Be patient.
9. Newer kindles like Fire and Paperweight should also accept e-pub files in this way.
10. Occasionally a file won't load and you get an e-mail message from kindle, I ask the author for a file in a different format if this happens. 
Evita – My Argentina by Helen Harris (228 pages)
EVITA … My Argentina Evita Peron tells her own spectacular story. Tracing her life back to her humble beginnings, when she is abandoned by her father, Evita takes the reader on her journey to become an actress and later, to the pivotal moment when she meets Colonel Juan Peron. Never content to stay in her husband's shadow, Evita reveals how she shares his belief that Peronism will help the working class. Eventually she begins doing work on her own as the president of the Society of Benevolence, helping the poor and winning the peoples' trust. As the times change and women get the vote, Evita becomes even more powerful, running the Ministries of Labor and Health, starting a foundation, and organizing the first female party, The Female Peronist Party. A larger-than-life story, told in her own fictional words, the powerful novel is as educational as it is entertaining.
Genre: Biography
Format: Mobi
The Rose Thief by Claire Buss (347 pages)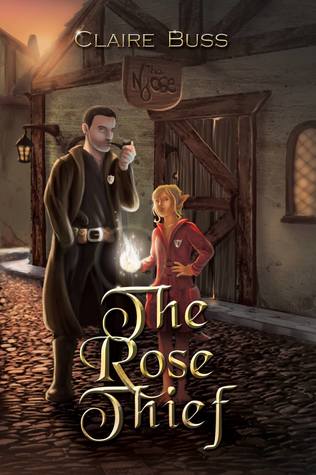 Ned Spinks, Chief Thief-Catcher has a problem. Someone is stealing the Emperor's roses. But that's not the worst of it. In his infinite wisdom and grace, the Emperor magically imbued his red rose with love so if it was ever removed from the Imperial Rose Gardens then love will be lost, to everyone, forever. It's up to Ned and his band of motley catchers to apprehend the thief and save the day. But the thief isn't exactly who they seem to be, neither is the Emperor. Ned and his team will have to go on a quest defeating vampire mermaids, illusionists, estranged family members and an evil sorcerer in order to win the day. What could possibly go wrong?
Genre: Humourous fantasy
Format: Mobi
The Green Phoenix: A Novel of the Woman Who Re-Made Asia, Empress Xiaozhuang by Alice Poon (372 pages)
With the fate of East Asia hanging in the balance, one Mongolian woman manipulated her lovers, sons and grandsons through war and upheaval to create an empire that lasted for 250 years. The Green Phoenix tells the story of the Empress Dowager Xiaozhuang, born a Mongolian princess who became a consort in the Manchu court and then the Qing Dynasty's first matriarch. Shelived through harrowing threats, endless political crises, personal heartaches and painful losses to lead a shaky Empire out of a dead end. The story is set against a turbulent canvas as the Chinese Ming Dynasty is replaced by the Qing. Xiaozhuang guides her husband, her lover, her son and her grandson – all emperors and supreme leaders of the Qing Empire – to success against the odds.
Genre: HistFic
Format: Mobi
You And Me by Alex Carson (456 pages)
Who are you? Why are you here? You can't be here. If Robert and Julie knew… No. No, no, no, no, no, no. They'll kill me if they find out. Hand me over to the Minotaur on a silver platter. Is that what you want for me? Huh? Wait. Wait, wait, wait, wait. You don't know about Robert and Julie, do you? Of course you don't. How could you? Well, I guess I can explain that much. Once you understand Robert and Julie, you'll understand why you can't be here.
Genre: Psychological thriller
Format: Mobi or epub
Connectedness by Sandra Danby (341 pages)
To the outside world, internationally-successful artist Justine Tree has it all. But she also has a secret which threatens to destroy everything. When she was an art student in the Eighties she had a baby, but the image she presents to the art world now is as an independent childless woman. So when she has the chance to find the child she gave up for adoption, will she risk losing her art career to see her lost daughter again?
About the 'Identity Detective' series:-
Rose Haldane, journalist and identity detective, reunites the people lost through adoption. The stories you don't see on television shows. The difficult cases. The brick walls. The people who cannot be found, who are thought lost forever. Each book in the series considers the viewpoint of one person faced with the dilemma of adoption reunion. IGNORING GRAVITY told the story of an adult woman learning she was adopted as a baby. CONNECTEDNESS is about a young birth mother who abandons her baby. Third in the series, SWEET JOY, features an elderly woman searching for the truth about her unknown parents lost in The Blitz.
Genre: Family Saga
Format: Mobi or e-pub
Bella Cove by Rochelle Katzman (267 pages)
Kayla Conway is devastated when she is forced to leave her life and her fiancé behind in California to take care of her family. She must return to her hometown of Bella Cove, a small, charming town on Long Island to visit her grandma on her deathbed. Just before her grandmother dies, Kayla promises that she will help put the pieces of her family's life back together.
But when she makes that promise, she has no idea of the lies, deceit, and betrayal she will have to deal with. The grief from grandma's death brings out the worst in her family.
Two years later, her family is stronger, but Kayla's passion for life seems to have died the day grandma left.
When her ex-fiancé, Gabe Wademan, walks back into her life—not as her partner, but as her new landlord and neighbor—Kayla feels more alive than she has in months.
Breathless by Caro Ayre (280 pages)
Breathless by Caro Ayre Secrets, jealousy and a genetic disease take a family to breaking point. Clare works relentlessly to keep her daughter, Hannah, healthy. Her husband Mike is in denial which puts undue pressure on their marriage, while her son suffers guilt over being clear of the suffocating illness. As the family fractures and they set about establishing independence and planning their futures, their inability to communicate feelings continues to cause problems. Will they ever restore family unity?
Genre: Family Saga
Format: Mobi
The Puppet Master by Abigail Osbourne (228 pages)
Manipulated by fear and love…could you cut the strings and take back control?
Billie's hiding from the world, believing it to be the only way to take control of her life as she lives in fear of the man who nearly destroyed her. But what she doesn't realise is that she's exactly where he wants her; isolated and afraid. A chance meeting with budding journalist Adam sparks a relationship that could free her from the terror that controls her. But will Adam be able to see the real Billie buried under her terror and pain?
Adam knows exactly who Billie is and is determined to expose her and get justice for the lives she ruined. But first, he needs to convince her to open up to him but as unwanted attraction and feelings blossom between them, Adam is forced to realise that all is not as it seems.
Most of their lives have been unknowingly governed by the desires and needs of someone who considers himself their master. He has influenced and shaped them for years, meticulously weaving a web of lies and control around them. Can Billie and Adam survive the betrayals in store and cut the strings that bind them?
One thing is for sure. The master wants his puppets back – and he'll do anything to keep them.
Genre: Thriller
Format: Mobi
Rituals Of The Dead by Jennifer S Alderson (260 pages)
Art, religion, and anthropology collide in Alderson's latest art mystery thriller, Rituals of the Dead, Book three of the Adventures of Zelda Richardson series.
Art history student Zelda Richardson is working at the Tropenmuseum in Amsterdam on an exhibition of bis poles from the Asmat region of Papua – the same area where a famous American anthropologist disappeared in 1962. When his journal is found inside one of the bis poles, Zelda is tasked with finding out more about the man's last days and his connection to these ritual objects.
Zelda is pulled into a world of shady anthropologists, headhunters, missionaries, art collectors, and smugglers – where the only certainty is that sins of the past are never fully erased.
Join Zelda as she grapples with the anthropologist's mysterious disappearance fifty years earlier, and a present-day murderer who will do anything to prevent her from discovering the truth.
Genre: Mystery
Format: Mobi / e-pub
Scorn by Paul Hoffman (489 pages)
After an experiment at the Large Hadron Collider goes horribly wrong, depressed scientist Aaron Gall wakes up to discover his mind and body have undergone an astonishing transformation. Now bursting with the joys of life, he is inspired to undertake a radical new therapy: to talk to the priests who brutalized him and his school friends, point out the intellectual dishonesty and inhumanity of their religious beliefs – and then eat them. Aaron enjoys the process so much (as well as taunting the police and MI5) he decides to extend his murderous conversations to include the Archbishop of Westminster, recently converted Catholic Tony Blair, the Queen of England – and, finally, the Pope himself. But a Catholic Church that has given the world the Crusades, the Inquisition, and Papal Infallibility hasn't survived for two thousand years without a reason. Aaron is in for the greatest shock in the history of mankind.
Genre: Scifi  thriller
Format: Mobi
Girl In The Castle by Lizzie Lamb (346 pages)
Her academic career in tatters, Dr Henriette Bruar needs somewhere to lay low, plan her comeback and restore her tarnished reputation. Fate takes her to a remote Scottish castle to auction the contents of an ancient library to pay the laird's mounting debts. The family are in deep mourning over a tragedy which happened years before, resulting in a toxic relationship between the laird and his son, Keir MacKenzie. Cue a phantom piper, a lost Jacobite treasure, and a cast of characters who – with Henri's help, encourage the MacKenzies to confront the past and move on. However – will the Girl in the Castle be able to return to university once her task is completed, and leave gorgeous, sexy Keir MacKenzie behind?
Genre: Romance
Format: Mobi
Blind Justice by Nathan Burrows (408 pages)
Gareth Dawson is an innocent man. Not a murderer. His main problem is that the British justice system doesn't agree with him.
He might be a reformed thief guilty of many things in his past, but not murder. In the space of a few short months, he's gone from being married to the woman of his dreams to facing a life sentence.
Inside Her Majesty's Prison Whitemoor, a Category A prison in Cambridgeshire, Gareth's got all the time in the world to go over the events that led to the guilty verdict. The guilty verdict which cost him everything in the world that he loved. His dignity. His freedom. His wife.
Gareth is approached by a lawyer, Paul Dewar, who claims to have information that will vindicate Gareth. But is it enough to set him free? As threats against Gareth increase on the inside, Paul Dewar's challenge, and Gareth's fight for freedom, begins.
Genre: Thriller
Format: Mobi/e-pub
Assaulted Souls by William Blackwell (183 pages)
Nathan King wakes up one day freezing cold and starving with hunger on a tattered mattress in a dark cave and has no idea where or who he is.
He meets Edward Sole, apparently his protector for the last few months, who tells him a nuclear bomb has been dropped and most, if not all of the world, has been destroyed.
Slowly the realization sinks in that in this horrific post-apocalyptic landscape, there are no rules, no laws. Cannibalism is rampant, mutant animals and humans are on the attack.
With all communication cut off, and meagre supplies, every day becomes a fight for survival and sanity!
Too make matters worse, a band of savages called The Neanderthals have emerged who rape, pillage and murder for more than just survival. They enjoy it.
Fighting for their survival and hoping to find a more hospitable island off the coast of Prince Edward Island, Ed and Nathan team up with Cadence Whitaker, Nathan's girlfriend whom he has no recollection of, and fierce warrior Velvet Jones to try and hatch a plan to escape the island before they're all killed.
In the meantime, Ed has begun a slow descent into madness, leaving the group wondering who the enemy really is.
A lightning-paced, action-packed exploration of a terrifying existence in a wasteland decimated by mankind's stupidity.
Genre: Scifi / Post Apocalyptic
Format: Mobi
Sentence Of Death by A.P. Martin
It's July 2016 and Tyneside is basking in glorious summer weather. Recently divorced Olivia flies back to her home town for a much needed holiday and to attend Opera North's acclaimed production of all four of Richard Wagner's 'Ring Cycle' of operas, which are to be performed over six days at The Sage in Gateshead.
But, just as the international audience has arrived and the music festival is gathering momentum, the city is shocked by a brutal murder. Keen to close the investigation as quickly and quietly as possible, senior police officers convince themselves that they have their man. But ambitious, ex-Met Detective Sergeant Sam Snow is far from convinced.
When a second violent death occurs, the police investigation runs into a brick wall, until Olivia suggests a bizarre and disturbing theory. As the killings continue, it falls to Sam and Olivia to risk everything, in a desperate race to uncover the truth and to prevent further loss of life.
'Sentence of Death' is the first of a new, Tyneside based series of thrillers featuring Detective Sam Snow and psychologist Olivia Clavel.
Genre: Crime Fiction
Format: Mobi
In A Jam by Cindy Dorminy (296 pages)
Andie Carson has to do three things to inherit her grandmother's lottery winnings—sober up, spend a month running her grandmother's Georgia coffee shop, and enter homemade jam in the county fair. If she can't meet those terms, the money goes to the church, and Andie gets nothing. She figures her tasks will be easy enough, and once she completes them, Andie plans to sell the shop, take the money, and run back to Boston.
After a rough breakup from his crazy ex-fiancée, Officer Gunnar Wills decides to take a hiatus from women. All he wants is to help make his small town thrive the way it did when he was a kid. But when wild and beautiful Andie shows up, Gunnar's hesitant heart begins to flutter.
Gunnar knows that Andie plans to leave, but he's hoping to change her mind, fearful that if her coffee shop closes, Main Street will fold to the big-box corporations and forever change the landscape of his quaint community. But convincing her to stay means getting close enough to risk his heart in the process. Even though Gunnar makes small-town life seem a little sweeter, Andie has to decide if she's ready to turn her world upside down and give up big-city life. One thing's for sure—it's a very sticky situation.
Genre: RomCom
Format: Mobi
What Hunts Me by Margaret Millmore ( Book #3 of the series)
Secreted away in the attic of the large Edwardian house in San Francisco owned by the Watchers, a box is discovered.
In the box are various documents from ghost killers, dating back more than ninety years. Among them are letters and a diary, dated in 1915 and written by a young man named George Sinclair, which chronicle an epic journey from Pennsylvania to San Francisco along the route of the newly opened Lincoln Highway.
Strange drawings and nonsensical writings in the diary tell of something sinister, but the final entry is loud and clear; George is a ghost killer and he is being hunted. Modern-day George Sinclair knows there is nothing coincidental in his world, and this discovery could be the key to his unknown paternal heritage, 1915 George was probably his great-grandfather.
George and Phil James travel to Pennsylvania to investigate and the more they learn, the clearer it becomes that something horrible happened in 1915…and it directly involved George's great-grandfather…and it was happening again.
Mysterious supernatural forces are in play and the ghost killers find themselves propelled into a fight for their lives.
Genre: Mystery (NOT a standalone – books 1& 2 can be requested if needed)
Format: Mobi
Pay No Heed to the Rockets: Palestine in the Present Tense by Marcello Di Cintio (272 pages)
Marcello Di Cintio first visited Palestine in 1999. Like most outsiders, the Palestinian narrative that he knew had been simplified by a seemingly unending struggle, a near-Sisyphean curse of stories of oppression, exile, and occupation told over and over again.
In Pay No Heed to the Rockets, he reveals a more complex story, the Palestinian experience as seen through the lens of authors, books, and literature. Using the form of a political-literary travelogue, he explores what literature means to modern Palestinians and how Palestinians make sense of the conflict between a rich imaginative life and the daily tedium and violence of survival.
Di Cintio begins his journey on the Allenby Bridge that links Jordan to Palestine. He visits the towns and villages of the West Bank, passes into Jerusalem, and then travels through Israel before crossing into Gaza. En route, he meets with poets, authors, librarians, and booksellers. He begins to see Palestine thorugh their eyes, through the stories of their stories.
In the company of literary giants like Mahmoud Darwish and Ghassan Kanafani and the contemporary authors whom they continue to inspire, Di Cintio travels thorugh the rich cultural and literary heritage of Palestine. It's there that he uncovers a humanity, and a beauty, often unnoticed by news media. At the seventieth anniversary of the Arab-Israeli War, Pay No Heed to the Rockets tells a fresh story about Palestine, one that begins with art rather than war.
Genre: Palestinian literature
Format: Mobi
The War Between Us by Sarah Creviston Lee (332 pages)
Alex Moon is not the enemy.
Six months after Pearl Harbor's tragedy, Korean American Alex Moon is sent away from his home in California for refusing his father's request to join the fight against the Japanese. On his journey, Alex is attacked and stranded in the small town of River Bluff, Indiana. To everyone else, he looks like the enemy.
Unexpectedly, Alex is befriended by a local girl, Lonnie Hamilton, who comes to his defense, saving him from doubt and despair while placing herself in the cross hairs of prejudice. Alex falls in love with his ally—a love that is clearly forbidden. Torn between his dual identities, Korean and American, and grappling with how everyone sees him, Alex must wage the war within himself—of defending who he is, resolving his tortured feelings about the war, and fighting for the woman he loves.
Genre: WW2 Romance
Format: Mobi
The Women of Heachley Hall by Rachel Walkley (330 pages)
Miriam has one year to uncover Heachley Hall's unimaginable past and a secret that only women can discover.
The life of a freelance illustrator will never rake in the millions so when twenty-eight year old Miriam discovers she's the sole surviving heir to her great-aunt's fortune, she can't believe her luck. She dreams of selling her poky city flat and buying a studio.
But great fortune comes with an unbreakable contract. To earn her inheritance, Miriam must live a year and a day in the decaying Heachley Hall.
The fond memories of visiting the once grand Victorian mansion are all she has left of her parents and the million pound inheritance is enough of a temptation to encourage her to live there alone.
After all, a year's not that long. So with the help of a local handyman, she begins to transform the house.
But the mystery remains. Why would loving Aunt Felicity do this to her?
Alone in the hall with her old life miles away, Miriam is desperate to discover the truth behind Felicity's terms. Miriam believes the answer is hiding in her aunt's last possession: a lost box. But delving into Felicity and Heachley's long past is going to turn Miriam's view of the world upside down.
Does she dare keep searching, and if she does, what if she finds something she wasn't seeking?
Has something tragic happened at Heachley Hall?
Genre: Women's Fiction
Format: Mobi or e-pub
The Black Orchestra by JJ. Toner (325 pages)
WW2 Germany. The German war machine has invaded Poland and is advancing west toward France. In Berlin Kurt Muller, an Abwehr signalman, discovers a colleague lying dead at his radio receiver. The criminal police dismiss the death as suicide, but Kurt is not convinced. Kurt follows a trail of mysteries, witnessing several atrocities that expose the Nazi regime for what it truly is. When the trail leads him to the German resistance, he faces the most difficult choices of his life. He must choose between his duty and his conscience, between his country and his family, between love and death.
Genre: WW2 spy thriller
Format: Gift from Amazon.com or mobi
The Captain and the Cavalry Trooper by Catherine Curzon & Eleanor Harkstead 
As the Great War tears Europe apart, two men from different worlds find sanctuary in each other's arms.
Captain Robert Thorne is the fiercest officer in the regiment. Awaiting the command to go to the front, he has no time for simpering, comely lads. That's until one summer day in 1917 when his dark, flashing eye falls upon the newest recruit at Chateau de Desgravier, a fresh-faced farmer's boy with little experience of life and a wealth of poetry in his heart.
Trooper Jack Woodvine has a way with strong, difficult stallions, and whispers them to his gentle will. Yet even he has never tamed a creature like Captain Thorne.
With the shadow of the Great War and the scheming of enemies closer to home threatening their fleeting chance at happiness, can the Captain and the Cavalry Trooper make it home safely? More importantly, will they see peacetime together?
Genre: MM Romance
Format: Mobi or e-pub
Son Of A Preacher Man by Karen M Cox (ARC now for July publishing)
1959. The long, hot Southern summer gently bakes the small town of Orchard Hill. Billy Ray Davenport, aspiring physician and only son of an indomitable traveling minister, is a young man with a plan. Handsome, principled, and keenly observant, he arrives in town to lodge with a local family. He never bargained for Lizzie Quinlan—a complex, kindred spirit who is beautiful, compassionate, and scorned by the townsfolk. Could a girl with a reputation be different than she seems? With her quirky wisdom and a spine of steel hidden beneath an effortless sensuality, Lizzie is about to change Billy Ray's life—and his heart—forever.
A realistic look at first love, told by an idealist, Son of a Preacher Man is a heartwarming coming of age tale set in a simpler time.
Genre: Coming of age/ histfic
Format: Mobi
Four Seasons In Nepal by Nicola McGunnigle (214 pages)
It's not your everyday family adventure, packing up to live in one of the world's poorest nations. But in the wake of the devastating 2015 earthquake, Nicola McGunnigle took a leap of faith, heading to Nepal to work with NGO International Nepal Fellowship, her family in tow.
Not letting challenges get in the way of contentment, she shares everyday moments of living life with restricted electricity and unclean water, in the midst of political instability, which resulted in country-wide fuel and gas shortages. Moved by the resilience of the nation, the family were welcomed into Nepali culture and generous hospitality, despite the obvious additional hardships around them.
Through her eyes as a volunteer, Nicola paints uplifting scenes of committed Nepali staff who work to empower the poorest and most marginalised in Nepal. Through work, travel and everyday encounters, the reader journeys through each season of learning, challenges, hardship and reward.
Genre: Travel memoir
Format: Gift paperback from AmazonUK or Gift to US via Barnes & noble
An Authentic Experience by Kelly Wittmann (252 pages)
Fifteen-year-old Silver Abelli's life has been as tumultuous as the punk rock she was raised on. Her divorced parents just don't get along, even though they're both musicians who stubbornly spurn the mainstream but secretly crave the limelight. Silver has always lived with her mom, Nicola, but when Nicola is diagnosed with a brain tumor, she must go to live with her obnoxious, hard-partying father, Renz. It's a really bad time to fall in love, so you can pretty much bet that Silver will.
Genre: YA
Format: Mobi
Bad Blood Will Out by William Savage (270 pages)
Ashmole Foxe is approached by the mayor of Norwich and the manager of one of its oldest theatres, both wanting him to investigate sudden, baffling deaths. Foxe loathes the theatre manager, so he'll have nothing to do with his tale of ghostly apparitions and the murder of an alcoholic, has-been actor. Instead, he turns to the mayor's request — to resolve the killing of a rich merchant. The trouble is Foxe can't quite put the theatre mystery out of his mind.
Both cases contain inexplicable events. How did someone stab the merchant as he was hosting a grand masquerade ball surrounded by his guests — without anyone seeing what happened? What has an actress dead for twenty years to do with the murder of someone who shouldn't even have been in the current cast?
Urged on by cryptic messages from a local Cunning Woman and supported by his extended household and the street-children of the city, Foxe is soon entangled in webs of secrecy and deceit going back into the past and outwards as far as London itself.
"Bad Blood Will Out" is Book 4 of the Ashmole Foxe mystery series. Like the rest, it's set in the fascinating world of 1760s England. The story shows how betrayal, greed, ambition and grief lead to a toxic mix of thwarted passions, grim obsession and slow-burning hatred. Before the end, it's going to bring Foxe face-to-face with the most callous, cold-hearted and remorseless killer he has ever known.
Genre: HistFic
Format: Mobi
The Meal Of Fortune by Philip Brady (384 pages)
The worlds of arms dealing, espionage and TV cookery collide in this fast moving comedy caper.
Failing celebrity agent Dermot Jack thinks his luck might have turned when a mysterious Russian oligarch hires him to represent his pop star daughter.
Disaffected MI5 officer Anna Preston is just as happy to be handed the chance to resurrect her own career. Little do they know that their paths are about to cross again after seventeen years as they're thrown together in a desperate attempt to lure a notorious arms dealer into a highly unusual trap.
Hard enough without having to deal with the lecherous celebrity chef trying to save his daytime TV career or the diminutive mafia enforcer who definitely has his own agenda. Then there's the very impatient loan shark who 'just wants his money back'.
And Anna's bosses are hardly playing it straight either. But one thing's for sure. There'll be winners and losers when the Meal of Fortune finally stops spinning. Oh, and another thing, Anna and Dermot are absolutely not about to fall in love again. That's never going to happen, OK?
Genre: Comedy thriller
Format: Mobi
Refugees by R.A. Denny (288 pages)
"An epic journey of a lifetime." That's what three young individuals from three different corners of the world have dreamed about. They were destined for greatness since the moment they were born. But what if they don't want it? What if they're not ready? What if their desires no longer align with the prophecy?
Genre: Fantasy
Format: free download from AmazonUK or AmazonUS
Heir Of Ashes by Jina Bazzar (409 pages)
Roxanne Fosch had a perfectly normal life at the age of twelve. Cool, popular, pretty, smart. Her dreams of a perfect, successful and prosperous future seemed well within her grasp.
By the time she was twenty-two she had become a commodity. A fugitive. She was being hunted.
As Roxanne embarks on the dangerous quest to search for half-truths about her past, she discovers she's not just an abnormal human, but a rarity even among her Fee peers.
She is hunted by scientists, keen to exploit her extraordinary abilities, as well as other beings far more dangerous whose plans for her she cannot fathom.
Genre: Urban Fantasy
Format: Mobi / epub
Watching The Daisies by Brigid Gallagher (282 pages)
Millions of people around the world suffer from fibromyalgia; the majority of them are women. As yet, there is no cure.
In this memoir, Brigid P. Gallagher shares her experiences on:
The busy life she followed before succumbing to this debilitating disease
Stopping and soul searching for answers to her vast array of symptoms
Entering a new life of SLOW
Drawing on her knowledge and experience as a Natural Medicines therapist, she seeks out therapies to aid her healing and integrates a variety of self help techniques and lifestyle changes. She also unearths a love of solo travel including Egypt, India, Rome, Lourdes, Carcassonne and Bali…
Brigid learns many insights about LIFE on her journey, the most valuable being:
"First learn to love thyself."
Genre: Nonfiction / selfhelp
Format: Mobi
When The Stars Sang by Caren Werlinger 
Nearly twenty-five years ago, Kathleen Halloran's brother drowned during the last summer they ever spent with their grandmother on a remote island off Maine's coast. Like a siren's call she can't resist, Kathleen is pulled back to Little Sister Island. She leaves her job and her girlfriend, packs up her few belongings, and moves into her grandmother's cottage.
Molly Cooper loves life on Little Sister, where the islanders take care of their own. Kathleen Halloran doesn't belong here, and her arrival stirs up unwelcome memories for the islanders—including Molly's brother. Molly is certain Kathleen will pack up at the first big blow. When she doesn't, Molly begins to see maybe there's more to Kathleen than she thought.
Sometimes, before you can more forward, you have to look back.
Genre: Lesbian romance
Format: Mobi or e-pub
The Leader by Shanna Bell (191 pages)
HIM…
I will avenge my parents' deaths.
I will make those who are responsible suffer.
All I need is her; the key to my plans.
HER…
I'm going to leave everything behind and start over.
I won't bow down to anyone.
The last thing I need is him; the shackles to my freedom.
Game on…
Genre: Hot Romance
Format: Mobi or e-pub
A Man With A Pure Heart by Linda Tillis (204 pages)
Samuel Hinton learned at the tender age of fifteen just how violent some men could be. But as a grown man, a detective with the police force in 1910, he must deal with the murder of a schoolteacher, and is shocked by the brutality. Kathleen Campbell travels to rural Florida to seek justice for her sister's death. What she finds is an instant and unexpected attraction to the handsome investigator who swears he will find the killer. Another murder fills Samuel with a sense of urgency as he struggles with the depth of his feelings for Kathleen, knowing she could be the man's next victim despite her independent spirit. And he must battle his desire to kill the man he seeks, a killing that would clash with his beliefs.
Genre: Historical romance/ American Indian mythology/Paranormal.
Format: Mobi/e-pub
Mom's Secret Lover by Beth Loure (140 pages)
The love of your life or your grown-up estranged (only) child?
38-year-old divorcee Becca Davis believes she'll never find love again. But then she meets personal trainer Lia Greene, who sweeps her off her feet. Becca's estranged 19-year-old daughter, Rachel, doesn't know about her mom's secret lover, or does she?
Rachel has secrets of her own. One of them is named Sarah Walters, an aspiring young poet who helps Rachel take her first steps into the Spoken Word world.
When Lia pressures Becca to come out in front of Rachel, their love story quickly unravels. Telling the truth might force Becca to choose between the love of her life and her only child. Caught in an impossible catch-22 situation, Becca must navigate wisely because a bad move will haunt her for the rest of her life…
This is a standalone steamy lesbian romance with no cliffhangers and an HEA.
Genre: Lesbian romance
Format: Mobi or e-pub
The Afters: Book One by Chris O'Connell (293 pages)
It's the end of the world as we know it and Charles Gilbert Billingsworth the VIII feels just fine. Not only is he surviving the zombie apocalypse, he's enjoying it too. But Charlie's idyllic life as a daydreaming zombie killer takes a turn when he finds two kids lost in the woods. One of whom is hiding an amazing, powerful secret.
Meanwhile, Kalila Trout is on a quest for revenge. The only survivor of an attack by the warlord known as King George, Kalila's vengeance is only stopped by his distinct advantage in numbers. When King George kidnaps one of Charlie's children, Kalila finds an unlikely ally to help her get the closure she needs. But even if Kalila and Charlie manage to make it out alive, a new race of zombie might ruin everything they are fighting for.
Genre: Horror
Format: Mobi/epub
Happily by Chauncey Rogers (ARC available now for April publication)
If the shoe fits, wear it.
If it doesn't, make it.
Laure is a teenage street urchin just trying to get away. Where the rest of the world sees an enchanting love story, Laure sees royal incompetence and an opportunity to exploit it. She'll have wealth and a way out of a life she detests, if she can only manage to hoodwink the royal family and survive to tell the tale.
If Only I'd Listened by Claire Boley (319 pages)
IS YOUR GIRLFRIEND PREGNANT? How ready are you for that? How would you deal with becoming a parent before you've left school? One thing's for sure, you can't unmake babies. A fact that's borne in on Peter Knight and Samantha Smithson, sixth formers at the South East Comprehensive in Deptford, living at a time when many parents are still of the old school and pregnancy outside marriage carries a stigma. Having to face their parents, their school friends, teachers and gossip is only the beginning. Pete's plans for university are scotched as he must seek work and accommodation suitable for a young family. And all the time he still wants to have fun, with friends' quite happy to tempt him to do it. As for Samantha, abortion is no easy option. Yet as her health and her faith in Peter goes up and down, she may have to think the unthinkable.
Genre: HistFic / Family saga
Format: Mobi
Cairnaerie by M.K.B. Graham (506 pages)
In this sweeping historical fiction, Cairnaerie unfolds across the landscape of Civil War Virginia and the 1920s eugenics movement that follows… Geneva Snow commits the unforgivable Southern sin. No longer the apple of her father's eye, she is a pariah, defying her society's most sacrosanct rule. To protect her—and hoping for a change of heart—her shattered yet steadfast father hides her at Cairnaerie, his mountain estate. But his iron-willed daughter is unrepentant. After years of solitude, an older and wiser Geneva is finally mellowing, and she is desperate to leave a legacy worthy of the father she loved and lost. To that end, she engages an unwitting young history professor to help her escape Cairnaerie long enough to attend the wedding of her granddaughter—a girl who is dangerously unaware of her lineage. But when a postman's malevolence and a colleague's revenge converge, Geneva's long-kept secret is exposed. For a second time, she faces a calamity of her own making. Only this time, there is no place to hide.
Genre: HistFic
Format: Mobi
Color Mage by Anne Marie Lutz (291 pages)
Lord Callo, bastard son of the King's sister, leaves his holdings in the midst of the contempt of his friends. He joins Healer Kirian as she flees for her life from the anger of a Collared Lord. Together they journey to Ha'las — an enemy island ruled by the feared and despised psychic mages known as ku'an.
There, Callo learns of his true heritage — and finds that great power is his birthright. All he has to do is sacrifice everything he has ever stood for.
Can he keep Kirian safe in a land where women are kept hidden and restricted? Can he protect her from his own dangerous magery? And why are the Kings of two nations seeking to use him as a tool for their own political ends?
Genre: Fantasy
Format: Mobi
Shrouds Of Darkness by Brock Deskins (217 pages)
New York has a problem few are aware of. Creatures of myth and darkness prowl the night-shrouded streets, preying on those who won't be missed. At least, those are the rules. Bodies are turning up, and their deaths are far from natural. Our kind's existence depends on remaining nothing more than folklore and fairytales, but someone has decided to break the rules. Now it's my job to stop a conspiracy before it threatens to expose the truth about vampires and werewolves. My name is Leo Malone, and when things go bump in the night, I bump back. If the price is right.
Brooklyn Shadows is a fantastic page-turning action thriller for anyone who enjoys action and laugh out loud banter regardless of genre.
Genre: Urban Fantasy
Format: Mobi or e-pub
Restitution by Rose Edmunds (Book #3 series, can be read as a stand-alone)
Reeling from a catalogue of disasters, flaky sleuth Amy travels to Prague to help an old man recover a Picasso painting last seen in 1939.
It seems like a mundane assignment, but the stakes are far higher than Amy imagines. Competing forces have vested interests, and are prepared to kill to meet their goals.
Caught amid a tangle of lies, with her credibility in question and her life on the line, could Amy's craziness be her salvation…?
Genre: Thriller
Format: Mobi or e-pub
Lover's Knot by Jenetta James (200 pages) ARC available now, book due out end March 2018
A great love. A perplexing murder. Netherfield Park — a house of secrets.
Fitzwilliam Darcy is in a tangle. Captivated by Miss Elizabeth Bennet, a girl of no fortune and few connections. Embroiled in an infamous murder in the home of his friend, Charles Bingley. He is being tested in every way. Fearing for Elizabeth's safety, Darcy moves to protect her in the only way he knows but is thwarted. Thus, he is forced to turn detective. Can he overcome his pride for the sake of Elizabeth? Can he, with a broken heart, fathom the villainy that has invaded their lives? Is there even a chance for love born of such strife?
Lover's Knot is a romantic Pride & Prejudice variation, with a bit of mystery thrown in.
Genre: Mystery
Format: Mobi
Uther's Destiny by Tim Walker (198 pages)
Britannia is in shock at the murder of charismatic High King, Ambrosius Aurelianus, and looks to his brother and successor, Uther, to continue his work in leading the resistance to barbarian invaders. Uther's destiny as a warrior king seems set until his world is turned on its head when his burning desire to possess the beautiful Ygerne leads to conflict. Could the fate of his kingdom hang in the balance as a consequence?
Court healer and schemer, Merlyn, sees an opportunity in Uther's lustful obsession to fulfil the prophetic visions that guide him. He is encouraged on his mission by druids who align their desire for a return to ancient ways with his urge to protect the one destined to save the Britons from invaders and lead them to a time of peace and prosperity. Merlyn must use his wisdom and guile to thwart the machinations of an enemy intent on foiling his plans.
Meanwhile, Saxon chiefs Octa and Ælla have their own plans for seizing the island of Britannia and forging a new colony of Germanic tribes. Can Uther rise above his family problems and raise an army to oppose them?
Book three in A Light in the Dark Ages series, Uther's Destiny is an historical fiction novel set in the Fifth Century – a time of myths and legends that builds to the greatest legend of all – King Arthur and his knights.
Genre: HistFic (Can be read as a stand-alone)
Format: Mobi
The Calmer Girls Jennifer Kelland Perry (296 pages)
Sixteen-year-old Samantha Cross is introverted, highly sensitive, and is falling in love for the first time. The biggest problem? The guy she's falling for is her older sister's boyfriend, Ben Swift.
Her sister Veronica is beautiful, outgoing, and confident. Samantha is used to her sister getting all of the attention and everything she wants, even if she's never liked it. But now they're being torn apart by love for the same boy, their parents' separation and mother's declining emotional state, and their move away from Calmer Cove into city life in St. John's.
As her life crumbles apart around her, Samantha's feelings for Ben only grow stronger. Then she finds out the boy driving the vintage Thunderbird has mysterious issues of his own. Will Samantha let Veronica keep the only boy she's ever loved, or will she end up ruining her sister's happiness to take control of her own? Tensions between the siblings escalate, and Samantha is torn between doing what she thinks is right and acting on her heart's desire. One thing becomes clear: One of the Cross sisters is in for a broken heart.
Genre: YA Romance
Format: Mobi
Good Vibrations: a Story of a Single 60s Mum by Margaret Halliday (198 pages)
Margaret Halliday's second book, Good Vibrations: a Story of a Single 60s Mum tells the poignant tale of her harrowing and often hilarious experience of unmarried motherhood in pre-Abortion Act Scotland. 17-year-old Margaret's Glaswegian romance results in unplanned pregnancy and heartbreak but she battles on overcoming all obstacles which will make you laugh, cry and sometimes scream.
Genre: Memoir
Format: Mobi
Gypsies, Tramps and Weeia by Elle Boca (262 pages)
Sworn to protect the secrets of their race, marshals are trained to police Weeia hiding among humans. After completing her advanced marshal training, Danni is blown away by her new plum assignment to Paris. But, all is not well in the City of Lights; the offices are a shambles, her boss is apathetic, and her predecessors died under mysterious circumstances; it's almost like somebody doesn't want the law there. Despite that she risks her life in the seedy underworld of gypsies and tramps to search for a missing Weeia man.
Genre: Fantasy
Format: Mobi
The Usurper King by Zeb Haradon (332 pages)
The Usurper King takes place in an alternate universe where the serial killer Ted Bundy was never apprehended and is now running for president in 2016.
Jim, a sufferer of a hybrid computer-biological virus that causes premature aging, tries to pay for his treatments by winning money on the game show 'Guts!', which has contestants competitively predict the future by reading animal entrails.
As Jim begins to find omens in the entrails of Bundy's victory, and details of Bundy's murderous past are uncovered, Jim and another contestant take it upon themselves to stop his ascent to power before it's too late.
Genre: Alternate History
Format: mobi
Zelia by Zora Marie (284 pages)
A dark heritage buried deep.
Powers beyond her control.
A fate beyond imagining.
Raised by elves, the true secret of her heritage is hidden from her until the day she discovers she is nothing more than a weapon to be wielded by the will of the elder mages. Fighting against her fate, fearful of how her powers unleash themselves to harm friend and foe alike, Zelia seeks only to be free to live without bringing danger to those she loves.
Genre: YA Fantasy
Format: Mobi or e-pub
Returning by Yael Shahar (480 pages)
He sold his soul to survive Auschwitz. Now he's taking it back!
Alex was seventeen years old when he was deported to Auschwitz from his home in Salonika, Greece. Selected to work in the Birkenau Sonderkommando, he outlived his family, his faith, and even his true name. His memory filled with the death of a people, unable to speak of what he had done to survive, he was locked in the silent prison of his guilt.
Now, more than sixty years later, Alex is determined to confront his memories and seek atonement for his complicity. His spiritual struggle will lead him back into his past, and into the long history of his people, in search of an answer to the silence of God. But his destiny is bound up with that of a woman born in a different world –the only one alive who can help him find the strength to keep his promises to the dead.
Returning is a fearless exploration of the choices we make in a choiceless time; the terrifying strength and burden of the will to survive; and the power of the human spirit to recover even from its own seeming destruction.
Genre: memoir
Format: Mobi
X0 by Sherrie Cronin (324 pages)
The ancient group x0 hides in the shadows until a young Nigerian beauty forces them to emerge. Thinking that her telepathic abilities are perfectly normal, this Igbo woman draws upon her powers to seek an ally to rescue her captive sister. Unfortunately, the telepath she finds is cranky Texan lady who doesn't believe in nonsense and who insists that the disturbing phenomenon in her own mind isn't there.
Realizing that her sister has become a strategic pawn in a dangerous game of international politics, she vows to do anything to get the attention of this uncooperative fellow psychic. As the women struggle with each other, common links begin to forge these two radically different women together in ways that even x0 does not understand. They could intervene, but should they?
Genre: Fantasy
Format: Mobi or epub
A Hare in the Wilderness by S. E. Turner
Set in a more simple time when man relied on nature to survive and animals for spirit guides – and the wars in the kingdoms were just a rumble. At that time Ajeya is a child with a secret when her father banishes her and her mother into the wilderness to fend for themselves and live off the land. But what they discover will change their lives forever, especially when they find the clans who give them salvation. As Ajeya grows up and finds love, she faces further dangers from an invading ruthless enemy. But who are these warriors, what do they want and how will she survive against them?
Welcome to the Kingdom of Durundal, where dreams are made and nightmares begin.
Book One in the gripping Kingdom of Durundal series.
Genre: Fantasy
Format: Mobi
Finding Joy by Morven-May MacCallum (197 pages)
I would like to introduce myself, I feel it's only fair. Only I know you so well now, you might get a scare. I know you know I'm in there, though I crept with greatest stealth: I am the hidden monster buried within yourself. Joyce is only sixteen when she's torn from the life she loves. Two years pass, but Joyce, her family, and her best friend Logan, are no closer to learning what's causing her dizzying array of symptoms. As Joyce tried to come to terms with her increasing limitations those around her struggle to understand what she is going through. Baffled and unsure, the doctors eventually diagnose Joyce with ME and CFS. But when Joyce and her family refuse to accept this diagnosis, her mental stability is called into question. Desperate for the truth and scared for Joyce's life, their only hope lies in a private hospital where she is finally diagnosed with Lyme Disease. Can Joyce survive a treatment as brutal as her illness? Can she find her way in a world she no longer recognises?
Genre: Nonfiction
Format: Mobi