What authors are saying about Rosie Amber's Review Team:
'I rely on Rosie's review team for honest and thoughtful reviews. I know they love reading and the reviews they post express both that love and their opinions of my (and other writers') novels. Long may they continue. Their support has been invaluable.'  Carol Hedges, author of Victorian murder mysteries and YA
'As well as introducing me to talented authors in other genres, I'm grateful to Rosie's review team for helping raise awareness of my books to new readers.'  Tony Riches, Amazon best-selling historical fiction author.
'Without doubt the best book review service I've used. Always a quick turnaround, always honest reviews, and as an author you can't ask for more than that.'  Dylan J. Morgan, author of horror, Sci-Fi, dystopian and post apocalyptic fiction.
'Rosie Amber and her team of reviewers/bloggers are professional, dedicated and fair minded. As an author, I know that I will receive a fair critique of my novels from them. I am happy to use them as go-to reviewers for any new novel I publish. I am also happy to recommend them to other authors.'  Lizzie Lamb, author of romantic comedies
'Rosie's team bring authors and readers together in the nicest possible way.  Reviewers who care about books – what more can an author ask for?  David Ahern, mystery author
"Smaller authors don't have the same publicity budget as the big publishers and it is a struggle to reach potential readers. Rosie and her team provide an invaluable service not only with providing good quality reviews but also with sharing those reviews on social media to reach a larger audience." Diane Febry thriller author
Book Review Team Booklist
Below will be a list of books team members can request for review. Please read and write a review for any chosen book within a month of receipt. Reviews should be posted on at least 2 sites, these can be your own blogs, Amazon, Goodreads, Smashwords etc.  Plus a copy of the review should be e-mailed to me and I will post it here on my blog with full recognition going to the reviewer.  I shall endeavour to keep this page as up to date as possible and match book requests to reviewers on a first come first served basis.
Members of the book review team and authors are spread across the world and it's time zones so a little patience may be required at times.
All books will be in e-formats.
Team members should contact me via my e-mail to request their choice of book/ books and FORMAT. I will pass on their request to the author. Do check spam and contact me if you think you haven't received your book after a reasonable 48 hour wait.
Once you've written your book review please send a copy to me via e-mail and also tell me where you will be posting the review. I will post the review on my blog as soon as is reasonably possible with full credit to the reviewer. Please provide a link to your blog if you intend posting the review there as I will pass this on to the authors.
New Book review Team members are always welcome, please make initial contact via the Book Review Team Tab at the top of the blog.
Twitter Hashtag #RBRT
The Book List
End Of Ever After: A Cinderella Retelling by E.L. Tenenbaum (325 pages)
When the invitation to the prince's ball was put in her hands, Ella imagined a single night of wonder, a single night to escape her wretched life and be anyone else for a while. She never expected to turn the prince's head, she certainly never expected to run off with his heart.
Five years later, Ella looks back on her faerytale rise from soot stained cinderwench to the queen the people call CinderElla. Ignored and humiliated much of her life, she could hardly believe her sudden good fortune. Nor could she anticipate what was to follow, not the lies, not the betrayal, not the truth of her handsome Prince Charming.
Ella is desperate to figure out how, despite her best intentions, everything went so horribly wrong. And what, if anything, she can do to get back her ever after.
Genre: YA/NA cross over fairy tale
Format: Mobi / epub
All These Nearly Fights by Richard Cuncliffe (201 pages)
Crafty car salesman Jimmy Harris has bucket-loads of money, but also has more than a few problems on his plate. This one-time Jack the Lad happens to have won millions playing the lottery, but is yet to work out what he wants to do with his life or who he wants to spend it with.
His biggest dilemma is whether to stay faithful to his gorgeous girlfriend, Charlotte, or try hooking up once more with Isabel, his feisty former partner with whom he feels he has "unfinished business". Then there's the question of whether he should still open up the car dealership he'd been planning with his best mate, Ash. And if Jimmy didn't have enough to think about, he finds himself about to hand over a load of money to someone he doesn't like on account of his slightly barmy ideas about fate, loyalty and kinship.
Christmas is coming, and Jimmy needs to arrive at some decisions. Join him for five rollercoaster days in December as he begins to make his choices.
Genre: Ladlit
Format: Voucher from AmazonUK
Blitzing Rommel by John Sadler
For Joe Milburn, Geordie to the core and son of a tenant farmer, war presents an intoxicating mix of terror, tragedy, bloodshed, adrenalin and opportunity.
As his wartime exploits earn him admiration and respect, he begins to mix in circles very different from those he grew up in — and to take part in military operations that go not only beyond his own previous experience, but beyond the expectations of the most practised of soldiers.
Gradually, he feels his north country past, and what he assumed would be his future, slipping away. War, it seems, when needs must, has as much to do with loss — of comrades, of identity, of social structures, of assumptions — as it has to do with strategy and politics.
When Joe finds himself in North Africa he discovers, among all the loss, love, in the form of Nurse Alice Fleming. Could this be the turning point? Yet as he makes plans for a safer future, one more challenge calls. What else can a man expect when he keeps company with the newly-born SAS?
Genre: Historical thriller
Format: Mobi
I Exist. Therefore I Am by Shirani Rajapakse (178 pages)
A newly married woman burns to death. A mother is forced to kill her infant daughter. A young woman with a promising future becomes a slave to a holy man. A recently widowed woman is left on the bank of a river to die. I Exist. Therefore I Am takes you on a journey into the world of women and the trauma they face for simply being. Moving yet also disturbing, these nine stories set in India are about internal struggles, desperation, vulnerability as well as yearning for something better. It is about secrets, words that cannot be spoken, social restrictions and smiles that don't quite reach the eyes. In story after story, Rajapakse portrays the terrible treatment towards women as a result of religious, cultural and tribal taboos placed on them, and the suffering at the hands not just of society but of their own kind. This is fiction that is created for readers that aren't afraid to question society and its beliefs and tear open the wounds to heal the soul. They describe what it means to be women, the helplessness they are confronted with and the unending hope they have for a better future. Will these women's sacrifices make a difference or will they have been in vain?
Genre: Short stories
Format: Mobi
Christmas Once Again by D.K. Deters (43 pages) ARC now, Nov Publication
She's dead broke. And eviction looms. On Christmas Eve antique consultant Madison Knight takes a phone call from local rancher Zach Murdock. Through a mix-up at an estate sale, Madison's company purchased his grandmother's beloved painting. He offers double the money for its return.
Madison risks her job to track down the artwork, but success falls short when she's stuck in a blizzard. Stranded, she seeks help from a frontier family. Are they living off the grid, or did she somehow travel through time?
Zach's the only person who knows her plan. He also knows a secret about his gran's painting. It's up to him to rescue Madison, but maybe he's not cut out to be a hero.
Genre: Christmas short story
Format: 1 x mobi
Lifeliners by Stefan Vucak (390 pages)
When everyone's against you, it's tough being a Lifeliner, as Nash Bannon finds out.
Lifeliners are ordinary people…almost. They draw energy from others; they live longer and are smarter.  Will homo sapiens be replaced by homo renata within ten generations?
Protest marches by extremist groups, attacks against Lifeliners and repressive laws enacted by governments everywhere are portents of a dark future, and Nash does not like what's going on.  Unless lifeliners rise up and fight for their rights, they can expect sterilization, incarceration, and possible extermination as democracies everywhere turn into autocracies.
To survive, the Lifeliner Party must employ the same dirty tricks the government used against them.
Genre: Scifi / dystopia
Format: Mobi
Black As She's Painted by William Savage: An Ashmole Foxe Georgian Mystery (290 pages)
Samuel Melanus, a rich goldsmith turned banker goes missing, and his promiscuous wife is found naked and strangled on her own bed. It's yet another case for Georgian Norwich's most cunning and unconventional crime-solver, the bookseller Mr Ashmole Foxe.
Foxe is approached by representatives of the city's mercantile elite to find the missing banker before his disappearance causes a financial panic. Then, right at the start, news comes that the man's wife has been found murdered. Thus begins a tale of intrigue, deceit and hatred, involving one of Foxe's most loathed enemies.
Aided by a motley cast of street children, a beautiful teenage burglar, and several incompetent constables, Foxe must resort to breaking the law himself to bring the murderer to justice — and work out how thousands of pounds have been stolen from one of Norwich's leading banks, without them noticing anything was missing.
With the return of Captain Brock from his Grand Tour, Foxe's growing acceptance by the city's elite, and wise advice from Mistress Tabby, the Cunning Woman, our hero's life might be set fair for once — if only he wasn't quite so willing to become involved with the low life of Norwich in his search for the truth about the missing banker and his wife, Eleanor Melanus. Was she really as black as she was painted? Or was it simply her ill fortune to be both desirable and not too bright — a woman alternately used and betrayed by the men around her? Either way, Foxe must face down a pitiless criminal enterprise to discover what really went on in the Melanus household … and in the bank next door.
Genre: Histfic mystery
Format: Mobi
One Life To Be You by Juliana Tabares (192 pages)
How many more years of your life are you going to waste in a job that gives you more unhappiness than joy?
You were told that joining a big corporation or a recognized firm is all we needed to be successful in life, so you fought for it. When you first joined the firm you were very happy, full of dreams and expectations. But after months or even years, you live in constant anxiety and monotony. You haven't taken any actions because you are afraid of putting at risk your life and your family's future. Moreover, looking for a better job seems hopeless when you are over a certain age; starting your own business sounds impossible with all the responsibilities you already have, and you're told going back to school to change your career is just unreasonable.
However sometimes, especially if you are not enjoying life, it's worth it to stop and reconsider the price you are paying for giving up your true self. In ONE LIFE TO BE YOU, Juliana Tabares will share with you a different perspective on life to help you move forward. After 12 years consulting multinational corporations in the United States, Latin America and Europe, and after several years of personal growth and transformation, she discovered the keys to act and recover your life. In this book you will join the author on a journey to:
•Decode the corporate world.
•Defeat the fear of starting over.
•Deal with stress and anxiety.
•Discover your real purpose and passion.
•Define an action plan and make it a reality.
You only have three choices when you feel stuck and unhappy in your career: accept the situation, change it or leave it. This book will help you make that choice.
Genre: Self Help
Format: Mobi
The Lost Letters by Sarah Mitchell (322 pages)
What if keeping your loved ones safe meant never seeing them again? 
Norfolk, 1940: Sylvia's husband Howard has gone off to war, and she is struggling to raise her two children alone. Her only solace is her beach hut in Wells-Next-The-Sea, and her friendship with Connie, a woman she meets on the beach. The two women form a bond that will last a lifetime, and Sylvia tells Connie something that no-one else knows: about a secret lover… and a child.
Canada, present day: When Martha's beloved father dies, he leaves her two things: a mysterious stash of letters to an English woman called 'Catkins' and directions to a beach hut in the English seaside town of Wells. Martha is at a painful crossroads in her own life, and seizes this chance for a trip to England – to discover more about her family's past, and the identity of her father's secret correspondent.
The tragedy of war brought heartbreaking choices for Sylvia. And a promise made between her and Connie has echoed down the years. For Martha, if she uncovers the truth, it could change everything…
Genre: Histfic
Format: Mobi
A Spoke In The Wheel by Kathleen Jowitt (258 pages)
The first thing I saw was the wheelchair.
The first thing she saw was the doper.
Ben Goddard is an embarrassment – as a cyclist, as an athlete, as a human being. And he knows it. Now that he's been exposed by a positive drugs test, his race wins and his work with disabled children mean nothing. He quits professional cycling in a hurry, sticks a pin in a map, and sets out to build a new life in a town where nobody knows who he is or what he's done. But when the first person he meets turns out to be a cycling fan, he finds out that it's not going to be quite as easy as that.
Besides, Polly's not just a cycling fan, she's a former medical student with a chronic illness and strong opinions. Particularly when it comes to Ben Goddard…
Genre: Contemporary
Format: Mobi
The Tomato Quest by D.G. Driver (80 pages)
Dash and Lillian are in love, but her wealthy father won't permit them to be married because Dash is not a suitable match. He is nothing but the son of the family's gardener. To be rid of the young man, Lillian's father claims that the only way Dash could ever earn Lillian's hand in marriage is to find his fortune in the time it takes a basket of fresh tomatoes to rot. Naturally, Sir Barrymore isn't serious about this challenge, but Dash sees it as his only chance to win the hand of the woman he loves. He leaves immediately on a quest to find a way to complete this impossible task. Meanwhile, Lillian is doing her best to make her parents postpone her engagement to someone else in order to give Dash time to return. It is a whirlwind fairy tale adventure full of danger, cunning, magic, true love, and tomatoes.
Genre: Fairy Tale
Format: Mobi
The Blue by Nancy Bilyeau (380 pages) ARC now, dueout Dec 3rd.
A novel of suspense that asks: What would you do for the most beautiful color in the world?
The year is 1758, and a headstrong woman artist, 24-year-old Genevieve Planche, is caught up in a high-stakes competition to discover the ultimate color that threatens to become as deadly as it is lucrative. The story sweeps readers from the worlds of the silk-weaving refugees of London's Spitalfields and the luxury-obsessed drawing rooms of Grosvenor Square to the secretive porcelain factory of Derby and, finally, magnificent Sevres Porcelain, in the shadow of Versailles. And running through it all: the captivating history and dangerous allure of the color blue.
Genre: HistFic
Format: Mobi/ epub
Gift Horse by Jan Ruth
Imagine living eighteen years of your life around a mistake…
Caroline Walker's daughter suffers a horrific riding accident. Her distraught parents wonder if she'll ever walk again, let alone ride. And when Mollie's blood group is discovered as rare, her husband offers to donate blood. Except Ian is not a match. In fact, it's unlikely he's Mollie's father.
Eighteen years previously, Caroline had a one-night stand with Irish rock star, Rory O'Connor. Caroline fell pregnant. Deeply flawed boyfriend, Ian, was overjoyed. And Caroline's parents were simply grateful that their daughter was to marry into the rich, influential Walker family.
Caroline turns to Rory's friend Connor; and although his almost spiritual connection with his horses appears to be the balm she needs, Caroline cannot forget Rory, or her youth – both lost to a man she never loved. Eighteen years on and after surviving cancer Rory lives as a virtual recluse in the Welsh mountains. Through his well-meaning but interfering sister, he is shocked to discover he has a teenage daughter. Or does he?
Someone has made a terrible mistake… someone is going to get hurt…
Genre: Women's Fiction
Format: Mobi or e-pub
A City Owned: Murder by Increments Book One by OJ Modjeska (175 pages)
One after another, they appear by the sides of suburban roads and freeways – the naked, strangled bodies of women who have been raped, tortured and left for dead.
Police begin to suspect that their target is a rogue operator who has emerged from their own ranks. And then, all hell breaks loose in Los Angeles…
An arrest in the strangling murders of two co-eds across state lines finally leads to a break in the case, but the mild-mannered suspect remembers nothing about the crime of which he is accused. His attorney and a team of psychiatrists are convinced this is no lust murderer, but a mentally ill man tormented by an evil alter personality, the terrifyingly malevolent sexual sadist "Steve". But what if Steve is the final triumphant act in a psychopath's lifelong career in deception?
None are prepared for the dark journey through the mazes of the human mind it will take to unlock the door to justice.
From the author of the aviation disaster ebook bestseller "Gone: Catastrophe in Paradise", "A City Owned" is the first installment of the two-part series "Murder by Increments", the true story of the worst case of serial sex homicide in American history.
Genre: Non Fiction
Format: Mobi
Comes A Spectre (Ghostland book 2) by Keta Diablo (87 pages) ARC now, Due to be published Oct 1st
Six months ago, Anya Fleming's ten- year-old son, Willie-boy, found his father hanging in the barn. Traumatized over his father's suicide, the boy hasn't spoken a word since. Now, Willie-boy has come down with a grave, unknown illness and there's only one man who can save him, Sutter Sky, a learned Blackfoot shaman known as Yellow Smoke—a shaman who was once deeply in love with Anya.
Genre: Romance
Format: Mobi
A Holiday By Gaslight by Mimi Matthews (175 pages)
Sophie Appersett is quite willing to marry outside of her class to ensure the survival of her family. But the darkly handsome Mr. Edward Sharpe is no run of the mill London merchant. He's grim and silent. A man of little emotion–or perhaps no emotion at all. After two months of courtship, she's ready to put an end to things.
But severing ties with her taciturn beau isn't as straightforward as Sophie envisioned. Her parents are outraged. And then there's Charles Darwin, Prince Albert, and that dratted gaslight. What's a girl to do except invite Mr. Sharpe home for Christmas and give him one more chance to win her? But this time there'll be no false formality. This time they'll get to know each other for who they really are.
Genre: Novella Christmas clean romance
Format: Mobi or epub
A Village Affair by Julie Houston (ARC now for Nov Publication)
Cassie Beresford has recently landed her dream job as deputy head at her local, idyllic village primary school, Little Acorns. So, the last thing she needs is her husband of twenty years being 'outed' at a village charity auction – he has been having an affair with one of her closest friends.
As if that weren't enough to cope with, Cassie suddenly finds herself catapulted into the head teacher position, and at the forefront of a fight to ward off developers determined to concrete over the beautiful landscape.
But through it all, the irresistible joy of her pupils, the reality of keeping her teenage children on the straight and narrow, her irrepressible family and friends, and the possibility of new love, mean what could have been the worst year ever, actually might be the best yet…
Genre: RomCom
Format: Mobi
No One Can Hear You by Nikki Crutchley (282 pages)
'He said that they'd let me go on purpose. That they could easily find me if they wanted to. He said that they didn't want me. That I was too much trouble. He said if I went to the cops, he'd know. If I told Sonya, he'd know. If I talked to friends or teachers, he'd know. He told me to pretend it didn't happen. He told me to consider it a compliment, that I was too strong. His last words to me were, 'Just forget'.
Troubled teen Faith Marsden was one of several girls abducted from Crawton, a country town known for its picturesque lake and fertile farmland. Unlike the others, she escaped, though sixteen years on she still bears the emotional and physical scars.
Zoe Haywood returns to Crawton to bury her estranged mother Lillian, who has taken her own life. As she and Faith rekindle their high-school friendship, they discover notes left by Lillian that point to two more young women who recently disappeared from Crawton. But Lillian's confused ramblings leave them with more questions than answers.
As Faith and Zoe delve deeper into the mystery, they become intent on saving the missing women, but in doing so are drawn into Auckland's hidden world of drugs, abduction and murder. And then Faith decides to confront the mastermind – on her own.
Genre: Crime fiction
Format: Mobi / epub
Someone Else's Shoes by Sofia Ellis (382 pages)
Three years ago, Millie Morgan's life was perfect. She had an exciting career, fun friends, and a penthouse that she shared with her amazing boyfriend. But then an unfortunate series of events ripped all those things away from her. Now she has a dead-end job, no real friends or boyfriend, and the cottage she rents is one step shy of derelict. She's in a place she never thought she would be, feeling like she's wearing someone else's shoes.
Just when Millie is starting to fear that she's going to become a permanent resident in the neighborhood of rock bottom, she receives a letter from The Sharp Agency, which is as illustrious as it is mysterious. Soon after her first consultation with the agency, she is forced to question everything she thought she knew about herself and those around her. Suddenly, she has a real shot at getting a fresh start and a chance at finding love again. The only obstacle standing in the way is Millie herself and the echoes of her past.
Genre: Contemporary Romance
Format: Mobi
The Accursed by JG Koratzanis (301 pages)
After a lifetime of abuse, betrayal, and loss, Chase Romano prays that death will end his misery. But as his life begins to flash before his eyes, he witnesses past events from a new perspective – a view of a life wasted, and the chances for the love he never embraced.
What if Chase could change his fate? What if there was a chance to undo the damage of the past, and escape the dark destiny that has held him in its grasp for so long?
Or, what if it's already too late?
Genre: Thriller
Format: Mobi
Shadows Of Revenge by Sarah Goldsmith (300 pages)
"Vengeance is ours," she whispers to the shadows, who listen carefully before softly slipping away.
Thirteen tales of betrayal and revenge await you, taking you on a twisting journey through the shadows where nothing is at it seems. When betrayal comes calling at Morwenna Malerby's door, she makes a deadly vow that sets a dangerous wheel in motion. Tendrils of darkness reach out from the windswept Cornish countryside, inviting you to discover the horror lurking behind a locked door, the peculiar speciality on offer in a curious shop, how an innocent game of dice can have the most lethal of consequences, and watch as life's threads are severed in an instant.
Take care as you walk amongst the shadows, for who knows what awaits you there.
"Someone had left a candle on a small table in front of her, its feeble flame wavering in the cold breeze that whistled through the bare room. The wick guttered and dripped, its pathetic glow skittering over the array of tools spread out across the table top, drawing her eye. She wanted to look away, but her gaze locked onto the implements. These were tools that in any other hands would just be everyday items, objects used to create beautiful and useful things. Here was a chisel, there a hammer, and here a turnscrew, all perfectly regular articles. But in his hands, they became weapons."
Genre: Horror short stories
Format: Mobi
Secret Box: Searching For Dad In A Century Of Self by Tony Page (260 pages)
This is the true story of a psychologist who takes off his professional hat and returns to a '60s childhood to find a father engulfed by the "Human Potential Movement" breaking up a happy family, for reasons many of us might still recognise today. The author solves a real mystery that has bugged him throughout his life by drawing on a range of methods learned during his career as a psychologist to senior executives. He shows us how to be a historian, detective, coach, psychologist and writer and provokes us to reflect on happiness, the freedoms we sometimes crave and what we owe the next generation.
This is a book of interest to anyone seeking to understand their own history and family. It raises broader questions for psychologists, sociologists, organisational leaders and those in a helping profession.
Genre: Memoir
Format: Mobi
The Snow Witch by Rosie Boyes (259 pages ARC now, due to be published Oct 1st)
A GRANDFATHER CLOCK. A GLASS LOCKET. A POWERFUL CURSE UNLEASHED ON CHRISTMAS EVE.
Twelve-year-old Kitty Wigeon can't wait for Christmas at St Flurries, a grand old manor house in the countryside. Then one chilly night she vanishes without a trace.
One hundred years later… Still grieving over the death of their mother, Kes Bunting and his younger sister Star, are sent to live at St Flurries. They find a house steeped in mystery and brimming with secrets.
Who, or what, is making footprints in the snow?
And what evil force is taking a cold grip on Star?
Wrap up warm as you join Kes, and a cast of eccentric snow creatures, in a race against time to solve a hundred-year-old curse. Will he succeed? Or will the fate of his sister be decided by a shivery kiss from… the Snow Witch?
Genre: MG Fantasy
Format: Mobi
Conrad Monk and the Great Heathen Army by Edoardo Albert (219 pages)
Conrad is a monk, but he has become a monk through trickery and against his will. So, it is fair to say that his heart isn't really in it.
Conrad is also clever, charming, entirely self-serving, self-absorbed and almost completely without scruple — but in Anglo-Saxon England, when the Danish invaders come calling, those are very helpful attributes to have.
And so it comes to pass that Conrad finds himself constantly dodging death by various means, some reasonable, some… less so. His tricks include selling his brother monks into slavery, witnessing the death of a king, juggling his loyalties between his own people and the Danes, robbing corpses and impersonating a bishop.
By his side throughout is the gentle and honourable Brother Odo, a man so naturally and completely good that even animals sense it. He is no match of wits for the cunning Conrad but can he, perhaps, at least encourage the wayward monk to behave a little better?
Conrad Monk and the Great Heathen Army takes the reader on a hugely entertaining and highly informative trip through the Anglo-Saxon world, in the company of a persuasive and likeable — if frequently despicable — tour guide. It is a story that combines painstakingly accurate depictions of history with a fast-moving and often hilarious plot, and as such is bound to appeal to lovers of history, historical fiction and character-driven fiction alike.
Genre: Humourous histfic
Format: Mobi
Eubeltic Descent by Nadine C. Keels (200 pages)
Your soul will remember… 
As a woman who wasn't born to wealth or privilege, Abigaia has mastered the art of thievery. And she's come to hate it. Not only is she plagued by guilt, but her shadowed upbringing and silent ways cause most of her town to question her sanity.
Yet, Abigaia's eccentric father always taught her to be proud of her heritage. Her ancestry lies across the sea, in a prominent realm she's read about but has never seen.
The man who desires Abigaia's hand in marriage doesn't share her hope of seeing the Eubeltic Realm. But disaster erupts in their path, and Abigaia's dream may have a greater purpose—if that famed domain of her ancestors is now in crucial need of her.
Genre: Histfic Christian style love-story
Format: Mobi
Foam On The Crest Of Waves by Silke Stein (ARCs now for Sept/Oct? publication)
Can facing the past transform the present?
In a small fishing town on the Mendocino coast, the tides of time have washed over rumours and suspicions, yet the members of a maimed family still struggle to cope with their memories.
A broken woman, refusing to let go of her vanished husband.
Her widowed brother, clinging to the shatters of the life he loved.
His delusional daughter, planning to turn mermaid on her fifteenth birthday.
But when a young man realizes he made a mistake, secrets start emerging from the deep.
Will they bring further grief, or possibly redemption?
Genre: Women's Fiction
Format: Mobi or e-pub
Quick Fix by J. Gregory Smith (322 pages)
Military contractor Kyle Logan's luck has gone from bad to worse ever since he returned home to Philadelphia following an injury by an IED in Iraq. First, his marriage crumbles, then his career after he's pushed to the brink and assaults his wife's lover, who is also her divorce attorney.
When Kyle's shady best friend turns up and offers him a "once in a lifetime" chance to regain his job and his life, all for just a couple night's work, Kyle figures he's got nothing to lose. The police, Philly Irish Mob and a couple of drug cartels all think otherwise.
Now forced to fight for his life, and those around him, Kyle must turn to allies from his old neighborhood in a desperate effort to stay alive and out of prison.
Quick Fix is one man's fall into a world of unintended consequences that seeks to tread the razor-thin lines between right and wrong, loyalty and treachery.
Genre: Thriller
Format: Mobi
The Procurement Of Souls by Benjamin Hope (331 pages)
Magnus Drinkwater is close. Close to harnessing enough power to fuel his modified pocket-watch and stop time. But the answer continues to lie out of reach and when his daughter discovers a young woman no longer in possession of her soul, it quickly becomes clear that his own frustrations are the least of his worries. Someone with altogether darker machinations is busy working to their own design.
Dr Weimer is manoeuvring in the shadows, harvesting the souls from small-time criminals and turning their empty bodies into his mind-dead minions. But he too needs more power. Greater soul potency to reach his vision. And he'll do whatever it takes. No matter the cost.
As the body count rises and Magnus follows a bloody and violent path through decaying city slums and dockyards; city ministerial buildings; and St Villicus' monastery with its subterranean catacombs, he unearths more questions than answers. What is the link to the violent death of his wife two years before? What secrets are his colleagues hiding? Is there anyone he can truly trust? He must forge alliances he never thought possible and ultimately decide: just how far is he willing to push his own principles of science to power his device and keep the city safe?
Two scientists. Two ambitions. One bloody adventure..
Genre: Gothic-steampunk fantasy
Format: Mobi
The Cube by Melissa Faye (novella)
In the future, time travelers are a reality. In the present, time travlers are a real pain.
June Moore guards our present day from those who visit from the future. Their advanced knowledge and weaponry threaten to wreak havoc on our lives. And law enforcement is clueless about their future tech.
But June has an edge. Her exceptional intelligence and strength make her capable of fighting these visitors. Something the cops can't do. Acting as a vigilante, she sends the time travelers back where they belong—whether they like it or not.
Until the night before her freshman year of college, when June finds herself standing off against one of them. His motives are unknown and a mysterious cube in his hands piques her interest.
She has to know what's inside.
But her hesitation, driven by curiosity, causes the man to escape. She's left alone. With the box. And regrets…She should have sent the guy straight home.
If she doesn't capture him soon he could really mess up the future for everyone. Who knows what kind of trouble he may cause? And if the cube opens…it might cause even more trouble. Something that could hit more close to home.
If she's going to save the future of those close to her June must hunt the escaped traveler down.
…Before she runs out of time.
The Cube is Book 1 of Guardian of the Present, an eight book series of novellas that will appeal to fans of tough female leads, Buffy, Veronica Mars, and Looper.
Genre: YA scifi
Format: Mobi
The One That I Want by Lynne Shelby (274 pages)
When Lucy Ashford lands a top job at a leading theatrical agency in London, work mixes with pleasure, as she literally falls into the arms of Hollywood heartthrob Daniel Miller. Handsome, charming and irresistible, Daniel is just what unlucky-in-love Lucy needs, and she is quickly drawn into his glittering celebrity lifestyle. But can she tame the A-list bad boy or is she just one more girl in Daniel's long line of conquests? And then there's up-and-coming actor Owen Somers, fiercely talented but as yet uncast in a starring role. After she takes him onto the agency's books, Owen and Lucy's friendship slowly grows. If she looks closely, Lucy's leading man might be right before her very eyes…
Genre: Women's Fiction / romance
Format: Mobi
His Rags-To-Riches Contessa by Marguerite Kaye (288 pages)
From the streets of London…to Venetian high society!
A Matches Made in Scandal story
To catch his father's murderer, broodingly arrogant Conte Luca del Pietro requires help from a most unlikely source—Becky Wickes, London's finest cardsharp.
Against the decadence of Carnival, Becky's innocence and warmth captivate Luca, but as their chemistry burns hotter, the stakes of their perilous game are getting higher. For Luca is no longer playing for justice—but also to win Becky's heart…
Genre: Hist Romance
Format: Mobi
Riviera Affair (Book #4 The Yellow Cottage Vingae Mysteries) by Jacquie New (178 pages)
The glamour of the French Riviera quickly turns sour as Ella is caught up in an investigation which will have repercussions on both sides of the channel. But has she finally met her match?
When her mother telephones from France with news of her imminent arrest, Ella along with her aunt and an eccentric friend rush to her aid. But what starts as a simple disappearance quickly turns to murder and Ella finds herself embroiled in a mystery which is far more complex than she'd anticipated.
In a foreign land where she doesn't speak the language, has no jurisdiction and doesn't know who to trust, Ella has to call upon all her usual skills and devise new ones in order to flush out the adversary in their midst.
But will she be in time to save the life of the man she came to find?
Genre: Vintage mystery
Format: Mobi
Long Shadows by Thorne Moore (234 pages)
Llys y Garn is a rambling Victorian-Gothic mansion with vestiges of older glories.
It lies in the isolated parish of Rhyd y Groes in North Pembrokeshire. It is the house of the parish, even in its decline, deeply conscious of its importance, its pedigree and its permanence. It stubbornly remains though the lives of former inhabitants have long since passed away. Only the rooks are left to bear witness to the often desperate march of history.
Throne Moore's Long Shadows: Tales of Llys y Garn comprises a trio of historical novellas that let us into secrets known only to these melancholy birds.
The Good Servant is the story of Nelly Skeel, loveless housekeeper at Llys y Garn at the end of the 19th century, whose only focus of affection is her master's despised nephew. But for Cyril Lawson she will do anything, whatever the cost.
The Witch tells of Elizabeth Powell, born as Charles II is restored to the English throne, in a world of changing political allegiances, where religious bigotry and superstition linger on. Her love is not for her family, her duty, her God or her future husband, but for the house where she was born. For that she would sell her soul.
The Dragon Slayer tells of Angharad ferch Owain in the early decades of the 14th century. Angharad is an expendable asset in her father's machinations to recover old rights and narrow claims, but she dreams of bigger things and a world without the roaring of men. A world that might spare her from the seemingly inevitable fate of all women.
In these three tales the rooks of Llys y Garn have watched centuries of human tribulation – but just how much has really changed? If you enjoyed the kaleidoscopic sweep of David Mitchell's Cloud Atlas you will appreciate Long Shadows.
Genre: HistFic
Format: Mobi
Ellen by Coral McCallum (ARC now, for Sept 1st publication)
Ellen "I vowed to prove them wrong."
Tailz "I believe this is about where we got to before."
Luke "You mess this up and you're history! Hear me?"
Nana "You should be soulmates not lovers."
Emotions run high when Ellen Lloyd steps up to the mic as the new vocalist for rock band After Life. Will she prove to be heaven sent or will her arrival see the band descend into the depths of hell?
Genre: Rock star romance
Format: Mobi
What's Left Unsaid by Deborah Stone (208 pages)
Sasha is just about managing to hold her life together. She is raising her teenage son Zac, coping with an absent husband and caring for her ageing, temperamental and alcoholic mother, as well as holding down her own job. But when Zac begins to suspect that he has a secret sibling, Sasha realises that she must relive the events of a devastating night which she has done her best to forget for the past nineteen years.
Sasha's mother, Annie, is old and finds it difficult to distinguish between past and present and between truth and lies. As Annie sinks deeper back into her past, she revisits the key events in her life which have shaped her emotionally. Through it all, she remains convinced that her dead husband Joe is watching and waiting for her. But there's one thing she never told him, and as painful as it is for her to admit the truth, Annie is determined to go to Joe with a guilt-free conscience.
As the plot unfurls, traumas are revealed and lies uncovered, revealing long-buried secrets which are at the root of Annie and Sasha's fractious relationship.
Genre: Women's fiction
Format: Mobi
The Colonel And The Bee by Patrick Canning (304 pages)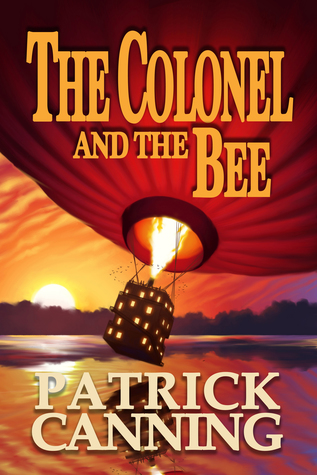 A peculiar explorer and downtrodden acrobat span the globe on a building-sized hot air balloon, in search of a precious artifact and the murderous treasure hunter who seeks it.
Beatrix, a spirited but abused acrobat in a traveling circus, seeks more than her prison-like employment offers. More than anything, she wants to know her place in the world of the halcyon 19th century, a time when the last dark corners of the map were being sketched out and travel still possessed a kind of magic.
One night in Switzerland, the mysterious Colonel James Bacchus attends Beatrix's show. This larger-than-life English gentleman, reputed to have a voracious appetite for female conquests, is most notable for traveling the world in a four-story hot air balloon called The Ox.
Beatrix flees that night to join the Colonel, and the two of them make a narrow escape—Beatrix from her abusive ringleader, the Colonel from a freshly-made cuckold. Beatrix, feeling the Colonel may have the answers to her problems, pledges to help him catch the criminal he seeks in exchange for passage on his magnificent balloon.
The criminal seeks a precious figurine, The Blue Star Sphinx, but he's not alone. The Sphinx's immense value has also drawn the attention of the world's most deadly treasure hunters. A murder in Antwerp begins a path of mystery that leads all the way to the most isolated island on Earth.
What dangers await the Colonel and the acrobat?
Genre: Coming of age adventure
Format: Mobi
Dead On Leave by Chris Nickson (273 pages)
Leeds, Autumn 1936.
During a British Union of Fascists rally, a body is found.
War veteran Detective Sergeant Urban Raven is tasked with finding the killer.
But with virtually no clues, no witnesses and no obvious motive, he has few leads to start the investigation.
Leeds has become a shadow of its former self. Once a bright, vibrant and progressive metropolis, it has all but ground to a halt since the Crash of '29, the Depression and the ensuing descent into unemployment and poverty.
And there are political stirrings as the BUF vie with the Communist Party for public support.
Was the murder an act of vengeance?
Was the victim killed for his political beliefs?
Or was the killing part of a more sinister plan, a grisly smear campaign? And if so, which side, if either, is responsible?
Raven and his colleagues find themselves constantly hindered by red tape, politics and the press. But sometimes, if you want a result, you just have to do it your way…
This puzzler of a crime story comprises convincing characters, a clever plot and a window into the dark days of 1930s northern England, where so many had lost hope…
…the dead. On leave.
Genre: Crime fiction
Format: Mobi
A Contrary Wind by Lona Manning (379 pages)
Fanny Price is an intelligent but timid girl from a poor family, who grows up at Mansfield Park with her wealthier cousins.
But the cruelty of her Aunt Norris, together with a broken heart, compel Fanny to run away from Mansfield Park and find employment as a governess.
Far away from everything she ever knew and the man shes secretly loves, will Fanny grow in fortitude and independence? Will a new suitor help her to forget? Or will a reckless decision threaten to destroy her own life and the lives of those she holds most dear?
This variation of Jane Austen's novel includes all the familiar characters from Mansfield Park, as well as some new acquaintances. There are some mature scenes.
Genre: Histfic
Format: mobi