What authors are saying about Rosie Amber's Review Team:
'I rely on Rosie's review team for honest and thoughtful reviews. I know they love reading and the reviews they post express both that love and their opinions of my (and other writers') novels. Long may they continue. Their support has been invaluable.'  Carol Hedges, author of Victorian murder mysteries and YA
'As well as introducing me to talented authors in other genres, I'm grateful to Rosie's review team for helping raise awareness of my books to new readers.'  Tony Riches, Amazon best-selling historical fiction author.
'Without doubt the best book review service I've used. Always a quick turnaround, always honest reviews, and as an author you can't ask for more than that.'  Dylan J. Morgan, author of horror, Sci-Fi, dystopian and post apocalyptic fiction.
'Rosie Amber and her team of reviewers/bloggers are professional, dedicated and fair minded. As an author, I know that I will receive a fair critique of my novels from them. I am happy to use them as go-to reviewers for any new novel I publish. I am also happy to recommend them to other authors.'  Lizzie Lamb, author of romantic comedies
'Rosie's team bring authors and readers together in the nicest possible way.  Reviewers who care about books – what more can an author ask for?  David Ahern, mystery author
"Smaller authors don't have the same publicity budget as the big publishers and it is a struggle to reach potential readers. Rosie and her team provide an invaluable service not only with providing good quality reviews but also with sharing those reviews on social media to reach a larger audience." Diane Febry thriller author
Book Review Team Booklist
Below will be a list of books team members can request for review. Please read and write a review for any chosen book within a month of receipt. Reviews should be posted on at least 2 sites, these can be your own blogs, Amazon, Goodreads, Smashwords etc.  Plus a copy of the review should be e-mailed to me and I will post it here on my blog with full recognition going to the reviewer.  I shall endeavour to keep this page as up to date as possible and match book requests to reviewers on a first come first served basis.
Members of the book review team and authors are spread across the world and it's time zones so a little patience may be required at times.
All books will be in e-formats.
Team members should contact me via my e-mail to request their choice of book/ books and FORMAT. I will pass on their request to the author. Do check spam and contact me if you think you haven't received your book after a reasonable 48 hour wait.
Once you've written your book review please send a copy to me via e-mail and also tell me where you will be posting the review. I will post the review on my blog as soon as is reasonably possible with full credit to the reviewer. Please provide a link to your blog if you intend posting the review there as I will pass this on to the authors.
New Book review Team members are always welcome, please make initial contact via the Book Review Team Tab at the top of the blog.
Twitter Hashtag #RBRT
The Book List
Immortal by Nick Lloyd (324 pages – Arc now, due to be published Feb 28th)
"We're coming to help."
That's the message humanity receives from the depths of space.
The senders, calling themselves the Ankor, claim a colossal gamma ray burst from a supernova will engulf the Earth in less than a year, sterilising all life.
But they provide no proof … only demands that all countries must prepare to build an enormous shield in orbit around the Earth.
Francis MacDonald, industrialist and private owner of the UK's only satellite launch facility, says there's no alternative but to mobilise immediately. Tim Boston disagrees – there are always alternatives – but as a senior data analyst in one of MacDonald's bioengineering start-ups with a desperate need for money, he won't risk biting the hand that feeds him.
Samantha Turner will. Since smashing her spine in a car crash five years previously, she's happy to bite anyone and she's had a close eye on MacDonald's shady practices for a while.
Genre: Scifi thriller
Format: Mobi
The End Is Nigh by William Blackwell (253 pages)
Cray Lenning's life as a garbage collector in a small town is reclusive and boring. Burdened with strong feelings of distrust and resentment, he's content to wallow in lonely self-pity. But when he witnesses a defrocked preacher proclaim "The end is nigh" seconds before getting struck by a car, Cray's world spirals out of control.
Initially, Cray dismisses the wayward preacher as a wacko, but ominous signs begin to convince him otherwise. Enter Sandra Colling, a heartbroken but resolute nurse. Together, they build an underground shelter to try and survive a deadly inferno blazing across the country, and embark on a frantic mission to save others. Trapped inside the shelter, they learn the terrifying reality of their choices: a traumatized police detective; a manipulative and self-righteous psychologist; a sadomasochistic sex-addict; a rambling alcoholic preacher; and a mentally ill redneck with an explosive temper.
Their dire predicament worsens when water runs out and they're forced to emerge from the shelter. To survive in this God-forsaken wasteland, they must form an unlikely alliance and battle a far more deadly presence topside—a gang of ruthless escaped convicts, hell-bent on starting an evil polygamist cult that rules by fear, intimidation, and brutal murder.
Genre: Post Apocalyse
Format: Mobi
Molly Hacker Is Too Picky by Lisette Brodey (303 pages)
At thirty-two, newspaper reporter Molly Hacker vows to never attend another wedding until she has had her own. And that's a problem because Molly's younger sister, Hannah, is going to be married in one year. Armed with snark, wit, and fabulous good looks, "Picky Molly" embarks on a quest to find Mr. Right in her hometown, Swansea, an elegant bedroom community of NYC.
Things get complicated fast. In no time at all, Molly has four "men of interest" and the memories of a lost love to send her overanalytic, befuddled mind into serious overdrive. Determined not to let her "helpful" girlfriends help her right out of another relationship, Molly tries to keep mum on the state of her love life. Her BFF male coworker, Randy, becomes her closest confidant as he stumbles over romantic issues with his new Mr. Right, Kyle.
Meanwhile, Molly's BFF gal pals aren't too happy about being left out of the loop. Tweaking Molly's last nerve is the town's most visible socialite, Naomi Hall-Benchley. For self-serving reasons, Naomi is hell-bent on setting up "Picky Molly Hacker" and she doesn't care who she has to manipulate or hurt to do it. Just how far will she go? Molly Hacker Is Too Picky! takes the reader on a yearlong romp through Molly's mind and a joyride through her life. Her dating life, town secrets, a group of quirky, crazy characters, and Naomi's machinations collide head-on at a holiday gala that will change the social landscape of Swansea forever.
As the New Year rolls in, Molly gets earth-shattering news. Can she go on? Will life ever return to abnormal again?
Genre: Romcom
Format: Mobi
Storytellers by Bjørn Larssen ARC now for March 28th publication
"There is a story you might enjoy. It's a good one…I think."
"Do people die in it?"
"Yes, they do."
"Fire? Women? Drinking? Fights?"
"Plenty of everything."
In March 1920 Icelandic days are short and cold, but the nights are long. For most, on those nights, funny, sad, and dramatic stories are told around the fire. But there is nothing dramatic about Gunnar, a hermit blacksmith who barely manages to make ends meet. He knows nobody will remember his existence – they already don't. All he wants is peace, the company of his animals, and a steady supply of his medication. Sometimes he wonders what it would feel like to have a story of his own. He's about to find out.
Sigurd – a man with a plan, a broken ankle, and shocking amounts of money – won't talk about himself, but is happy to tell a story that just might get Gunnar killed. The blacksmith's other "friends" are just as eager to write him into stories of their own – from Brynhildur who wants to fix Gunnar, then marry him, his doctor who is on the precipice of calling for an intervention, The Conservative Women of Iceland who want to rehabilitate Gunnar's "heathen ways" – even the goddamn elf has plans for the blacksmith.
As his defenses begin to crumble, Gunnar decides that perhaps his life is due for a change – on his own terms. But can he avoid the endings others have in mind for him, and forge his own?
The author is an ex-blacksmith, lover of all things Icelandic, physically located in Amsterdam, mentally living in a log cabin near Akureyri. He has published stories and essays in Polish and American magazines, both online and in print. This is his first novel.
Genre: Histfic fantasy humour
Format: Mobi / e-pub
The Unfolding by Jeehan Quijano (216 pages)
Set in San Jacinto, a rural town in the Philippines, the story traces the return from Los Angeles of Benjamin, the son of an indigent farm worker, who realized his dream of gaining an education and escaping the poverty of his hometown. He is drawn back to his roots by the sudden death of his brother, Omar, and the unanswered questions that emerge from that tragedy. Over one week, the story focuses on the revelations that follow one after the other about how his future was actually secured and the deal his father made with the seemingly benevolent figure of Don Rafael. Overtaken by feelings of guilt and questioning all that his education had helped him achieve, Benjamin finds himself led down a deadly path in search of redemption.
Genre: Contemporary
Format: paperback only
The Cleansing by Anton Eine (18 pages)
Will beauty save the world? Not this time…
This sci-fi short story gives us a view of our world from perspective of alien invaders that just arrived to destroy any life on Earth. Can we do anything to save our fragile peace, to protect our home and the very existence of the humankind?
Genre: Scifi short story
Format: Mobi / e-pub
The Shadowverse by John-Clement Gallo (346 pages)
Johnny Sparks longs for a greater purpose. After an encounter with a mysterious stranger, he and his friends are imbued with incredible powers—at last giving his life meaning.
But this dream soon disintegrates once one of the friends is taken by an alien warlord named Titan. In a rescue effort, the remaining group is sent across the galaxy in search of the only possible aid—an ancient, immortal warrior missing for centuries.
To succeed, the team must join forces to reclaim their friend and stop a sinister scheme devised against humanity by Titan and his empire. The conflict for the soul of the universe is set in motion, but even if the group prevails, they risk losing what it means to be human.
Genre: Ya scifi
Format: Mobi / epub
Theodore & Eliza by Susan Harvard (348 pages)
Theodore & Eliza is the first and only account of the eight-year marriage 1812-20 of the mixed-race couple, from whom Princess Diana was directly descended.
The story is threaded through an extensively researched background of places and people in Yemen, Bombay and Scotland during the Napoleonic era. It is an unusually intimate account drawn from a rarely-accessed private archive of the couple's personal correspondence.
Rapidly changing attitudes to biracial marriages mean that Theodore has to choose between his family and a lucrative career. Though he still loves her, he decides to leave his wife and their three children.
Genre: Non Fiction
Format: e-pub
Murder Undone by Robin Storey (295 pages)
Wealthy socialite Eva Dennehy murdered her first husband Charlie because he was planning to leave her for his mistress. Even her marriage to kind-hearted Edgar can't blot out her remorse or fill the gap Charlie has left in her life.
When Eva is offered the opportunity to travel back in time and undo her crime, she accepts. What does she have to lose? Back in her old life with Charlie, her passion for him surpassed only by her torment at his infidelity, she is more determined than ever to prevent him from leaving her.
But Eva discovers a sinister side to Charlie she never knew before, and her plan plunges her into a world of crime and depravity. She soon realises she has even more to lose this time around.
Genre: Psychological suspense
Format: mobi / e-pub
Lingering by Melissa Simonson (ARC now, due for publication March 31st)
Death doesn't have to be the end.
With Lingering, your departed loved ones are only ever a phone call or text message away.*
Say all those things you should have said. Get their advice, hear their comforting words. Let them celebrate your achievements and soothe your fears like they used to.
Everyone is welcome, and consultations are always free.
*Some conditions may apply. Please call our office for details.
Genre: Scifi
Format: Mobi
The Wire Recorder by Thomas A. Levitt (312 pages)
Sophie Hearn grows up hearing about the House Un-American Activities Committee's 1951 campaign to root out Communists in the film industry. Her father's impassioned testimony in defense of the First Amendment—and his refusal to answer questions about his political associations—leave him blacklisted for years, destroying his promising screenwriting career and putting his family on the edge of financial ruin. Unsurprisingly, his daughter becomes politically aware at an early age.
The shadow of the blacklist follows Sophie to college and then into adulthood, affecting her politics, her career ambitions and her relationships. But it's not until she reunites with Steve Elwood, a long-lost childhood friend, that she's forced to face the full impact of her family's past.
A powerful story about coming of age in California in the mid-twentieth century, The Wire Recorder explores how political paranoia, when allowed to spiral out of control, can leave a toxic residue that lasts for generations.
Genre: Histfic
Format: Mobi
A Bittersweet Garden by Caren J Werlinger (Arc now due for publication March 1st) 310 pages.
Nora McNeill has always dreamed of exploring her Irish roots. When she finally gets the opportunity to spend a summer in the village where her grandparents grew up, the experience promises to live up to her very high expectations. Except for the ghost that is haunting her rented cottage and is soon invading her dreams.
Genre: Contemporary
Format: Mobi or e-pub
One? by Jennifer Cahill (356 pages)
It's London in the mid-noughties before Facebook, iPhones and ubiquitous wifi.
Zara has just moved to London for her first real job and struggles to find her feet in a big city with no instruction manual. Penelope works night and day in an investment bank with little or no time for love. At twenty-eight she is positively ancient as far as her mother is concerned and the pressure is on for her to settle down as the big 3-0 is looming. Charlie spends night and day with his band who are constantly teetering on the verge of greatness. Richard has relocated to London from his castle in Scotland in search of the one, and Alyx is barely in one place long enough to hold down a relationship let alone think about the future. One? follows the highs and lows of a group of twenty-somethings living in leafy SW4.
Genre: Contemporary fiction
Format: Mobi
The Pink Elephants by P.J. Skinner (311 pages)
A failing project, beleaguered pygmies and endangered elephants. Can a determined geologist save them all or will she have to choose?
Sam Harris gets a call in the middle of the night that takes her to the Masaibu project in Africa. The project is collapsing under the weight of corruption and chicanery engendered by management, both in country and back on the main company board.
Sam has to navigate murky waters to get it back on course, not helped by interference from people who want her to fail. When poachers invade the elephant sanctuary next door, her problems multiply.
The Pink Elephants is the fourth book in the riveting Sam Harris Adventure series. If you like gutsy heroines, complex twists and turns, and heart-pounding action, then you'll love PJ Skinner's thrilling novel.
Genre: Women's mystery/ Adventure
Format: Mobi / e-pub
Esme's Wish by Elizabeth Foster (252 pages)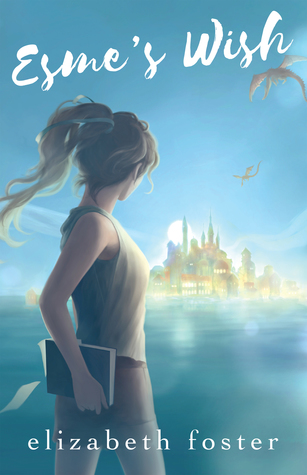 When fifteen-year-old Esme Silver objects at her father's wedding, her protest is dismissed as the action of a stubborn, selfish teenager. Everyone else has accepted the loss of Esme's mother, Ariane – so why can't she?
But Esme is suspicious. She is sure that others are covering up the real reason for her mother's disappearance – that 'lost at sea' is code for something more terrible, something she has a right to know.
After Esme is accidentally swept into the enchanted world of Aeolia, the truth begins to unfold. With her newfound friends, Daniel and Lillian, Esme retraces her mother's steps in the glittering canal city of Esperance, untangling the threads of Ariane's double life. But the more Esme discovers about her mother, the more she questions whether she really knew her at all.
This inventive tale, the first in an MG-to-YA series, is suited to readers ten years and over.
Genre: MG Fantasy
Format: Mobi / e-pub
Lord Edward's Archer by Griff Hosker (248 pages)
13th Century, Wales and England.
To young Gruffyd, life has been unkind. Eking out a meagre living with his father, he has learned very quickly how to look after himself in the hostile borderlands. His father, an archer, has taught him well and at seventeen Gruffyd is a keen and able bowman. Young, loyal and skilled, it's not long before Gruffyd finds himself following in his father's footsteps, working as an archer in the bordering castle. But tragedy strikes when his lord commits a devastating deed, and Gruffyd is forced to make a life altering decision.
This is the story of a young archer's riotous journey from avenging outlaw to merchant's bodyguard to, finally, the captain of archers for the heir to the throne. Gruffyd must prove not only his own worth, but the importance of archery in some of England's most decisive and ruthless battles.
Genre: Histfic
Format: Mobi
Not Here (Dina Ostica Novel 1) by Genevieve Nocovo (218 pages)
Would you surrender your free will to save your life? 
A city in turmoil. A neighbor disappears. When her concerns are written off, Dina investigates on her own — and becomes a target, at the mercy of those in control…
In San Francisco, where the poor are systematically displaced by well-off yuppies, Dina Ostica is part of the problem. The damaged, determined twenty-three-year-old scrambles to make a name for herself in the burgeoning world of podcasting, with the city as her muse. She is hell-bent on professional success, thinking it will mend her broken spirit.
But when her go-to source on local history disappears without warning, she begins to uncover an uncanny pattern that hits too close to home, getting her tied up in the city's underbelly.
What follows is a gritty tale of exploitation, betrayal, and the strength one needs to survive the whims of those in power.
Will Dina escape or fall victim to the injustice chewing up the city?
Genre: Thriller
Format: Mobi / epub
Treading The Uneven Road by Lorna M. Brown (206 pages ARC now, book due out March 15th)
The stories in this linked collection are set in a small village in the Northwest of Ireland in the early 1980's and 90's. A by-pass around the village has rid them of their once busy traffic. The residents feel forgotten by the world. The need to reach out and be heard is explored in every story, from the young woman who starts to have phone conversations with her husband's gay lover, to the dyslexic man who confronts his cruel teacher years later.
The collection is not only about the characters need for salvation but it is about a society that is unraveling. In Amends, we hear about the Bishop who has fathered a child. A priest is beckoned by a dying man to be mocked. The world inside and outside the village is changing. In every story the characters need to make a choice on how they might carry on.
Genre: Short stories
Format: Mobi
Call Drops by John F Leonard (79 pages)
Vincent likes nothing more than rootling round second-hand shops in search of the interesting and unusual. Items that are lost and forgotten.
Why not? He needs the diversion. Time on his hands and money to burn. His life is affluent and empty. Little on the horizon and memories tinged bittersweet.
That's all about to change. He's about to find something that is perhaps better left unfound.
CALL DROPS is a darkly swirling mix of horror and mystery that will stay with you long after the reading is done. It'll maybe make you think twice about impulse buying, those moments when you simply must have something, even though you don't need it.
It might cause you to look again at the apparently mundane and everyday …and possibly, just possibly, wonder at what twisted marvels lurk within your mobile phone.
Genre: Horror
Format: Mobi
In Her Defence by Jan Edwards (282 pages) (ARC now for April publication)
Bunch Courtney's hopes for a quiet market-day lunch with her sister are shattered when a Dutch refugee dies a horribly painful death before their eyes. A few days later Bunch receives a letter from her old friend Cecile saying that her father, Professor Benoir, has been murdered in an eerily similar fashion. Two deaths by poisoning in a single week. Co-incidence? Bunch does not believe that any more than Chief Inspector William Wright.
Set against a backdrop of escalating war and the massed internments of 1940, the pair are drawn together in a race to prevent the murderer from striking again.
Genre: Histfic Mystery
Format: Mobi / e-pub
Foiled by Carey Fessler (246 pages)
It's 1947 on a U.S. Army base near Roswell, New Mexico, and eleven-year-old Kate's friend and neighbor, Billy, shows her a secret. A CIA agent arrives at Billy's house, to recover the Top Secret items, and threatens the family, warning them to never talk about the incident—ever! Special Agent Falco informs them of their sudden reassignment to Germany. Billy, not wanting to move to Germany or return his treasures, begs Kate for help. Feisty and fiercely loyal, she agrees to hide him.
Thus begins a most unusual road trip in which the two friends use their wits, their knowledge of the terrain and geography around the base, and sheer determination to evade capture. Kate must also reach her grandfather, more than two hundred miles away, and warn him of a dangerous threat … to anyone involved.
Their race has begun, and there's no turning back.
Genre: Middle-grade
Format: Mobi / epub
The Lady of the Glen: The Glen Highland Romance by Michelle Deerwester-Dalrymple (222 pages)
Elayne MacNally knew one thing for certain: Her reputation as the willful harpy of the Highlands was well earned.
As the spoiled daughter of the successful Laird MacNally, Elayne got whatever she wanted, until the man she thought she would wed rejected her. Dejected and reconsidering her lot in life, her father comes up with an opportunity that could change the course of her life and perhaps her reputation as well.
Declan MacCollough also knew one thing for certain: He did not want to follow in his father's footsteps as Laird of the reputed "Beast Clan."
Following his father's death, Declan had a lot of work ahead of him to reclaim any sense of respect for his people. Families had fled; fathers would not permit their daughters to wed into the clan. Declan wanted, more than anything, to recreate his clan into one deserving of service to the King.
The first step Declan must take is to find a wife with enough backbone to help him tame his clan, help it grow, and gain back respect. Learning of Elayne and her reputation, Declan offers to wed the lass – an arranged marriage of sorts. With no other choices open to her, Elayne decides that the Laird of the Beast Clan is her best, if only, option.
What happens when she arrives is a strange and passionate meeting of the minds between herself and Declan. Playing on each other's strengths, they maneuver around those who attempt to prevent the marriage as a play for power.
However, Declan's past affiliations with the King are not welcome by all, and the challenges to their marriage become the least of their worries.
Can Declan and Elayne trust each other enough to face the threats to the MacCollough clan and their very lives?
Genre: Historical Romance
Format: Mobi
The Sea Was a Fair Master by Calvin Demmer (83 pages)
The world's fate lies with a comatose young girl; an android wants to remember a human she once knew under Martian skies; men at sea learn that the ocean is a realm far different from land, where an unforgiving god rules; a school security guard discovers extreme English class; and a man understands what the behemoth beneath the sea commands of him.
The Sea Was a Fair Master is a collection of 23 stories, riding the currents of fantasy, science fiction, crime, and horror. There are tales of murder, death, loss, revenge, greed, and hate. There are also tales of hope, survival, and love.
Genre: Flash fiction
Format: Mobi or e-pub
Voyage Of The Lanterfish by Craig Boyack (394 pages)
An honorable man is mistaken for his disreputable father. Now he's pushed into a political scheme to start a war that will spread across multiple kingdoms. James Cuttler's fiancé is being held captive to ensure he goes through with the plan.
He soon decides his skills are at sea and procures a ship to wage war upon those who disrupted his simple life. He can't do it alone, so he recruits a band of cutthroats to help him. But first, they need guns and munitions to outfit the ship properly. Deception and trickery will only get them so far. Eventually, they're going to have to engage the enemy.
James' goals aren't necessarily the same as his crew. It's a delicate balancing act to collect enough loot to keep his crew happy, while guiding them back to rescue the girl.
Voyage of the Lanternfish is filled with adventure, magic, and monsters. Lots of monsters. Hoist the colors and come along for the ride.
Genre: Pirate fantasy
Format: Mobi or e-pub
Kerry's Busy Saturday by Linda Dobinson (176 pages)
Saturday couldn t have come sooner for Kerry, as today was the start of a new grown up venture. At the grand age of 8-years old, she was off on a shopping trip with her big sister. They d mapped out their day, this shop that shop, both knew exactly what they wanted, and where they wanted to go. Kerry had promised mum that she d be good for her sister, and what could possibly go wrong? They were independent girls, shopaholics on the loose. Yet when a runaway poodle and horrid boy from school starts to stir up trouble, the sisters must think on their feet. New dresses, bracelets and books are all but forgotten after the girls discover a secret that will forever change the life of someone they love.
Genre: Middle-grade
Format: Paperback
The Colour Of Fire by Michael Asher (302 pages) Stand-alone, but is part of a series
London, May 1945.
Captain Tom Caine knows he should be out with the throngs of revellers, celebrating Victory in Europe. But instead of elation he only feels anger. He cannot forget the horrors of the past six years and the friends he was unable to save.
And what about Celia Blaney, field security officer and the object of his affections, reported MIA?
Then Caine receives an offer to become part of a war crimes investigation team, tasked with uncovering the fate of service men and women who went missing in France.
But his team quickly finds that Allied forces and the Military Police, the very people who should be supporting their endeavour, are inexplicably obstructing their progress.
Is there something they don't want them to know? Something connected to the missing SAS men?
…and Blaney?
Genre: WW2 thriller
Format: Mobi
Kaerou Time to Go Home by B Jeanne Shibahara (286 pages)
"In Japan…everywhere…red strings tie all people we meet together. Some strings are weak. Some have tangles. Some strong."
Meryl—Vietnam War widow—misses her grown son, feels left out after her father's recent marriage. A WWII Japanese flag falls into her hands. The gentle push of a love-struck professor starts her adventure—take the flag home. From the neon of Osaka, to the ancient capital Nara, to the forests of Akita, the trail follows a newspaper reporter, factory manager, ikebana teacher, a Matagi hunter and winds through Japanese culture, past and present. A story of shared humanity and love "in the simplest things."
Genre: Family saga histfic / cultural fiction
Format: Mobi or e-pub
After The Last Battle by Matthew Moss (300 pages)
In a post-apocalyptic world, where the Hordes of Hell reign supreme, the only thing anyone could ask for is peace and quiet. Having lived his entire life in a secluded village, Telarious has had exactly that, yet for him it was misery. Bored of his monotonous life as a hunter, Telarious looked for any chance of conflict, so that he might prove himself to be more. When a band of demons tear through his village in search of an angel in hiding, one of the last of the nearly extinct species, his wish is granted tenfold. This one act reveals Telarious's hidden potential and sends him and his new angelic counterpart into a neighboring colony, where the struggle for power rages on. In over their heads, the two must learn to work together and with new, powerful allies to defeat the demons that have claimed Earth as their own.
Genre: Ya occult & paranormal
Format: Mobi/ epub
Growing Pineapples in Eden by Paul Boyson (321 pages)
Ash is on the run. Having upset local big shot, Ronnie Starling, and made a somewhat less than high speed getaway in his VW beetle, he manages to blag the position of gardener at Eden Manor with the help of Starling's eldest daughter, Emma.
But Ash finds life as a country gardener far from easy. He doesn't know a bindweed from an antique dining table, and his boss, Gerry Parker-Lane, has pretentions…
Ash's problems mount, from managing to dye Gerry's prize lawn a lurid shade of green, to falling foul of an eccentric couple of master criminals. Very soon he finds he has more to worry about than pruning roses…
Genre: Comedy
Format: Mobi
Chasing Stars by Mercedes Siler (343 pages)
Ares is consumed wanting to know what Nikki is all about. He's always known her as his twin sister's best friend, but now they're out of high school, on their own paths, and he's been thinking about her more and more.
Nikki is almost resigned to a lonely existence, trying to shield her little brother from their abusive mother. Ares is just a midnight snack of a fantasy; especially since he's destined for greater things as an artist and she's just barely making it, and grateful to his parents for helping her make it this far.
When Ares lets her know he's interested in finding out who she is underneath it all, Nikki is afraid of losing everything when it's over. But it's a risk she might be willing to take before Ares leaves for a bright future and Nikki stays behind with her crazy life.
Genre: Na romance
Format: Mobi / epub
Ashes Of America by Fergus McNeill (ARC now, book due out Feb '19)
What if the past came back to haunt you… but it wasn't the past you remembered?'
It's 1953, and an optimistic America is shaking off the hurt of World War II. Russia is defeated and Germany is now an ally.
Former soldier Frank Rye is a small-town cop in rural Missouri, but the war has left him cynical and selfish. When his actions lead to the murder of a fellow officer, guilt drives him into a vengeful hunt for justice.
His search for the killer will drag him deep into his own past… to the wartime summer of 1944, when he was stationed in neutral Switzerland… to a clandestine world of love and lies.
To unmask the killer, he must uncover the truth about the war… and about himself.
Genre: Historical thriller
Format: Mobi
The Search for the Fountain of Youth by Caleb Wygal (255 pages)
The quest for eternal life often sends explorers to an early death.
Lucas Caine is struggling to get his deep-sea salvage operation off the ground. But when he makes a discovery off the coast of Nags Head, he finds himself in the middle of a 200-year-old secret government operation. It's mission: to find the Fountain of Youth. Caught between a shadow agency and another mysterious group sworn to protect the Fountain at all costs, Lucas doesn't know who—if anyone—to trust.
With his best friend Darwin by his side, the team must trace a cryptic path originating from the ocean's depths on a high-octane search for the greatest treasure of them all. But one-by-one the team disappears. Can Lucas end the quest and locate his friends while he runs for his life? Or will he be next?
Genre: Action Adventure
Format: Mobi
Hometown Boys by Mary Maddox (ARC now for Jan 21st publication) 346 pages
"Junkie burnout Troy Ingram murders an elderly couple outside small-town Morrison, Illinois. He's supposed to make it look like a robbery, but there's so much blood he panics. When he's caught by police, he falls back on Plan B: tell everyone his motive was revenge on the Durrell family.
"See, twenty years ago, Kelly Durrell broke his heart and ruined his life.
"When Kelly returns to Morrison for the funerals, local gossip is quick to reach her. Troy's story doesn't make sense, but everyone in town seems happy to blame Kelly. But Troy's lawyer, Lizzy D'Angelo, is sure someone else is behind the murders. With Lizzy's help, Kelly starts digging. Soon she discovers just how many secrets a small town can hide.
"Can Kelly shine a light in her hometown's dark corners without getting herself and her family killed?"
Genre: Thriller
Format: Mobi / epub
Small Town Kid by Frank Prem (107 pages)
Small Town Kid is the experience of regional life as a child, in an insular town during the late 1960s to the mid-1970s, remote from the more worldly places where life really happens, in a time before the internet and the online existence of social media.
It is a time when a small town boy can walk a mile to school and back every day, and hunt rabbits with his dog in the hours of freedom before sundown. He can hoard crackers for bonfire night and blow up the deputy school master's mailbox in an act of joyous rebellion.
It is a time when a small town teenager will ride fourteen miles on a bicycle for his first experience of girls, and of love. A time when migrating from a foreign country to a small town means his family will always feel that they are strangers, while visitors to the town are treated like an invading host.
It is also the remembrance of tragedy for inexperienced friends driving on narrow country roads.
This collection of poems and stories shares the type of childhood that has mostly disappeared in contemporary times. Come and revisit it here, in the pages of a Small Town Kid.
Genre: Poems / short stories
Format: Mobi
Brandon by Tony Riches
This true story of adventure, courtly love and chivalric loyalty sees the world of Tudor England unravel under the rule of a king determined to ensure the future of his dynasty, whatever the cost.
Charles Brandon is a Tudor knight, champion jouster, handsome and charismatic. The nobles resent Brandon's favours and friendship with King Henry VIII, and plot to bring him down. He risks everything by marrying the king's beautiful young sister, Mary Tudor, widowed Queen of France.
Brandon becomes Duke of Suffolk, but his loyalty is tested fighting Henry's wars in France. Mary's support for Queen Catherine of Aragon brings them into conflict with the ambitious Boleyn family and the king's new right-hand man, Thomas Cromwell. Forced to choose between his duty to his wife or his king, how can he accept Anne Boleyn as his new queen?
Genre: HistFic
Format: Mobi
GoodCopBadCop by Jim Alexander (324 pages)
GoodCopBadCop is a modern crime take on Jekyll and Hyde where the 'good cop' and 'bad cop' are the same person. It is a modern day police procedural story where our main character tries to juggle the various crimes he's investigating while juggling the psychotic impulses inside him. This is not a story about a good man turned bad, or a bad man turned good. Both good and bad arrived at the same time.
Genre: Crime fiction
Format: Mobi or e-pub
The Story Collection by Evie Gaughan (287 pages)
A beautiful and mysterious historical romance from the author of The Heirloom and The Mysterious Bakery on Rue de Paris. Thornwood Village, 1910. Anna, a young farm girl, volunteers to help an intriguing American visitor, Harold Griffin-Krauss, translate 'fairy stories' from Irish to English. But all is not as it seems and Anna soon finds herself at the heart of a mystery that threatens the future of her community and her very way of life….. Captivated by the land of myth, folklore and superstition, Sarah Harper finds herself walking in the footsteps of Harold and Anna one hundred years later, unearthing dark secrets that both enchant and unnerve. The Story Collector treads the intriguing line between the everyday and the otherworldly, the seen and the unseen.
Genre: Irish Histfic
Format: Mobi
Pointe Patrol: how nine people (and a dog) saved their neighborhood from one of the most destructive fires in California's history by Earik Beann (258 pages)
On October 9, 2017, California suffered one of the most destructive fires in its history. The Tubbs Fire burned 5,643 structures and killed twenty-two people in Sonoma County. The fire department was completely overwhelmed and was so busy trying to save lives that they had to let many houses burn rather than waste resources in trying to protect them. During this chaos, nine of us snuck back into our neighborhood in the mandatory evacuation zone and formed a vigilante fire force. We called ourselves the Pointe Patrol, and saved our neighborhood, as well as an apartment complex across the street from certain destruction.
As if the fires weren't enough, we found ourselves in the midst of anarchy, with looters running unchecked through the streets. We chased them out of houses with shovels, confronted them when they showed up in disguise, and patrolled the area with a completely over-the-top Doberman. The other neighbors who had evacuated organized themselves into our support network and supplied us with food and equipment, which they passed through to us across the police lines. My wife and I were part of that nine-person team and experienced all of this firsthand. This is the story of what happened at Viewpointe Circle during those two weeks in October.
Genre: Memoir
Format: Mobi / epub
The Summer Abroad by Ivan Brave (246 pages)
Late May, 2013. Three rough and rowdy Texan boys embark on a summer long journey to Europe. Like most wanderlust youth fresh out of college, these best friends encounter twisted new characters, living proof of old stereotypes, and a string of hostels so bad that they are actually good. Unfortunately, such naivety leads to heartbreak and resentment among them. In the end, their friendship is strained, egos bruised, when the story's narrator finds himself not where he started, but alone.
The Summer Abroad (or, in Spanish, El viaje de egresados), is a sonic adventure — at times fast and delirious — that explores the frontiers of language and a new American identity, one which is multilingual, multicultural, and, as the story puts it, "multiconfundido."
Genre: contemporary NA
Format: Mobi / epub
I Give You My Heart by SarahJane Ford (314 pages)
A terminal diagnosis. A life-saving sacrifice. A love letter written on the walls of her heart.
Alice Richards looked forward to watching the seeds of love she and her husband planted bloom and grow well into their old age. But her plans for the future shrivel up and die when she learns she has an inoperable brain tumour.
Determined that she won't die in vain, she decides to become an organ donor. With a few precious months left, Alice begins documenting her fairytale romance—from their first meeting to the children they dreamed of having. She'll pass on every detail to her heart's next owner… along with careful instructions to send her husband reminders of her undying love. Before her time runs out, Alice must find the perfect candidate to guide her husband through unimaginable grief and hold the memory of their love in her heart.
Genre: Women's fiction
Format: Mobi