Today's team review is from Judith, she blogs at http://judithbarrowblog.com/
Judith has been reading Echoes of Time by Anne Allen
My Review;
A quick word on the cover. I loved both the evocative image and the title
And I love books that give a sense of place; of an era.  Anne Allen's  writing in Echoes of Time certainly does that. Her descriptions use all five senses to create a setting; there are some wonderful portrayals that instantly took me into the characters' world.
But, sometimes, I felt that they slowed the action down and add nothing to the story.
Although well written, the plot itself is a little predictable: boy meets girl next door; Natalie and Stuart  And I would have appreciated knowing much more about Natalie's previous relationship with her old boyfriend. His appearance and then disappearance felt a little contrived and there only to show Stuart's 'knight in shining armour' side. Yet this glimpse into Natalie's past did  parallel the historic tragedy in Stuart's family, which I thought clever.  I liked the idea of a dark past coming back to haunt the present. And these sections  did make me stop and think about how the walls of old buildings are steeped with their history.
It is this past, this history that makes up the  secondary plot-line; that of Olive (Stuart's grandmother), Bill and Wolfgang. And I really do love these characters, multi- layered and believable, their  story is poignant and credible. I wanted so much more of  their  story. And, for me, the way Wolfgang went out of the story was disappointing; it felt too prosaic.
Overall it was the author's writing style that persuaded me to give Echoes of Time four stars; the way the story is told from the alternate point of view of the main characters (I always love this; it gives different aspects to a narrative), the descriptions, the pace of the sub-plot, the presentation and dialogue of the characters, all make for a good read. I'd recommend this novel..
Book Description
Betrayal, injustice and revenge echo down the years… 
1940. Olive marries farmer Bill Falla. The Germans occupy Guernsey. 
All too soon Olive realises she's made a mistake. 
Her life changes when she meets Wolfgang, a German officer- 
but there's a price to pay. . . 
2010. Natalie Ogier returns to Guernsey to escape an abusive relationship – only to be plagued by odd happenings in her beautiful cottage on the site of a derelict and secluded farm. Disturbing dreams, disembodied voices and uncanny visions from the past. She becomes increasingly ill at ease as someone else's past catches up with her own… 
Her only immediate neighbour, Stuart, is the grandson of the original owners, Bill and Olive. 
Thrown together in a bid to find out what really happened to Olive, can they each survive the repercussions of the past and move on? 
About the author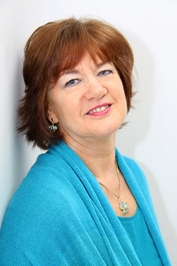 Anne Allen lives in Devon, by her beloved sea. She has three children and her daughter and two grandchildren live nearby. She was born in Rugby, to an English mother and Welsh father. As a result she spent many summers with her Welsh grandparents in Anglesey and learnt to love the sea. Her restless spirit has meant a number of moves which included Spain for a couple of years. The longest stay was in Guernsey for nearly fourteen years after falling in love with the island and the people. She contrived to leave one son behind to ensure a valid reason for frequent returns.
By profession Anne was a psychotherapist but has long had creative 'itches', learning to mosaic, paint furniture, interior design and sculpt. At the back of her mind the itch to write was always present but seemed too time-consuming for a single mum with a need to earn a living. Now retired from the 'day job', there's more time to write and Anne has now published five books in The Guernsey Novels series (as at August 2016). A sixth will be published in 2017.