A Valentine's Special review for you today from Sterna from the review team, she blogs at https://sternakruger.wordpress.com/
Sterna chose to read and review Dreaming Of Love by Melissa Foster in conjunction with Brook Cottage Books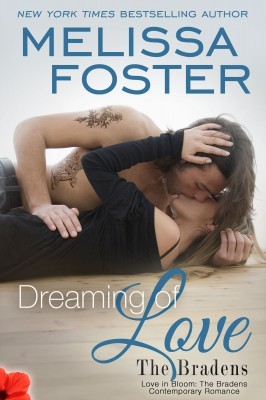 My Thoughts 5 Stars
Welcome back to the Braden family, always feels like home. If you have not met them yet, you're missing out! There is a whole family of sexy men and woman finding love.
We finally get to share in Emily's amazing story of finding love.
Emily Braden has it all. A successful career she is passionate about and an amazing family that love and support each other unconditionally. She has everything, except the amazing forever-love that she so deeply wants in her life. She's looking forward to her trip to Tuscany – a gift from her brother – with a detailed itinerary for every day so she doesn't miss a thing.
Dae Bray has happily let his life revolve around his work, going wherever he's needed with no thought of putting down permanent roots. His trip to Tuscany is supposed to be simple; review a property for demolition and go home. But there is nothing simple about his encounter with the sassy and head strong Emily, and Dae finds himself second guessing his life choices.
Their first encounter is on the covered balcony of the villa in Tuscany they are both staying at, and Emily is admiring the view for the first time … all six feet of deeply tanned and deliciously muscled male … and the scenic countryside of Tuscany as well, of course 😉
"Awestruck. I hear Italy has that effect on people." Um … Italy. Right.
From the moment they lay eyes on each other the air sizzles between them and their playful banter continues throughout the book, as they discover a side to themselves they didn't know existed.
Dae convinces workaholic Emily to forget about her work for a while and spend a day with him. And as Emily's carefully planned itinerary goes out the window, her heart starts to open to other possibilities.
"Life's too short to miss out on the things you really want to do." – Dae
They're relationship is so romantic and dreamy, and super sexy and steamy all at the same time.
Perfect!
Oh lordilord, yes again please! You know what we're all going to be thinking every time someone says oh … sigh.
The almost magical tree that is growing through a house, has Emily mesmerised. And once the history of the tree and its importance of it to the community of woman who live there is revealed to her, she is as attached to the property and the tree as she could be. The only problem is Dae is there to demolish it.
Can stubborn Emily accept what Dae does for living, in the name of love?
A great story about falling hard and fast that will wipe away any doubts you might have had about true love concurring all.
"Hand, arm, heart and soul. Forever and always."
Perfection, as always Melissa. Thank you for sharing this amazing family with us!
Find a copy here from Amazon.co.uk or Amazon.com