Day 5 of the April A to Z Challenge and I'm blogging my way through character names from books I've read, plus I have an audience participation piece below.
Letter E is for Emily Braden from Dreaming of Love by Melissa Foster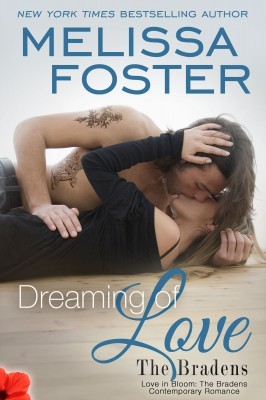 Dreaming of Love is a great stand alone book, but if you love Melissa's books then know that it is also 11th in the Braden book series and 19th in the Love In Bloom series. I've now read several books in both series and love how the characters all intertwine.
This book is about Emily Braden, she's watched 4 of her 5 strong character brothers be knocked over with love for some amazing women and Emily wants to find someone for herself. She's always fought her corner for a rightful place amongst her brothers and she loves them all. She's an architect from Trusty, Colorado, she works hard and now it's time for a rest. Her brother Wes has given her a ticket to Tuscany for a well deserved break in an area of beauty, she arrives clutching, as always her hopes of love.
She's staying in a villa near Florence, the home of Adelina and her family. With just two rooms available, Emily soon meets the other guest and just one smouldering look has her pulse racing. Dae Dray is here for a work project, to assess a house for demolition, but it looks like he's going to work some demolition in the romance department too.
A local villa, Casa Dei Desideri, the House of Wishes draws local women to it's ancient olive tree who share their secret wishes. Myth has it that the tree has mysterious powers. Conflict occurs when Emily's need to preserve family bonds of love go against Dae's work project.
Melissa's writing is full of passion and emotion, she has strong characters who reach out to the reader's own emotions and take you on a roller-coaster ride.
Find a copy here from Amazon.co.uk or Amazon.com
For my audience participation I'm asking you to think up a book title using the letter E for the picture below.
A book title and cover picture can often make or break a book sale. Is a book cover eye-catching? Does the book title appeal to the reader?
Have fun creating book titles from my own pictures, you might even think about a genre they could fit.
Leave your answers in the comments below and I'll choose my favourite.
Here are some of my fellow A to Z Challengers for you to visit today.
http://www.geneviveangela.com/
http://karenjonesgowen.blogspot.co.uk/
https://postageandpost.wordpress.com/
http://thecynicalsailor.blogspot.co.uk/
As part of the challenge, we are asking readers to leave comments on blogs, Thank you.