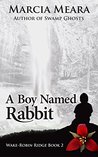 A Boy Named Rabbit: Wake-Robin Ridge Book 2 by Marcia Meara
My rating: 5 of 5 stars
A Boy Named Rabbit follows on from Wake-Robin Ridge. It is set in 2013 in the Blue Ridge mountains of North Carolina and focuses around the story of a young boy. This book has paranormal suspense elements.
10 year old Rabbit has lived in the mountains with just his Gran and Grampa for as long as he can remember. They live in a tent most of the year and caves during the winter with no contact with other people, apart from when Grampa goes to get supplies. Gran is ill and Grampa doesn't return from a supply run. In her last hours Gran makes Rabbit promise to leave the mountain and find a man with black hair and special eyes.
Travelling for two months alone, Rabbit survives until he reaches Wake-Robin Ridge and finds an "Angel house" up on the mountain. These are "Good people" and Rabbit makes a camp near by. It's Sarah who discovers Rabbit first and makes friends, leaving food and gaining his trust.
Sarah is now pregnant and her caring instincts reach out to Rabbit, but Mac is unsure. Rabbit reminds him too much of his lost son and at first he is cold and unloving to Rabbit. Modern living is a wonder to Rabbit who has only known survival in the mountains and he is delighted by what he learns, but he is also very frightened of people.
They can't keep Rabbit hidden, the authorities need to be informed and a search for any family must be made, but as Rabbit squeezes further into their hearts each day, the fear of letting him go increases. Rabbit gets strength from is Gran who guides him from beyond the grave and we soon find that he is a very gifted child.
I really enjoyed this book, the authors writing style which I first discovered in her book "Swamp Ghosts" nails this book for me.
Find a copy here from Amazon.co.uk or Amazon.com
View all my reviews on Goodreads