Welcome to my Friday Five Challenge (Open to bloggers)
Get yourself a cuppa and give yourself 5 minutes. (Use your own pic or copy mine or anything else like a clock/ stopwatch etc)
In today's online shopping age, readers often base their buying decisions from small postage stamp size book covers (Thumb-nails), a quick glance at the book description and the review. How much time do they really spend making that buying decision?
AUTHORS – You often only have seconds to get a reader to buy your book, is your book cover and book bio up to it?
My Friday Five Challenge is this….. IN ONLY FIVE MINUTES….
1) Go to any online book supplier,
2) Randomly choose a category,
3) Speed through the book covers, choose one which has instantly appealed to your eye,
4) Read the book Bio/ Description for this book,
5) If there are reviews, check out a couple,
6) Make an instant decision, would you BUY or PASS?
(then write a little analysis about your decision)
This week in my continued research to help bring together writers and readers I've been looking at YouTube, so this was my search term for today's post.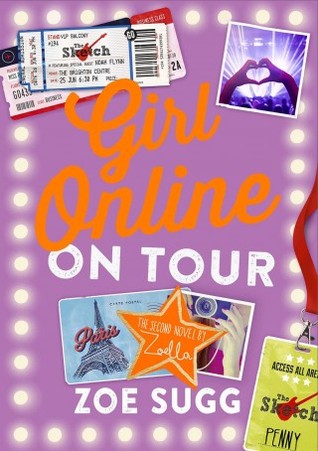 Find a copy here from Amazon.co.uk or Amazon.com
Book Description
*Contains an EXCLUSIVE Q&A with Zoella!*
The sequel to the number-one bestseller Girl Online. Penny joins her rock-star boyfriend, Noah, on his European music tour.
Penny's bags are packed.

When Noah invites Penny on his European music tour, she can't wait to spend time with her rock-god-tastic boyfriend.
But, between Noah's jam-packed schedule, less-than-welcoming bandmates and threatening messages from jealous fans, Penny wonders whether she's really cut out for life on tour. She can't help but miss her family, her best friend Elliot . . . and her blog, Girl Online.
Can Penny learn to balance life and love on the road, or will she lose everything in pursuit of the perfect summer?
About the author
Zoe Sugg, aka Zoella, is a vlogger from Brighton, UK. Her beauty, fashion and lifestyle vlogs have gained her millions of YouTube subscribers, with even more viewing the vlogs every month. She won the 2011 Cosmopolitan Blog Award for Best Established Beauty Blog and went on to win the Best Beauty Vlogger award the following year. Zoe has also twice received the Best British Vlogger award at the 2013 and 2014 Radio 1 Teen Awards and the 2014 and 2015 Nickelodeon Kids' Choice award for UK's Favourite Vlogger, and she was named Web Star for Fashion and Beauty at the 2014 Teen Choice Awards.
Price; Kindle £8.99
Hardcopy; £6.00
97 Reviews on Amazon.co.uk
Would I BUY or PASS?….. I would BUY
Analysis
This subject matter is way out of my usual reading genre, but I'm keen to learn about Vlogging and this book cover grabbed me. The bright lights, the tickets and concert tour pictures fit the book title. Vlogging is popular with the youth market, the digital age and those who have multiple social media platforms. I don't think this book will tell me how to vlogg but it will immerse me in the world of the vlogger and thus is like market research.
What is interesting is that the kindle format of this book is higher priced than a hard copy. Is this a reflection of the youth buying market? Should authors in the YA band think about this?
I can't believe that many of my current audience will have any interest in this book, unless it is a Christmas present for a teen, but the vlogging audience may be tomorrow's readers of your books, think on and keep your eyes wide open.
Here are links to other bloggers taking today's challenge
Shelley has gone for Sci-fi http://shelleywilsonauthor.com/2015/11/13/would-you-buy-or-pass-oxygen-a-scifi-novel-for-fridayfivechallenge/comment-page-1/#comment-1026
Cathy has found a mystery/ thriller http://betweenthelinesbookblog.com/2015/11/13/friday-five-challenge-11/comment-page-1/#comment-3219
Liz has been looking at Postcards https://lizannelloyd.wordpress.com/2015/11/12/fridayfivechallenge-8/comment-page-1/#comment-380