Today's team review is from Cathy, she blogs here http://betweenthelinesbookblog.com
Cathy has been reading Trouble In Nuala by Harriet Steel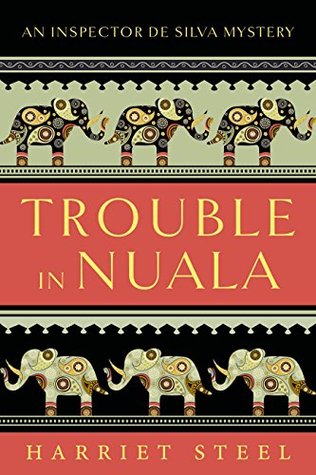 The story is set in 1930's Ceylon when it was still a British colony. Inspector Shanti de Silva has left the big, bustling city of Columbo behind with no regrets. He and his English wife, Jane, an ex governess, have settled in the much more peaceful town of Nuala where de Silva runs the local police station with the aid of Sergeant Prasanna and Constable Nadar.
De Silva is called to a meeting with Archie Clutterbuck, the assistant government agent, at his home and asked to investigate a plantation owner who allegedly flogged one of his workers. Charles Renshaw, the plantation owner, is opinionated and unpopular, with a younger, vulnerable wife and stepson. The investigation progresses at a steady pace and as the case evolves there's a death which turns out to be suspicious. De Silva refuses to be less than efficient regardless of Clutterbuck wanting the case solved with the minimum of fuss. Perhaps, after all, life isn't going to be as restful as De Silva hoped.
The author's representation of Ceylon and evocative descriptions conjure up immediate images; the weather, food, scenery and social climate are evident. I can just see de Silva's sitting in splendour in his pride and joy, the Morris Cowley 2-seater Tourer.
'Rickshaws darted between bullock carts laden with sacks of rice; piles of bananas and coconuts; and mounds of other fruits and vegetables. Stalls offering cooked food lined the dusty streets and passers-by stopped to purchase bowls of curry and rice or paper cornets of sticky sweetmeats.'
An enjoyable, well written cozy mystery with a cast of well defined characters. Shanti de Silva is an engaging and wonderfully drawn protagonist. A man of principle, practical and not averse to following his own instincts if the situation warrants. The wonderful setting sets the story apart and allows a look back at a fascinating way of life and culture. I love the relationship between De Silva and Jane and look forward to the next book.
Find a copy here from Amazon.co.uk or Amazon.com also available free from Kindle Unlimited