Today's team review is from Lilyn, she blogs here http://www.scifiandscary.com/
Lilyn has been reading Tokoyo, The Samurais' Daughter by Faith L Justice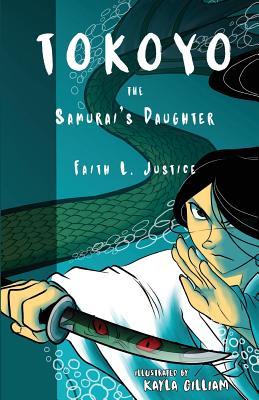 Tokoyo, The Samurai's Daughter is a middle grade fantasy novel inspired by The Tale of the Oki Islands. It is a swift read that flows like the water that has so large of a presence in it. It was an enjoyable story featuring a young woman who has to be extremely brave and save her father.
I loved that Tokoyo, The Samurai's Daughter was all about Tokoyo. Her abilities and determination were what carried her through. There was no male figures that interceded to provide help to get her through the difficult parts. She did it all herself, with only the caring,  mental support and encouragement of the Ama. Though there has definitely been a surge of girls being front and center on action and adventure tales lately, it's still not enough. This book was a welcome addition.
Now, I don't know anything about Japanese culture, but the representation in here felt respectful and real. (The notes in the back indicate that the author has done plenty of research!) There was nothing about it that was included for laughs. Tokoyo, The Samurai's Daughter will hopefully provide young readers of Japanese descent another role model they can look up to situated in the history of their country.
Overall, the pace of the novel is fantastic, the prose is near perfect, and the story was an engaging one. Faith L. Justice has done a great job with Tokoyo, the Samurai's Daughter. And Kayla Gilliam provides simple illustrations that spice up the text every few chapters and provide a treat for the eyes.
An adventurous girl!
Most noble-born girls of Tokoyo's age learn to sing, paint, and write poetry.
Not Tokoyo.
She's the daughter of a samurai in fourteenth century Japan, Tokoyo's father trains her in the martial arts. When he is away, she escapes to the sea where she works with the Ama—a society of women and girls who dive in the deep waters for food and treasure. But disaster strikes her family. Can Tokoyo save her father using the lessons she learned and the skills she mastered to overcome corrupt officials, her own doubts, and a nasty sea demon?
Faith L. Justice is a science geek and history junkie who writes award-winning novels, short stories, and articles in her historic Brooklyn home. She's published in venues such as Salon.com, Writer's Digest, Strange Horizons, The Copperfield Review and Circles in the Hair.
You can read her stories, interviews with famous authors, and sample chapters of her novels at her website . Check out her blog for historical fiction book reviews, interviews with HF authors, "History in the News" roundups and giveaways.
Faith lives with her husband, daughter and the required gaggle of cats. For fun, she likes to dig in the dirt—her garden and various archaeological sites.
Goodreads | AmazonUK | AmazonUS | Twitter