Today we have a review from Book Review Team Member Crystin, she blogs at http://crystinlgoodwin.wordpress.com/book-reviews/
Crystin chose to read and review The Unicorn Girl by M.L. LeGette.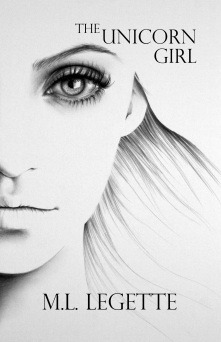 Here is Crystin's review.
Title: The Unicorn Girl by M. L. Legette
Leah Vindral isn't like other girls. She can't sew, pour tea, or dance – but she can ride like the wind. She doesn't look like a lady either with her pale skin, dark hair, and large green eyes. But after magic saves her from death, all of that changes. Suddenly she's beautiful – eerily so. The magic that cured her leaves an obvious mark – and now people she's known her entire life, the people she loves most, are afraid of her. Then there are the rumors that say her sudden recovery has something to do with unicorns …
The Unicorn Girl is a lovely coming of age fantasy. In addition to the spunky Leah, the novel is full of intriguing characters, including Leah's father and Lorna – a witch who used to know her mother. There are lords and ladies, kings and princes, elves and unicorns … really, what more could you possibly need in a fantasy?!
The story itself gently and slowly draws you in – then the urgency of the story explodes in your face. I'm not saying that's a bad thing, in fact it's absolutely wonderful! I love it when I get sucked into a new world – I just want to warn you to start this book with plenty of time left in your day, because otherwise you'll find it's already two o'clock in the morning – but you can't stop yet because you need to know what happens next. At least, that's what happened to me.
I'd definitely recommend this book to anyone who enjoys fantasy, especially if you're a fan of unicorns or horses. If you tend to like young adult novels, then even better!
Find a copy here from Amazon.co.uk or Amazon.com