Today's team review is from Noelle, she blogs here https://saylingaway.wordpress.com
Noelle has been reading The Swooping Magpie by Liza Perrat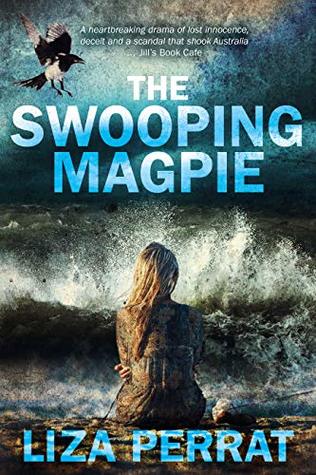 I had not read the preceding book by this author, also set in 1970s Australia, but based on a review by another member of Rosie's book review team, I decided to delve into this one, The Swooping Magpie, purchasing the book for review.
Having lived through the 1970s sexual revolution, the core theme of the book was one I was intimately familiar with, and my memories heightened the tension and my connection to the unfolding story.
Lindsay Townsend, a beautiful and popular sixteen year old high school student, comes from a home where her father beats her and her mother ignores her. Her teenage hormones fuel her irresistible urge to attract one of her teachers, Jon Halliwell. Much to her surprise, he returns her interest and their interaction blossoms into a physical relationship. As a result of their affair, Lindsay finds herself pregnant. Pregnancy was a huge fear of teenage girls at that time, and parents took a variety of steps to deal with babies conceived out of wedlock. Lindsay's parents take a truly drastic step and Lindsay is thrust into a world unimaginable to her – one of deprivation, bone-deadening work and dark despair.
While I found myself frustrated by Lindsay's naiveté and stubbornness in the first part of the book, her strength of character in the face of horrible circumstances was impressive. She does indeed make lemonade from the lemons of her life, until about mid-book, when a truly terrible twist finally beats her down – and the reader along with her. Her trauma defines her future, when she and other women like her work to right the wrongs done to them. Thus the story ends with a message of hope.
The author uses first person to tell Lindsay's story, which is very effective. The use of constant dialogue heightens the emotions and the tensions. The other young women who fill Lindsay's world are each unique in their own way; the author does a marvelous job creating them. The anger this book rekindled in me, derived from the Jon Halliwell character, was my anger at that time: men escaped all responsibility, leaving the women to pay the price. The author definitely achieved that goal! While the story is set in Australia, its theme is universal.
I highly recommend this book, especially for younger women who needs to recognize how far we have come.
The thunderclap of sexual revolution collides with the black cloud of illegitimacy.
Sixteen-year-old Lindsay Townsend is pretty and popular at school. At home, it's a different story. Dad belts her and Mum's either busy or battling a migraine. So when sexy school-teacher Jon Halliwell finds her irresistible, Lindsay believes life is about to change.
She's not wrong.
Lindsay and Jon pursue their affair in secret, because if the school finds out, Jon will lose his job. If Lindsay's dad finds out, there will be hell to pay. But when a dramatic accident turns her life upside down, Lindsay is separated from the man she loves.
Events spiral beyond her control, emotions conflicting with doubt, loneliness and fear, and Lindsay becomes enmeshed in a shocking true-life Australian scandal. The schoolyard beauty will discover the dangerous games of the adult world. Games that destroy lives.
Lindsay is forced into the toughest choice of her young life. The resulting trauma will forever burden her heart.
Reflecting the social changes of 1970s Australia, The Swooping Magpie is a chilling psychological tale of love, loss and grief, and, through collective memory, finding we are not alone.