Today's team review is from Jessie, she blogs here http://behindthewillows.com
Jessie has been reading The Rose Thief by Claire Buss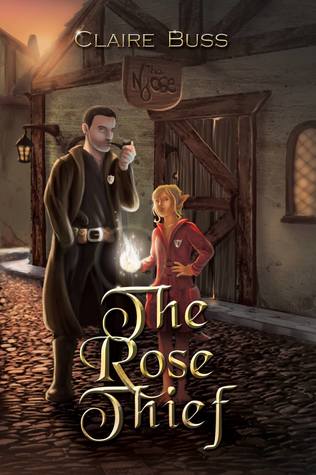 Stealing roses might not seem like such a crime but some foolish person (the Emperor, may he live forever and ever) had the real meaning of love linked to a red rose growing in his garden.
I'm with the main character, Thief-Catcher extraordinaire, (or at least quite good) when he says, "What bloody idiot decides to tie love to a bloody flower."
Perhaps the Emperor (may he live forever and ever), was an idiot to bind love to a flower but the story that follows makes me glad he did!
Would I recommend it? Is irreverent fantasy humor a genre yet? If it is, file this book with it's thief catching team of a stinky sprite, luscious tree nymph, spying firefly and a pair of spell casters right in the middle of it along with Terry Pratchett, Piers Anthony and A. Lee Martinez. Likewise if you are a fan of the aforementioned authors you might want to pick this one up!
I received a copy of this book in exchange for an honest review. I discovered this book because I'm a proud member of Rosie's Book Review Team!
Ned Spinks, Chief Thief-Catcher has a problem. Someone is stealing the Emperor's roses. But that's not the worst of it. In his infinite wisdom and grace, the Emperor magically imbued his red rose with love so if it was ever removed from the Imperial Rose Gardens then love will be lost, to everyone, forever. It's up to Ned and his band of motley catchers to apprehend the thief and save the day. But the thief isn't exactly who they seem to be, neither is the Emperor. Ned and his team will have to go on a quest defeating vampire mermaids, illusionists, estranged family members and an evil sorcerer in order to win the day. What could possibly go wrong?
Claire Buss is a science fiction, fantasy & contemporary writer and poet based in the UK. She wanted to be Lois Lane when she grew up but work experience at her local paper was eye-opening. Instead, Claire went on to work in a variety of admin roles for over a decade but never felt quite at home. An avid reader, baker and Pinterest addict Claire won second place in the Barking and Dagenham Pen to Print writing competition in 2015 setting her writing career in motion.