Today's Team review comes from Cathy, she blogs at http://betweenthelinesbookblog.wordpress.com/
Cathy chose to read and review The Last Gatekeeper by Katy Haye in conjunction with Brook Cottage Books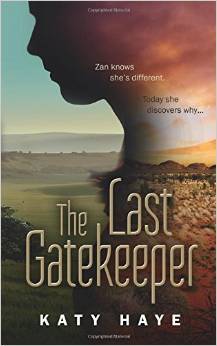 Up until the day of her 17th birthday, Zanzibar MacKenzie lead a very sheltered life. She always knew she was different, home schooled, no electrical appliances whatsoever in her life or environment and isolated by her EHS. Just how different, she was about to find out. While spending time with her only friend, Em, who lives nearby, and Em's boyfriend at the beach, Zan thinks she spots a stranger on the cliff watching them.
Returning to the house, she finds her father slumped in the hallway, her mother is nowhere to be found and the diamond ring she always wears at the bottom of a glass of water. As Zan reaches for the ring she hears her mother's voice, giving her instructions. Before she can begin to comprehend what's happening there's a knock at the door. It was the man from the clifftop. Thanriel, a talvarrine from the planet Talvar. An angel with wings. An alien. Zan's life is about to change forever as Thanriel explains who he is and why he is there.
Zan is the last of the Gatekeepers, her special powers are needed to save Earth from being destroyed by the Queen of the planet Fane. After much persuasion, her abrasive cousin Cal, another of the fae on earth, agrees to help her.
The Last Gatekeeper is a very imaginative and well constructed young adult fantasy. The alien world of Fane is described in enough detail to give a really good visual image. Zan is an engaging protagonist, quite unlike your average teen, with her electrical hypersensitivity and way of life. Along with the typical teenage issues, she has a great deal more to contend with; getting to grips with her newly discovered powers, her immediate attraction to Thanriel and the impossibly huge responsibility which has been placed on her shoulders. I like Katy Haye's writing style and the Northumbrian setting. Strong characters, a well paced narrative and a good plot, the never-ending fight between good and evil, make this a very enjoyable read.
Find a copy here from Amazon.co.uk or Amazon.com