Today's team review is from Jessie she blogs here http://behindthewillows.com
Jessie has been reading The Darcy Monologues anthology by various authors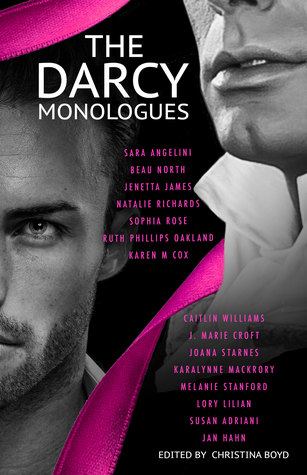 I have read Pride and Prejudice, more than once and, while I quite like the book, I have to say (at risk of being stoned by hoards of angry women ) that Mr. Darcy is not my ideal man.  Please, don't write me off yet because, while I might prefer someone a little more rugged than ballroom ready, I can see why women have pined over Mr. Darcy for over 200 years.
Two hundred years is an impressive amount of time, which mostly makes me wonder why there are still men out there claiming to be confused about what women want. Hello? Guys? Mr. Darcy has been making women sigh for two centuries! If what a woman wants is still confounding you, possibly you should take a lesson from Darcy himself.
Boys, all you have to do is master the combination of wealth, wit, a willingness to address your faults and an all-consuming passion for your woman of choice.  In fact, if you can check all these off your list, all those women will probably let you insult them terribly before giving you a second chance and eventually succumbing to your charm.
All this brings us to the Darcy Monologues. Depending on your preferences you can either read these to further your fantasies of Mr. Darcy in your quest for his real life counter part, or (I'm talking to the confused men out there) you could read these as research if you are still trying to figure out just what will set the women's hearts aflutter for you.
The Darcy Monologues is a collection of short stories, about the infamous Mr. Darcy himself. The first half, set in the 1800's Pride and Prejudice era, follow the original story fairly closely, but from Mr. Darcy's view. Some of them address what happened after the book, some let you know what was going on in Mr. Darcy's head and some explore the, ahh, steamier side of things… The second half are contemporary versions. Mr. Darcy heads West (now that was my kind of Darcy), runs radio stations, and plays major league baseball all while pursuing the enviable Ms. Bennet.
Would I recommend it? My only issue with this anthology was that I couldn't just hop from one story to the next. I found early on that too many different Mr. Darcys talking to too many Bingleys muddled my head to no end. Once I realized I had a one story a night limit I enjoyed my daily dose of Darcy completely! An excellent collection for anyone who enjoys a good tale of pride and prejudice.
I received a copy of this book in exchange for an honest review. I discovered this book because I'm a proud member of Rosie's Book Review Team!
Book Description
"You must allow me to tell you…"
For over two hundred years, Jane Austen's Mr. Darcy has captivated readers' imaginations as the ultimate catch. Rich. Powerful. Noble. Handsome. And yet, as Miss Austen's "Pride and Prejudice" is established through Elizabeth Bennet's fine eyes, how are we to know his mind? How does Darcy progress from "She is tolerable: but not handsome enough to tempt me" to "I thought only of you"?
In this romance anthology, fifteen Austenesque authors assemble to sketch Darcy's character through a series of re-imaginings, set in the Regency through contemporary times—from faithful narratives to the fanciful. Herein "The Darcy Monologues", the man himself reveals his intimate thoughts, his passionate dreams, and his journey to love—all told with a previously concealed wit and enduring charm.
Stories by: Susan Adriani * Sara Angelini * J. Marie Croft * Karen M Cox * Jan Hahn * Jenetta James * Lory Lilian * KaraLynne Mackrory * Beau North * Ruth Phillips Oakland * Natalie Richards * Sophia Rose * Joana Starnes * Melanie Stanford * Caitlin Williams
Goodreads | AmazonUK | AmazonUS |
**Giveaway** one paperback copy of this book. Open internationally. Leave your name and contact e-mail on this form for a chance to win. Closes Sunday August 20th.