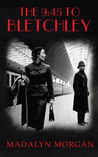 The 9:45 to Bletchley by Madalyn Morgan
My rating: 4 of 5 stars
The 9:45 to Bletchley is book #4 of the Dudley Sisters family WW2 sagas.
This book is about Ena Dudley and her work in a factory making components for top secret Bletchley Park. During WW2 workers in Bletchley were central to the code breaking which British intelligence relied upon.
As with all the books in this series the emphasis is more on the characters and the romantic themes, less so the gritty depth and dark horrors of WW2, that each of the situations the Dudley girls find themselves in.
Once again the book is scattered with nostalgia from the era, as Ena gets herself embroiled in a spy ring whilst appearing to be the love interest for more than one fellow.
Recommended for those who enjoy a light historical romance.
View all my reviews on Goodreads
Book Description
In the midst of the Second World War, and charged with taking vital equipment via the 9:45 train, Ena Dudley makes regular trips to Bletchley Park, until on one occasion she is robbed. When those she cares about are accused of being involved, she investigates, not knowing whom she can trust. While trying to clear her name, Ena falls in love.
About the author
Madalyn Morgan has been an actress for more than thirty years working in repertory theatre, the West End, film and television. She is a radio presenter and journalist, writing articles for newspapers and magazines.

Madalyn was brought up in a busy working class pub in the market town of Lutterworth in Leicestershire. The pub was a great place for an aspiring actress and writer to live. There were so many wonderful characters to study and accents learn. At twenty-four Madalyn gave up a successful hairdressing salon and wig-hire business for a place at E15 Drama College, and a career as an actress.

In 2000, with fewer parts available for older actresses, Madalyn learned to touch type, completed a two-year course with The Writer's Bureau, and began writing. After living in London for thirty-six years, she has returned to her home town of Lutterworth, swapping two window boxes and a mortgage, for a garden and the freedom to write.