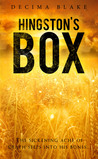 Hingston's Box by Decima Blake
My rating: 4 of 5 stars
Hingston's Box is a quick read police drama with a paranormal twist. Det Sgt Hingston can't sleep and is suffering night terrors, all starting at the same time that twin boys have gone missing. With police scrabbling to find even the thinnest of threads they can use to move their investigation forward, Hingston is put on medical leave by occupational health.
He travels to Devon to stay with his uncle Zach and in Dartmouth he meets a mysterious old women, he also discovers an old musical box in a junk store. His visions and night terrors continue as if they are trying to send him a message and eerily the music box plays the exact same music he's been dreaming about.
Research into the history of the box and its contents reveal connections to a gruesome murder in the 1800's and Hingston's sleuthing into the past opens his eyes to lines of enquiry they could use in the current missing persons case.
I enjoy a bit of paranormal and it gave this book a refreshing touch to the police crime storyline. An ideal read for anyone wanting a quick dip into a police drama.
View all my reviews on Goodreads
Book Description
Since investigating the disappearance of fifteen-year-old twin boys, Hingston – a young, talented Detective Sergeant, has been tormented by night terrors. On waking, he remembers a vast, golden meadow that glows with warmth and carries the sound of rapid footfalls and trouser legs pushing through grasses. A curly haired boy runs tirelessly through the meadow. The promise of adventure is lost when the sickening ache of death seeps into Hingston's bones. Feeling suffocated and tortured, melodic chimes calm him and his panic subsides.
Signed off and leaving the office, a key inexplicably falls from Hingston's investigation file. Intrigued, he takes it with him, escaping London for Dartmouth where his investigative race begins. Stalked by a challenging elderly woman and hindered by his boss, his determination to solve the case draws him into the supernatural world that connects a murderous past to the present.
About the author
Decima Blake, aged thirty-two, has a long-standing interest in child protection having worked with teenagers, she is deeply passionate about child victims of crime. In writing Hingston's Box, Decima drew on her love of classic English murder mysteries and ghost stories. Her interest in English Literature was ignited by two highly motivational teachers who made her A Level studies enjoyable, character forming and invaluable to her future endeavours.
Hingston's Box raises awareness of the vulnerability of all children to exploitation. A percentage of royalties will be donated to the charity Embrace Child Victims of Crime