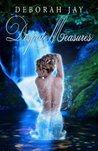 Desprite Measures by Deborah Jay
My rating: 4 of 5 stars
Desprite Measures has a terrific book cover for a start. This is a fantasy tale set in Scotland. Cassie is a water sprite an immortal element who has chosen to form a human existence in the last few hundred years. She enjoys the interaction with humans and they in turn help her exist.
We first meet her trapped in a dangerous and confusing situation in the hands of a magician, using her relationship with water she saves the situation and makes a lucky escape, but finds herself and her friends are in danger as the magician pursues them and their energies.
The first half of the book built up slowly, introducing us to the characters and teasing us with hints of what was to come. For me the book took off in the second half with lots of action. I liked the different witches and their covens. Gloria and Alistair both had great roles and I really enjoyed the astral plane and my own imagination filled in unanswered questions at the end as to who Michael could have been.
A fun slow burner with potential for a sequel.
Find a copy here from Amazon.co.uk or Amazon.com
View all my reviews on Goodreads.