Rosie's Avid readers are people who like reading and have a book to tell us about, they are the voice of a friend who says " I just read this book…."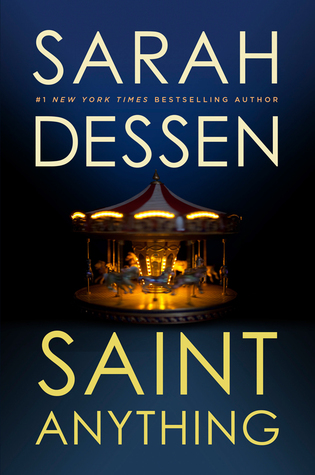 Avid Reader's Thoughts
'Throughout my childhood, I have always loved Sarah Dessen as a writer: she explores very relevant and sometimes very upsetting topics through the narrative of a loveable, intelligent protagonist, combining this exploration of complex issues with relatable events and emotions of every teenager ever (eh hem, first crush). So when I picked up 'Saint Anything', I was not disappointed…
This novel is narrated by a teenage girl called Sydney, whose older brother, Peyton, has always been the apple of their parents' eyes, receiving all of the attention: even when he is sent to jail. Yet, overshadowed by her brother's reckless behaviour, it seems to be Sydney who is left behind with all of the guilt and shame of his mistakes. Lost and confused, Sydney finds a comfort and acceptance within the welcoming but very chaotic Chatham family, where she meets Mac, gentle, warm and protective, and who makes Sydney feel like she finally belongs. Intertwined with this tale of one young girl finding her true self are issues such as parental relationships, alcohol abuse, sexual abuse, and illnesses, all very relevant and important topics in our teenage society today: it is the exploration of these controversial issues that makes the novel so powerful and moving. However, whilst these darker messages and morals are very emotional, they are explored in such a way that makes them seem more approachable and beatable, through the light-hearted and witty perspective of Sydney, the protagonist: she is rational and guarded, yet warm and loving, and there are many comments that she makes that earn her a lot of admiration and respect from me as a reader. What I also love about 'Saint Anything' is that there are a few very special moments throughout the novel, such as when Sydney and her new-found friends discover an old merry-go-round, an event which I feel symbolises the unexpected and magical moments that life can bring: there are lots of morals and symbols in Dessen's writing, and you learn them without even realising, through her very clever and easy narrative style.
If I had to criticise the novel in any way (and I don't want to), it would be that some of the events are very predictable: I won't name them, but it comes to a point where you as the reader just know that some things are going to happen, which does take away some of the literary anticipation. However, equally there are events that do completely surprise you, so maybe Dessen has found a clever balance between the two elements?
In conclusion, there is very little about this novel that I can knock, and a lot that I can praise: the characters are developed deeply, and all are loveable in their own way; there is a plot thread of fast food, which is of course appreciated; and alongside things so light-hearted runs an exploration of some very sensitive and relevant problems with our society. So does Sydney eventually find her voice? – you'll have to read to find out!'
Book description
Peyton, Sydney's charismatic older brother, has always been the star of the family, receiving the lion's share of their parents' attention and—lately—concern. When Peyton's increasingly reckless behavior culminates in an accident, a drunk driving conviction, and a jail sentence, Sydney is cast adrift, searching for her place in the family and the world. When everyone else is so worried about Peyton, is she the only one concerned about the victim of the accident?
Enter the Chathams, a warm, chaotic family who run a pizza parlor, play bluegrass on weekends, and pitch in to care for their mother, who has multiple sclerosis. Here Sydney experiences unquestioning acceptance. And here she meets Mac, gentle, watchful, and protective, who makes Sydney feel seen, really seen, for the first time.
The uber-popular Sarah Dessen explores her signature themes of family, self-discovery, and change in her twelfth novel, sure to delight her legions of fans.
Find a copy here from Amazon.co.uk or Amazon.com
We welcome recommendations especially from non-authors for this feature, and would love to hear from anyone who would like to leave a comment and follow the blog.