Shelley Wilson took part in the October Readathon, here are her chosen books. Find out more about Shelley on her blog http://shelleywilsonauthor.com/
October Reviews – Rosie Amber
Glass Houses by Rachel Caine.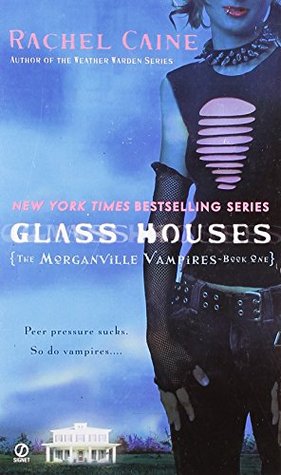 5 out of 5 stars
Blurb:
Welcome to Morganville.  Just don't stay out after dark.
Morganville is a small town filled with unusual characters – when the sun goes down, the bad come out.  In Morganville, there is an evil that lurks in the darkest shadows – one that will spill out into the bright light of day.
For Claire Danvers, high school was hell, but college may be murder.  It was bad enough that she got on the wrong side of Monica, the meanest of the school's mean girls, but now she's got three new roommates, who all have secrets of their own.  And the biggest secret of all isn't really a secret, except from Claire: Morganville is run by vampires, and they are hungry for fresh blood…
My Review:
After reading Rachel Caine's latest novel, Ink and Bone, I was advised by my favourite book blogger, Rosie Amber, to take a look at the Morganville Vampire series.  How had I missed this series?  As an enthusiastic vampire fan, I was like a kid in a sweet shop on Rachel's Amazon page.  Starting at the beginning of this fifteen book series, I devoured book one, Glass Houses, in one day.
Morganville is a small college town where sixteen (almost seventeen) year old Claire is trying to settle in to dorm life.  Unfortunately, Claire manages to upset the evilest girl on campus and becomes a target of harassment that could cost her her life.  She moves out of the dorm and is thrust into the dark side of Morganville, with its secrets – the town is run by vampires.  Finding a 'Gone with the Wind meets The Munsters' mansion, with a room to rent, turns out to be a lifesaver – in more ways than one. We meet Eve, Shane and Michael, who are Claire's eighteen year old roomies. They know the town's secrets, and they know how to handle the vampires, but they also have a few secrets of their own.
I do enjoy a good vampire novel, but many of the books I've read show the 'good' side of vamps (Twilight and Vampire Diaries anyone?).  The dark and dangerous aura of Caine's vampires put the bite back into this mystical race.   The town and its politics are well crafted, and the characters are immensely likeable (or disagreeable if you're a bad guy).  Claire accepts the bombshell of a vampire town a bit too well, but it certainly doesn't detract from the enjoyment of this tale. I've already bought book two, The Dead Girls' Dance.  This series is an easy read for the winter months, and I'm grateful I found them.
Find a copy here from Amazon.co.uk or Amazon.com
The Potion Diaries by Amy Alward
4 out of 5 stars
Blurb:
When the Princess of Nova accidentally poisons herself with a love potion meant for her crush, she falls crown-over-heels in love with her own reflection. Oops.
A nationwide hunt is called to find the cure, with competitors travelling the world for the rarest ingredients, deep in magical forests and frozen tundras, facing death at every turn.
Enter Samantha Kemi – an ordinary girl with an extraordinary talent. Sam's family were once the most respected alchemists in the kingdom, but they've fallen on hard times, and winning the hunt would save their reputation. But can Sam really compete with the dazzling powers of the ZoroAster megapharma company?
Just how close is Sam willing to get to Zain Aster, her dashing former classmate and enemy, in the meantime? And just to add to the pressure, this quest is ALL OVER social media. And the world news. No big deal, then.
My Review:
A fantasy tale set in modern times, The Potion Diaries is a fun read about princesses, magic potions and dangerous adventures.  I feel that it's aimed at the lower age range of young adult, and I know my thirteen year old daughter was impressed with Zoe Sugg's (aka Zoella) seal of approval.
I read this in one sitting as it was incredibly captivating, and a lot of fun.  There are plenty of epic adventures that test the main character, Sam Kemi, but they are carefully interwoven with typical teen life – she constantly checks her social media for updates on her competitors' progress. The big bad is a love potion gone ary. However, we also meet Emilie, the princess's aunt who has been exiled from the Kingdom.  I had high hopes that this character was going to be more magical – a bit like Maleficient, but as the hunt for the cure progresses, she turns into more of an evil Lara Croft.
The Potion Diaries does have the obligatory teen romance and the will-she-won't-she tug on the heart strings.  All in all, this was a fun, enjoyable read, with a cast of characters you can bond with.
Find a copy here from Amazon.co.uk or Amazon.com
The Faerie Guardian (Creepy Hollow Book 1) by Rachel Morgan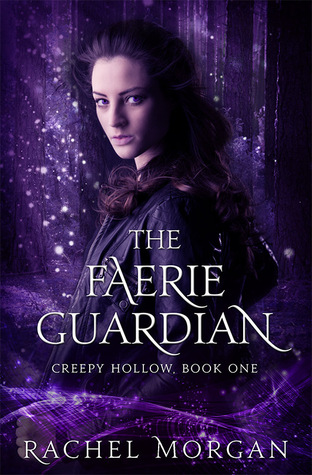 4 out of 5 stars
Blurb:
Enter a hidden world of magic, mystery, action and romance …
Seventeen-year-old Violet Fairdale has one job: protect humans from dangerous magical creatures. It's a job she's good at—until her latest assignment, a cute human guy who can somehow see through her faerie glamour, follows her into the fae realm. Now she's broken Guild law and risked her future as the top graduate of her class.
The last thing Vi wants to do is spend any more time with the guy who got her into this mess, but the Guild requires that she return Nate to his home and make him forget everything he's discovered of the fae realm. Easy, right? Not when you factor in evil faeries, long-lost family members, and inconvenient feelings of the romantic kind. Vi is about to find herself tangled up in a dangerous plot—and it'll take all her training to get out alive.
My Review:
Vi is a refreshing heroine.  She is a Guardian in training, with a chance of hitting the number one spot on her course, that is until she breaks two rules.  Rule number one – never be seen by a human, and rule number two – never let a human into the fae world. When Vi is sent on assignment, to save a human from a repticilla (I love the creativity of the creatures), she doesn't expect the handsome Nate to be able to see through her glamour.  She also doesn't expect him to follow her through to the fae realm.
As the story progresses, we learn that Nate has a history that overlaps with the world of the fae, leading them into danger.  I struggled to picture Nate in my head, although I liked his dialogue, I could connect with Vi straight away, and I loved her feisty nature.  They have a comedic rapour with one another at times.
Morgan's descriptive style of writing carries the pace along nicely.  There are vivid details throughout, fast action scenes and humourous dialogue. This is the first book in the Creepy Hollow series, and I look forward to reading the others.
Find a copy here from Amazon.co.uk or Amazon.com