Today's team review is from Liz, she blogs here https://lizannelloyd.wordpress.com/
Liz has been reading The Elizabeth Papers by Jenetta James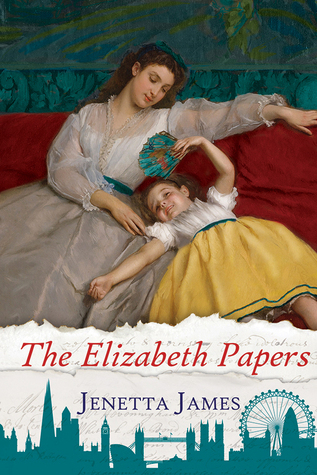 The Elizabeth Papers by Jenetta James
The Elizabeth Papers is both a gentle romance set in modern day London and Derbyshire and an intriguing mystery that takes us back in time to the early 19th century. The name Mr Darcy instantly indicates that the Elizabeth of the title is Elizabeth Bennett of Pride and Prejudice, but don't dismiss this novel as a parody or bandwagon follow up. The plot is original and the modern characters, private detective, Charlie Haywood and talented young artist Evie Pemberton, are distinctive and well developed. Their relationship has parallels with that of Elizabeth and Darcy but their adventure leads them into different avenues.
It took me a while to feel at home with the characters of Elizabeth and Darcy, but then time has passed and they have been married for several years, so of course their relationship would have changed somewhat. The issues raised in Pride and Prejudice still cause problems but with a very different outcome. Although you don't need to have intimate knowledge of that book, it certainly enhances your enjoyment of this novel if you do.
Book Description
"It is settled between us already, that we are to be the happiest couple in the world," said Elizabeth Bennet at the conclusion of "Pride & Prejudice"—but was it true? 
Charlie Haywood is a London-based private investigator who has made his own fortune—on his own terms. Charming, cynical, and promiscuous, he never expected to be attracted to Evie Pemberton, an independent-minded artist living with the aftermath of tragedy. But when he is hired to investigate her claims to a one hundred and fifty year old trust belonging to the eminent Darcy family, he is captivated. 
Together they become entwined in a Regency tale of love, loss, and mystery tracing back to the grand estate of Pemberley, home to Evie's nineteenth century ancestors, Fitzwilliam and Elizabeth Darcy. As if travelling back in time, a story unfolds within their story. All was not as it seemed in the private lives of Mr. and Mrs. Darcy, but how can they ever uncover the whole truth?
How could they know that in 1817 Elizabeth Darcy began a secret journal? What started as an account of a blissful life came to reflect a growing unease. Was the Darcy marriage perfect or was there betrayal and deception at its heart?
Can Evie and Charlie unearth the truth in the letters of Fitzwilliam Darcy or within the walls of present-day Pemberley? What are the elusive Elizabeth papers and why did Elizabeth herself want them destroyed? 
"The Elizabeth Papers" is a tale of romance and intrigue, spanning the Regency and modern eras, reminding us how the passions of the past may inspire those in the present. 
Find a copy here from Amazon.co.uk or Amazon.com
About the author
Jenetta James is a mother, lawyer, writer, and taker-on of too much. She grew up in Cambridge and read history at Oxford University where she was a scholar and president of the Oxford University History Society. After graduating, she took to the law and now practises full-time as a barrister. Over the years, she has lived in France, Hungary, and Trinidad as well as her native England. Jenetta currently lives in London with her husband and children where she enjoys reading, laughing and playing with Lego. She is the author of Suddenly Mrs. Darcy which was published by Meryton Press in April 2015. The Elizabeth Papers is her second novel.
Twitter @JenettaJames