Today's Team review is from Judith, she blogs here http://judithbarrowblog.com/
Judith has been reading The Darcy Monolugues anthology by various authors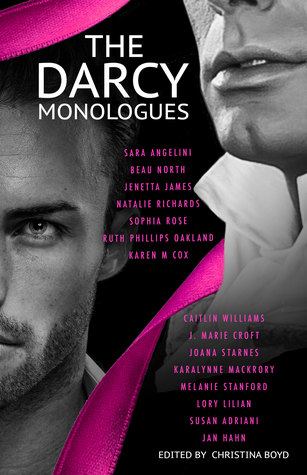 My Review:
I chose this anthology both out of curiosity and because I'm short on time at the moment so reading short stories suits me. I'm so glad I did. The Darcy Monologues is a collection of fifteen short stories told from Darcy's point of view and is an outstanding read. The book is divided into two;  The Regency'and Other Eras, I found it difficult to decide which section I liked best.
I don't give spoilers, especially in this case. I think it would be unfair to pick out individual stories to review and not others as, from my perspective, they are all excellently written, Some are portrayed from the first person point of view of Darcy, others from a third person viewpoint. Unusually the reader accompanies Darcy into various eras, various places and various predicaments. There is some humour, some pathos, some – quite a lot, obviously – romance. I loved each and every one. The slants on all the tales are clever and absorbing and threaded throughout is that one issue; that one age-old theme; two people who move inexorably from dislike to love. I'm sure Jane Austen would approve of these diverse stories of Fitzwilliam Darcy and Elizabeth Bennet .
I would definitely recommend this anthology to lovers of Pride and Prejudice and all readers who enjoy short stories.
Book Description
"You must allow me to tell you…"
For over two hundred years, Jane Austen's Mr. Darcy has captivated readers' imaginations as the ultimate catch. Rich. Powerful. Noble. Handsome. And yet, as Miss Austen's "Pride and Prejudice" is established through Elizabeth Bennet's fine eyes, how are we to know his mind? How does Darcy progress from "She is tolerable: but not handsome enough to tempt me" to "I thought only of you"?
In this romance anthology, fifteen Austenesque authors assemble to sketch Darcy's character through a series of re-imaginings, set in the Regency through contemporary times—from faithful narratives to the fanciful. Herein "The Darcy Monologues", the man himself reveals his intimate thoughts, his passionate dreams, and his journey to love—all told with a previously concealed wit and enduring charm.
Stories by: Susan Adriani * Sara Angelini * J. Marie Croft * Karen M Cox * Jan Hahn * Jenetta James * Lory Lilian * KaraLynne Mackrory * Beau North * Ruth Phillips Oakland * Natalie Richards * Sophia Rose * Joana Starnes * Melanie Stanford * Caitlin Williams
Goodreads | AmazonUK | AmazonUS |
**Giveaway** one paperback copy of this book. Open internationally. Leave your name and contact e-mail on this form for a chance to win. Closes Sunday August 20th.