This weeks Top Ten Tuesday is 'Books I'm Thankful For.'
This weekly book meme is brought to you by The Broke and the Bookish
A Year Of Doing Good by Judith O'Reilly
Fed up of New Year's resolutions involving diets and exercise abandoned on January 2nd, Judith is attempting to be good. For one whole year.
She embarked on a mission to do one good deed every day. Some called it a social experiment. At times she called it madness.
Juggling family, friends and a variety of neighbours in the small Northumberland village she calls home, she recounts the ups, downs, moments of doubt and sheer bloody hard work of doing good.
From the small – babysitting a friend's child, clearing up her neighbour's dead mice and feeding her friendship cake Herman the German, to the slightly larger – trying to raise 10,000 for charity with her Jam Jar Army and teaching a severely handicapped child to write – she describes what she learns along the way: that no good deed is too small and that being good makes you happy. Well, most of the time. AmazonUk | AmazonUS
Garden Spells by Sarah Addison Allen
The women of the Waverley family — whether they like it or not — are heirs to an unusual legacy, one that grows in a fenced plot behind their Queen Anne home on Pendland Street in Bascom, North Carolina. There, an apple tree bearing fruit of magical properties looms over a garden filled with herbs and edible flowers that possess the power to affect in curious ways anyone who eats them.
For nearly a decade, 34-year-old Claire Waverley, at peace with her family inheritance, has lived in the house alone, embracing the spirit of the grandmother who raised her, ruing her mother's unfortunate destiny and seemingly unconcerned about the fate of her rebellious sister, Sydney, who freed herself long ago from their small town's constraints. Using her grandmother's mystical culinary traditions, Claire has built a successful catering business — and a carefully controlled, utterly predictable life — upon the family's peculiar gift for making life-altering delicacies: lilac jelly to engender humility, for instance, or rose geranium wine to call up fond memories. AmazonUK | AmazonUS
I Can Do It by Louise L Hay
Louise explains that every thought you think and every word you speak is an affirmation. Even your self-talk, your internal dialogue, is a stream of affirmations. You're affirming and creating your life experiences with every word and thought. Your beliefs are merely habitual thinking patterns that you learned as a child, and many of them work very well for you. But other beliefs may be limiting your ability to create the very things you say you want. You need to pay attention to your thoughts so that you can begin to eliminate the ones creating experiences that you don't want. AmazonUk | AmazonUS
The Thorn Birds by Colleen McCullough
In the rugged Australian Outback, three generations of Clearys live through joy and sadness, bitter defeat and magnificent triumph – driven by their dreams, sustained by remarkable strength of character… and torn by dark passions, violence and a scandalous family legacy of forbidden love.
It is a poignant love story, a powerful epic of struggle and sacrifice, a celebration of individuality and spirit. Most of all, it is the story of the Clearys' only daughter, Meggie, who can never possess the man she so desperately adores – Ralph de Bricassart. Ralph will rise from parish priest to the inner circles of the Vatican… but his passion for Meggie will follow him all the days of his life. AmazonUK | AmazonUS
My Wolf And Me by India R Adams
Their love was innocent.
Their friendship was pure.
Their fear was real.
Their danger was true.
When little Marlena is left to care for an abandoned wolf pup, her parents see their irrevocable bond, and this humble family embarks on an adventure trying to care for the needs of a rapidly growing wolf, and the needs of their headstrong daughter. The comical complications of such a venture only darken when Marlena, now a high school student, witnesses her wolf shift… into a young man.
Secrets and the pure hatred from a man out for revenge take Marlena, her family and her wolf on a heartbreaking journey of devastating loss, captivity, and ultimate sacrifices.
This love story will haunt you well after you finally set this book down. AmazonUk | AmazonUS
The Clan Of The Cave Bear by Jean M Auel
This novel of awesome beauty and power is a moving saga about people, relationships, and the boundaries of love. Through Jean M. Auel's magnificent storytelling we are taken back to the dawn of modern humans, and with a girl named Ayla we are swept up in the harsh and beautiful Ice Age world they shared with the ones who called themselves the Clan of the Cave Bear.
A natural disaster leaves the young girl wandering alone in an unfamiliar and dangerous land until she is found by a woman of the Clan, people very different from her own kind. To them, blond, blue-eyed Ayla looks peculiar and ugly–she is one of the Others, those who have moved into their ancient homeland; but Iza cannot leave the girl to die and takes her with them. Iza and Creb, the old Mog-ur, grow to love her, and as Ayla learns the ways of the Clan and Iza's way of healing, most come to accept her. But the brutal and proud youth who is destined to become their next leader sees her differences as a threat to his authority. He develops a deep and abiding hatred for the strange girl of the Others who lives in their midst, and is determined to get his revenge. AmazonUK | AmazonUS
The Crystal Cave by Mary Stewart
Fifth century Britain is a country of chaos and division after the Roman withdrawal. This is the world of young Merlin, the illegitimate child of a South Wales princess who will not reveal to her son his father's true identity. Yet Merlin is an extraordinary child, aware at the earliest age that he possesses a great natural gift – the Sight. Against a background of invasion and imprisonment, wars and conquest, Merlin emerges into manhood, and accepts his dramatic role in the New Beginning – the coming of King Arthur. AmazonUK | AmazonUS
Dissolution ( Matthew Shardlake #1) by C.J. Samson
Dissolution is the first in the phenomenal Shardlake series by bestselling author, C. J. Sansom, followed by Dark Fire, Sovereign, Revelation, Heartstone and Lamentation.
It is 1537, a time of revolution that sees the greatest changes in England since 1066
Henry VIII has proclaimed himself Supreme Head of the Church and the country is waking up to savage new laws, rigged trials and the greatest network of informers ever seen. Under the order of Thomas Cromwell, a team of commissioners is sent through the country to investigate the monasteries. There can only be one outcome: the monasteries are to be dissolved.
But on the Sussex coast, at the monastery of Scarnsea, events have spiralled out of control. Cromwell's Commissioner Robin Singleton, has been found dead, his head severed from his body. His horrific murder is accompanied by equally sinister acts of sacrilege – a black cockerel sacrificed on the altar, and the disappearance of Scarnsea's Great Relic.
Dr Matthew Shardlake, lawyer and long-time supporter of Reform, has been sent by Cromwell into this atmosphere of treachery and death. But Shardlake's investigation soon forces him to question everything he hears, and everything that he intrinsically believes . AmazonUK | AmazonUS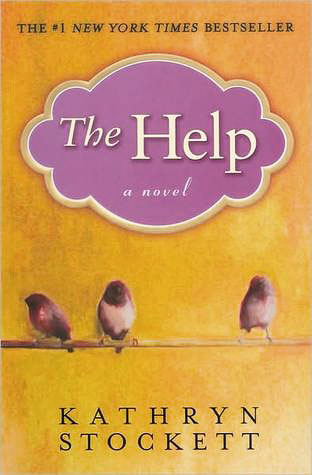 The Help by Kathryn Stockett
Be prepared to meet three unforgettable women:
Twenty-two-year-old Skeeter has just returned home after graduating from Ole Miss. She may have a degree, but it is 1962, Mississippi, and her mother will not be happy till Skeeter has a ring on her finger. Skeeter would normally find solace with her beloved maid Constantine, the woman who raised her, but Constantine has disappeared and no one will tell Skeeter where she has gone.
Aibileen is a black maid, a wise, regal woman raising her seventeenth white child. Something has shifted inside her after the loss of her own son, who died while his bosses looked the other way. She is devoted to the little girl she looks after, though she knows both their hearts may be broken.
Minny, Aibileen's best friend, is short, fat, and perhaps the sassiest woman in Mississippi. She can cook like nobody's business, but she can't mind her tongue, so she's lost yet another job. Minny finally finds a position working for someone too new to town to know her reputation. But her new boss has secrets of her own.
Seemingly as different from one another as can be, these women will nonetheless come together for a clandestine project that will put them all at risk. And why? Because they are suffocating within the lines that define their town and their times. And sometimes lines are made to be crossed.
In pitch-perfect voices, Kathryn Stockett creates three extraordinary women whose determination to start a movement of their own forever changes a town, and the way women — mothers, daughters, caregivers, friends — view one another. A deeply moving novel filled with poignancy, humor, and hope, The Help is a timeless and universal story about the lines we abide by, and the ones we don't. AmazonUK | AmazonUS
The Other Side And Back by Sylvia Browne
This lively and empowering book of wisdom and healing comes from New York Times bestselling author and psychic Sylvia Browne. It offers an unprecedented and comprehensive look at how the afterlife affects us in this life. Discover: astonishing insights into our everyday contact with guides and angels; the truth about hauntings, and why we should not be afraid; how psychics can solve missing persons cases and even murders; how psychic energy can keep us healthy and improve our relationships; why we should not fear death or ageing; the afterlife, and how we can all maintain contact with our loved ones; reincarnation, and how we can all discover our past lives; Easy exercises to promote healing, discover past lives, improve relationships, contact loved ones, create joy and much more; must-read predictions for the 21st century. AmazonUK | AmazonUS