Today's team review is from Karen B, she blogs here http://sassyredheadbookreviews.wordpress.com
Karen has been reading Monsters and Angels by Anne Marie Andrus
My Review of "Monsters and Angels" by Anne Marie Andrus
I really enjoyed this book and would recommend it to anyone who likes paranormal romance stories. Sorcha is a young woman who loses her mother unexpectedly and decides after her funeral to leave NY for something new. She boards a train to New Orleans to answer an advertisement for nurses to work in a hospital run by nuns and a Dr. Banitierre, who only works nights. Her desire to make her mother proud of her, even though she is gone, drives her to be a hard worker who puts a lot of care and love into her job as a nurse.
An unfortunate incident changes her life forever while she is on a sojourn with the nurses, nuns, and Dr. Banitierre. She is no longer to continue her work as a nurse as she had always wanted to do. Now she has three men who want her and she only has one man on her mind as a love interest.
I give this book 5 stars. It was intriguing and kept me turning the pages. It shows the love of an unconventional family. The Banitierre family is a strong family that work together to keep each other safe. Unfortunately, they must fight to keep their status and family intact. The Victoire's are a misfit family that want what the Banitierre family has and they have no honor among their family. The ending did leave a question about what will happen next, but I am hoping that means that there will be another book to answer the questions left in this one. I look forward to reading it if there is.
Book Description
Fledgling nurse Sorcha Alden knew she had the skills to save lives, but she never dreamed that her own life would be the one in danger.
Driven by tragedy to honor her family name, Sorcha embarks on a journey that takes her from the bleak but familiar streets of New York, through the sultry and seductive city of New Orleans, and into the brutal jungles of Nepal. Forging friendships and carrying on her mother's mission of healing was her dream. Plunging into a love affair with the mysterious Dr. Ashayle could have been a fairytale.
Being murdered and waking up as a blood-thirsty monster—became her living nightmare.
Torn away form a life that had just begun, Sorcha returns to New Orleans as a newborn vampire, forced to start over in a cutthroat underworld of devilry and decadence. Complicated politics, bitter rivals and jealous ancestors stand between her and the promises she's still determined to keep.
In a realm where the boundary between good and evil is as murky as the Mississippi River and immortal does not mean invincible, will Sorcha ever risk her shattered heart and love again? Can the magical harmony of the Crescent City give her enough courage to fulfill her eternal destiny?
About the author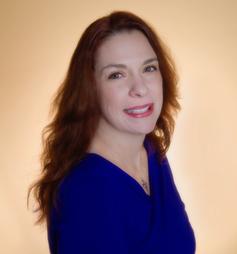 Anne Marie has been an equestrienne, chorale singer, candy-striper, EMT, and baseball fan. Roaming the back roads of New Jersey with her family, she found great respect for antiques, historical locations and the stories they hold. Her current list of favorite pastimes include coffee, bourbon, and Les Miserables–which requires more bourbon. She has been known to attend sporting events just for the flyover. The boat she and her husband christened Glory Days, is her escape from the chaos of everyday life.
The inspiration for Anne Marie's debut novel, Monsters & Angels, is her fascination with vampires and her passion for everything New Orleans. When she isn't writing, she can be found working nights with the critical care team in a busy trauma center.
Goodreads | AmazonUK | AmazonUS | Twitter
Book due for publication on October 17th.