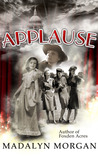 Applause by Madalyn Morgan
My rating: 4 of 5 stars
Applause is book #2 of the Dudley Sisters series of family saga books set in second world war torn Britain. This can be read as a stand alone book.
Margaret is the only Dudley sister to be currently married. Her husband transports MOD documents around by day and is an ambulance driver by night. But it is the theatre which has always interested Margaret.
The book opens with her almost injured by a partially falling building as she intently hurries for a job interview. The job is only an usherette but it is a start. Margaret's dream is to become an actress and nothing will stop her passion. She rises through the theatre taking on work in the wardrobe section and grabbing a chance to step in when an actress is ill.
Introduced to the nightclub scene by her acting friends Margaret is offered a chance to sing and it sets off her career as Margo Dudley. At first she tries to hold down several jobs and keeps too many secrets, until she's found out.
An injury to her ankle puts her out of action for a while and when the theatre is also closed down due to a bomb Margo finds alternative ways to continue performing. With friends she becomes part of the Albert Sisters a group who go around entertaining the troops. But life isn't all good. Margo drinks and becomes reliant of pain relievers and sleeping tablets which she becomes addicted to.
Her passion for the theatre puts a strain on her marriage on more than one occasion and we see Margot as quite a selfish women, perhaps portraying many a celebrity.
This book is packed with well researched nostalgia from the era, scattered between the pages, however I didn't enjoy it as much as book #1 Foxden Acres, purely for personal reasons, I'm not a big theatre fan, however for those who know the London theatre world well, I'm sure they would enjoy this book.
View all my reviews on Goodreads
Book Description
In the early years of World War 2, Margot Dudley works her way up from usherette to leading lady in a West End show. Driven by blind ambition Margot becomes immersed in the heady world of nightclubs, drink, drugs and fascist thugs – all set against a background of the London Blitz. To achieve her dream, Margot risks losing everything she holds dear.
APPLAUSE is the second book in the DUDLEY SISTERS QUARTET.
About the author
Madalyn Morgan has been an actress for more than thirty years working in repertory theatre, the West End, film and television. She is a radio presenter and journalist, writing articles for newspapers and magazines.

Madalyn was brought up in a busy working class pub in the market town of Lutterworth in Leicestershire. The pub was a great place for an aspiring actress and writer to live. There were so many wonderful characters to study and accents learn. At twenty-four Madalyn gave up a successful hairdressing salon and wig-hire business for a place at E15 Drama College, and a career as an actress.