Today's team review is from Terry, she blogs here http://terrytylerbookreviews.blogspot.co.uk/
Terry has been reading The Planck Factor by Debbi Mack
THE PLANCK FACTOR by Debbi Mack
3.5 out of 5 stars
This is a short book, a long novella. It's an unusual plot ~ student Jessica starts to write a thriller, then discovers that life is imitating art as she is swept into a cat and mouse chase involving mysterious men in vans, research into the possibility of making a bomb more powerful than a nuclear attack, truth seeker groups and murder.
I like Ms Mack's writing style very much; it's sharp, current and witty, and she has clearly drawn on her own experience to write Jessica, which was entertaining and amusing. The book alternates between Jessica's own story and that of the novel she is writing, which was only occasionally confusing; mostly, it works, and is nicely interspersed with short chapters from 'observers'. I was interested in the subject matter, and it has a good end twist which I hadn't anticipated.
For me, the downside to this story was the lighthearted tone in which it's written, almost a comedy thriller. Despite being the subject of a nationwide search and having witnessed murders, chasing across the country in an effort to hide, and wondering what the hell is going on, Jessica still makes quips and manages to work on her novel. This does make more sense when you read the twist at the end, but the problem was the rest of the story; I think it would have seemed more feasible if her work had resulted in her getting drawn into the danger, rather than having her novel 'come to life'. Also, if it had been a bit more serious, and possibly longer. It's a great idea, I just thought it needed a bit more research and thinking out.
One thing that made me choose this book was the 'New York Times best selling author' line on the cover. This refers not to this book but to a 2011 mystery, Identity Crisis, which made numbers 27 and 35 on the NYT ebook best seller list for two weeks during that year, in case you're interested.
Book Description
On a dare, grad student Jessica Evans writes a thriller, creating a nightmare scenario based upon the theory that the speed of light is not a constant—one that has a dark application. Her protagonist (the fiancé of a scientist killed in a car crash) is pursued by those who want to use the theory to create the world's most powerful weapon.
Jessica's research into the science stirs up concern from an extremist group intending to use it for evil. Before long, Jessica's life mimics that of her protagonist, as she runs from terrorist conspirators who suspect she may try to stop them from causing a major disaster. As the clock ticks down, Jessica must put the pieces together and avert a global catastrophe.
About the author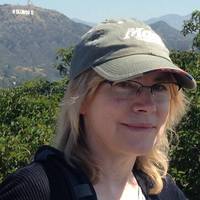 Debbi Mack is the New York Times bestselling author of the Sam McRae Mystery Series. She's also published a young adult novel called INVISIBLE ME and a thriller entitled THE PLANCK FACTOR.
Debbi's a Derringer-nominated short story writer, whose work has been published in various anthologies. She also writes screenplays and is interested in filmmaking.
Debbi enjoys reading, movies, travel, baseball, walking and espresso–not necessarily in that order. She and her husband live in Columbia, MD, with their family of cats.