Today's team review is from Barb, she blogs at http://barbtaub.com/
Barb has been reading The Planck Factor by Debbi Mack
During Magic 101, my one (required) semester of college physics, the professor assured our class of history and lit majors that there was no such thing as calculus in the real world.
For the most part, that works for me. But every now and then something reminds me that I'm only seeing part of the universe.
Most recently, it was reading The Planck Factor by Debbi Mack, which asks a basic question: what if Einstein got that whole e=mc2 thing wrong? What if the velocity of light was NOT a constant, and thus nuclear devices could be n-times more powerful?
Setting aside the dubious science here, the obvious answer (for a writer anyway) is that government agencies, spies, supervillains, terrorists, and—scariest of all—competing academics would kill for those results. In The Planck Factor, that's the premise that young grad student Jessica Evans uses as the basis for her first novel. As the book alternates between Jessica's story and that of her protagonist Alexis, Jessica starts to see terrifying similarities between her own situation and that of her fictional creation. Both are in danger from unknown forces, forced to flee for their lives, while family and friends are also in mortal peril.
At the heart of both stories is the random scientific "fact" that Jessica extrapolated from a chance footnote. In her novel, that is enough to put Alexis into danger. In Jessica's real world, research for the novel has cost her friend's life and sent his killers after her.
There were so many things I liked about this little novella-length book. The converging chapters of Jessica's life and the developing story of her novel were nicely done. The deliberate similarities between her character and that of her creation might have been confusing, but they were cleverly set apart by the use of different fonts and chapter headings. Then there were the sections from the mysterious Kevin, whose role isn't revealed until the last pages. And there was a final twist in the very last page that I never saw coming.
Having said that, I have to admit there were things that bothered me as I was reading. The science itself was threadbare and unsubstantiated—but I could live with that. The thinly-veiled but constant discussion of the writing process was annoying in its determination to state (and restate) the obvious. But, given the fact that Jessica is a graduate student writing a thesis on "how genre fiction could have literary value", I suppose I could also live with that. Even the obvious plot holes such as the observed similarities between 'fictional' Alexis and 'real' Jessica which seem so significant but are ultimately never explained by anything other than coincidence might just be a literary device. Smaller plot sink holes in the fictional book (such as the part where Alexis is supposed to put herself in grave danger in order to find out where some notes are hidden—while the person who hid them was actually standing right next to her) could be explained by the fictional novel being a work in progress.
But there were two things that troubled me. The first was the gigantic and (as far as I could tell) completely unsubstantiated leap where government agencies go from worries about what might be in Jessica's book to closing down the Golden Gate Bridge and preparing for 'the biggest catastrophe in modern history'—without a single fact or substantiated clue to back it up. There were further logic-less leaps that left me scratching my head (but I don't want to mention them for fear of spoilers).
The second thing that annoyed me was that I just didn't like Jessica. She came across as self-centered and somewhat whiny. When she gets a phone warning and starts to worry that someone is stalking her, she doesn't hesitate to go straight to the police. Twice. But when a friend who was trying to impress her by helping with her research is killed, she "doesn't want to get involved".
By now, I was down several stars in my appreciation of the novel. And then I came to that last page with its stunning final twist. Wait a minute… Does that mean what I think it means? I read it several times. Then I went back and re-read several sections of the book. And I realized that the entire story within a story had been turned inside out. Back went the stars.
Overall, I'd say The Planck Factor might not be a perfect book, but it does have a perfect final twist.
Book Description
On a dare, grad student Jessica Evans writes a thriller, creating a nightmare scenario based upon the theory that the speed of light is not a constant—one that has a dark application. Her protagonist (the fiancé of a scientist killed in a car crash) is pursued by those who want to use the theory to create the world's most powerful weapon.
Jessica's research into the science stirs up concern from an extremist group intending to use it for evil. Before long, Jessica's life mimics that of her protagonist, as she runs from terrorist conspirators who suspect she may try to stop them from causing a major disaster. As the clock ticks down, Jessica must put the pieces together and avert a global catastrophe.
About the author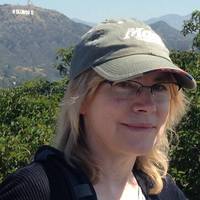 Debbi Mack is the New York Times bestselling author of the Sam McRae Mystery Series. She's also published a young adult novel called INVISIBLE ME and a thriller entitled THE PLANCK FACTOR.
Debbi's a Derringer-nominated short story writer, whose work has been published in various anthologies. She also writes screenplays and is interested in filmmaking.
Debbi enjoys reading, movies, travel, baseball, walking and espresso–not necessarily in that order. She and her husband live in Columbia, MD, with their family of cats.
Goodreads | AmazonUK | AmazonUS | Twitter