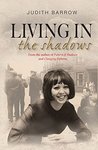 Living in the Shadows by Judith Barrow
My rating: 4 of 5 stars
Living in Shadows is the third book following the lives of a group of family and friends based mainly in Ashford near Manchester, England. Book one began in 1944 and this current book is 1969 involving many of the next generation.
In this book, we meet Linda Booth a young nurse on a maternity ward, dealing with new mother's and fathers. Off duty she is a regular visitor to her Grandmother, whilst she questions her own relationship with her current boyfriend.
Victoria Schormann currently lives in Llamroth with her twin brother and her parents Mary and Peter. Mary was a nurse in a POW camp near where she lived in Ashford, after the war she moved to Wales. Peter had been a doctor and prisoner in the POW camp and after the war he came back and found Mary.
Victoria is bored and spoilt and decides to run away from home with a boy she met at a music concert. Seth is a hippie and runs a commune in the Manchester area, but Victoria finds the new lifestyle is more than she bargained for.
Mary's sister and one of her brothers still live in the Ashford area with their respective families, and while Mary's son Richard attends interviews at the University they all have their own challenges to face. Changes in what is socially accepted are harder for some to agree with, but they find themselves all drawn together when a dark figure from the past comes back and threatens the future.
This book can be read alone but I believe it would have more meaning to be read in sequence. I haven't read the second book and I struggled to place names and family relationships. This meant I didn't always follow the storyline as well as I expected. The book contained some good historical details and the themes were relevant to their day.
This review is based on a free copy of the book given to me by the author via Honno Press
Find a copy here from Amazon.co.uk or Amazon.com
View all my reviews on Goodreads