Welcome to Day 25 of The #MysteryNovember Book Tour.
Today our guest is Mark Barry with his book Hollywood Shakedown.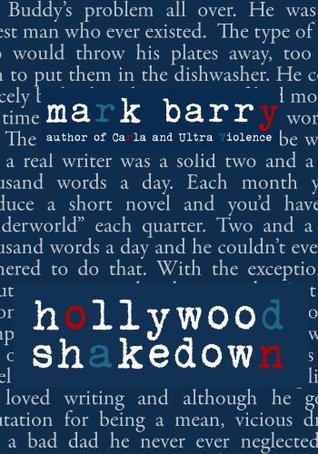 Buddy Chinn, a deadbeat Los Angelino living in the shadow of doomed Hollywood Park meets a bigtime book collector and gets a proposition. Find a unique and long-lost manuscript written by your deceased beat poet dad: Succeed and receive a hundred grand. Fail? It doesn't bear thinking about. Enlisting the help of an English comic dealer and poker player, the two men search the country and beyond, avoiding the attentions of hooligans, gangsters and a gorgeous gang boss with a thing for big guys. Like Buddy.
Will they find the merchandise? Or will they end up underneath a flyover holding up the Interstate.
Thriller. Chase book. Black Comedy. Philosophy.
You read it. You call it.

Where is your home town?
I live in Southwell, but am from Nottingham, in the East Midlands of England. I live about eight miles from where Robin Hood used to live in Sherwood Forest. Most of my work is set here; Nottingham, not Sherwood Forest!
What do you like about writing in the mystery genre?
I like creating life puzzles and I particularly enjoy writing about the criminals, deadbeats, losers and wannabes who live inside the puzzles I create. I also like the twists and turns you can inflict on a reader and getting inside the psychology of the protagonists.
What sub-genre of mystery does your book fit?
Hollywood Shakedown is difficult to place into a specific genre. One of Elmore Leonard's many mysteries would be the closest match, or even the ironic work of Charles Willeford – Shark Infested Custard? It is heavily influenced by books such as Charles Bukowski's flawed fiction novel, Pulp and the writing of fifties pulp writer Jim Thompson, who I adore. Like Martin Amis' incredible Night Train, it is a mix of contemporary fiction mixed with crime. It also has a plot twist I have seen implemented only once and has never failed to surprise the readers who have sampled the book.
Where is your book set?
Los Angeles, mostly; but also Chicago and London.
Can you introduce us to the main characters?
The main characters are Buddy Chinn, a washed up, lazy, fat, alcoholic, horseplaying novelist, whose father is a brilliant and lauded sixties "beat" poet, and his friend Simon, a chirpy, English poker player and superhero comics dealer. Supported by a wide variety of villains led by a rare manuscript collector called Mortimer Saxon. One of the main characters is Buddy's "free spirited" girlfriend, Monique, a favourite of mine. Her chapters are amongst my best writing.
Where can readers find out more about you and your writing?
I can mostly be found on Twitter @Greenwizard62
and, if you know a friend of mine on Facebook, I am Wiz Green 9
My blog is greenwizardpublishing@blogspot.co.uk and I write there regularly about my work and the work of my friends in Indie.
Where can readers find your book?
Amazon Uk Author Page http://www.amazon.co.uk/Mark-Barry/e/B008479RWI/ref=sr_tc_2_0?qid=1425158526&sr=8-2-ent
Amazon.com Author Page http://www.amazon.com/Mark-Barry/e/B008479RWI/ref=sr_tc_2_0?qid=1425158526&sr=8-2-ent