Today's team review is from Alison, she blogs here http://alisonwilliamswriting.wordpress.com/
Alison has been reading Forbidden by F. Stone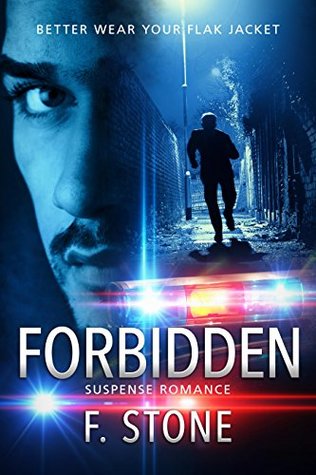 This was a difficult review to write because there are some really good elements to this book. The author has obviously researched extremely thoroughly. She has also put a huge amount of work into this novel and it is clear that she cares deeply about her characters and about her story.
The plot is a good one and there is plenty of drama here to keep the reader entertained and the two main characters certainly lend themselves to a potentially explosive and compelling romance. There is a good mix of conflict and attraction between the two.
The setting and the storyline are timely and the idea behind the story is sound.
However, in my opinion the novel needs another edit. There are too many issues with both the story and the writing itself that should have been picked up and improved upon prior to publication. There are places where the writing needs tightening. There are common issues like exposition, unnecessary dialogue tags and awkward prose that need a thorough going over.
I also felt that some of the characters were a little stereotypical. And I wasn't convinced by the 'seer' aspect of the story. It felt under-developed and unnecessary.
I do hate to be negative, and I'm sure there will be a lot of readers that will really enjoy this novel. But for me, it needed an extra polish.
Three out of five stars.
Book Description
Year 2047, City of Samarra, capital of the Republic of Islamic Provinces & Territories
Fifteen American travelers have vanished. Surrendering to Mayor Aamir's demands, a devout Muslim and police captain becomes the reluctant keeper of his city's bloody secret – and the witness, Eliza MacKay. Captain Sharif is horrified to discover that if he exposes the cover-up, his family will suffer dire consequences.
The CIA has the lying Sharif in their cross hairs. Sharif's only hope is to prove his country's government is free of guilt. Secretly, he hunts forensic evidence. Cryptic messages, backstabbing informants, and corruption threaten Sharif's resolve to see justice served. When he discovers the shocking truth, he and MacKay become the targets of a ruthless killer.
Sharif is tortured by his attraction to the impetuous Eliza MacKay. In spite of her struggle with PTSD, he's drawn to her vivacious personality. Islam forbids the intimacy he craves. In desperation to save Eliza, Sharif plots an act most forbidden and fatal.
About the Author
On our cattle ranch, when an animal was in distress or injured, I was put in charge of nursing it back to health. Never mind that I was just a kid and hated the sight of blood, but I had to muster up the courage to apply home remedies. My survival rate was pretty good. It seemed like a foregone conclusion that I would progress to nursing – humans. After one year into nurses training, I bolted. Bed pans and chronic diseases pushed me in different direction; a career of dealing with drug addicts, murder, suicide, fatalities, and biker gangs. In 1983 I graduated with honors as a paramedic and worked in the City of Edmonton's Emergency Services. For the next twenty years, I came face to face with scenes most people would rather not think about. I loved it. Having experienced life in the most deadly and gut wrenching events, and work alongside the police service, I gained the fodder for creating intense novels. My creative DNA shocked me when I was driven to write a dystopian / paranormal / romance novel, The Guardian's Wildchild. After taking several writing courses, I presented the manuscript to Omnific Publishing who published it in 2011. Just when I thought I could get my life back, another story took me prisoner – Forbidden. I couldn't believe there was this kind of story within me and desperate to be told. I resisted. It was futile. Retired and focused on home life, I'm back to being a mom to four pets and one husband. We travel and taste the excitement of other cultures. In between adventures, I've dabbled in water color painting, photography, needle work, gardening – the list goes on. In my next life, I plan to explore the cosmos. I've learned a few things in my seventy years. Thoughts are powerful. Intention is everything. Passion is the key to success.