Today we have a review from team member Liz, she blogs at https://lizannelloyd.wordpress.com/
Liz chose to read and review Six Months To Get A Life by Ben Adams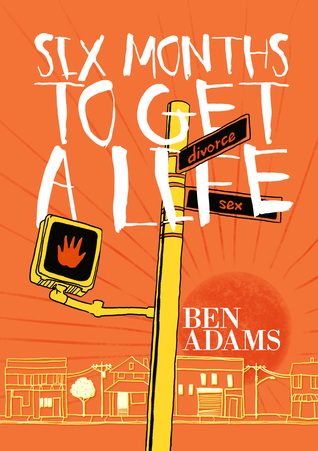 Six Months to Get a Life by Ben Adams
At the beginning of Six Months to Get a Life I found Ben Adams' novel a relaxed easy read, of the type you might find in a Women's magazine, except that this story is told from the point of view of a man. A man in the middle of a mid-life crisis, his marriage is over, he is living with his parents and spending weekends looking after his sons.
Graham Hope works in a boring office, earns barely enough to fund the maintenance of his ex-wife and sons, and longs for a new relationship. Writing in the form of a diary, he decides to take a positive attitude, intending that on his 43rd birthday in exactly 6 months he will have a more interesting job, his own place to live, a social life and a good relationship with Sean and Jack.
At first we are forced to despair of Graham. He lacks confidence, relies on others and is indecisive. A blind date introduces him to "Miss Putney" but is this the promise of sexual satisfaction and companionship that he seeks? He may be forced to find another job quicker than he intended and increasing tension in his parent's house, partly caused by his amiable but messy dog Albus, means an alternative residence is becoming urgent.
I enjoyed the fact that the novel is rooted in the present day with detailed references to last year's football World Cup and mention of current events. Jack & Sean are charming, yet normal, boys at the outset of their teenage years. Although it is not easy to empathise with "the Ex" wife, Graham does allow us to understand her point of view. There is a delightful, very British, ironic humour running through the story.
As soon as things begin to improve for Graham, disaster strikes and he is forced to face up to his feelings and intentions for the future. The book takes a more serious turn, and I found myself reading well into the night to reach the denouement. This would make such a good TV serial but in the meantime I recommend that you read the book!
Find a copy here from Amazon.co.uk or Amazon.com