It's Day 4 of our Beach Reads book Tour and I'm so excited because today we get to imagine being in Spain with my guest Barb Taub
Rosie Amber's Beach Reads Blog Hop –Guest Post
My beach read vacation doesn't exactly involve a beach this time. Instead, I'm looking for a quiet, peaceful, remote place where I can write with no distractions—as long as it has kickass internet and (hopefully) excellent coffee. Ooh…and tapas with good local red wines. And a great outdoor market. Hmmm… maybe there should be world-class sights and restaurants and museums less than an hour away. And, of course, all that outdoor stuff for the hub. Piece of cake, right?
Turns out, it was. Friends recommended a small town in Spain that's about an hour from Salamanca and Avila, accessible to Madrid and Barcelona on high speed trains. Beautiful villas come with pools for astonishingly low prices (Love you, Air B&B!). I could just picture myself, sitting on the patio by the outdoor oven, effortlessly crafting page after page. I'd probably have the next book ready for editors in no time. As a break, I would have Rosie Amber's list of Beachy Reads that I've been meaning to get to, and some terrific recipes I can source from the local outdoor markets.
I booked a beautiful place and couldn't wait to tell everyone I knew. Ring… is that the phone? Relatives who'll "just happen" to be in the neighborhood? Okay, I might not get as much writing done as I'd hoped, but it would be fun to catch up with family members. Ding…Email from friends who had always been meaning to visit Spain? I started making lists of extra things I needed to bring along, groceries and menus and timetables at local attractions Whoa…letters from acquaintances who heard we'll be there and wondered if they could drop in for a week or so? I mentally swapped our gourmet recipes for budget crowdpleasers.
Luckily, I've been working on my reading list for Rosie Amber's Beach Reads Blog Hop. So at least I'm set with a list of books to lend lucky guests. Plus I'll save a few for my own reading at night, when everyone else is finally asleep. Thank heaven for holidays and Kindles with backlight.
Here are five of the books already loaded on my Kindle:
A Fact Book / Guide Book (About The place I'm taking my holiday in)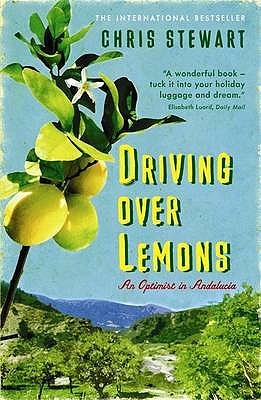 Driving Over Lemons by Chris Stewart. I know, I know. Only by the most remote of imagination stretches could this be considered a guide book of any sort. But when we went to Provence, I read Peter Mayle (French Lessons and A Good Year) and learned more appreciation for the France around me than any guidebook could ever convey. Hopefully this book, penned by a former Genesis drummer and sheep shearer who moved with his wife from the outskirts of London to an abandoned farm just over the mountains from Granada, Spain.
Title:                Driving Over Lemons
Author:            Chris Stewart
Pages:              308
Publisher:         Sort Of (August 8, 2011)
Buy links: Amazon US | Amazon UK
Blurb:
Meet Chris Stewart, the eternal optimist.
At age 17 Chris retired as the drummer of Genesis and launched a career as a sheep shearer and travel writer. He has no regrets about this. Had he become a big-time rock star he might never have moved with his wife Ana to a remote mountain farm in Andalucia. Nor forged the friendship of a lifetime with his resourceful peasant neighbour Domingo…not watched his baby daughter Chloe grow and thrive there…nor written this book.
Fate does sometimes seem to know what it's up to.
Driving Over Lemons is that rare thing: a funny, insightful book that charms you from the first page to the last…and one that makes running a peasant farm in Spain seem like a distinctly gd move. Chris transports us to Las Alpujarras, an oddball region south of Granada, and into a series of misadventures with an engaging mix of peasant farmers and shepherds, New Age travellers and ex-pats. The hero of the piece, however, is the farm that he and Ana bought, El Valero — a patch of mountain studded with olive, almond and lemon groves, sited on the wrong side of a river, with no access road, water supply or electricity.
Could life offer much better than that? Driving Over Lemons has sold over a million copies since publication in 1999. The title has been translated into 9 languages.
A book I could truly escape with
The Jack of Souls, by Stephen Merlino, is a tribute to the Trickster, an exhilarating and funny and larger-than-life paen to the ones who might not be the strongest or bravest, but can out-think, outlast, or outplay their musclebound foes. It's a lightning-paced rollercoaster world built of humor, bravery, brains, and excellent writing. The villains are unequivocally evil. The heroes are flawed, hexed, unlucky, or just plain old. And sometimes they smell really bad.
Title:                The Jack of Souls (Book 1 of The Unseen Moon series)
Author:            Stephen C. Merlino
Pages:              352
Publisher:         Tortoise Rampant Press, December 20, 2014
Buy links:        Amazon US | Amazon UK
Blurb:
Harric, an outcast rogue, must break a curse put on his fate, or die on his nineteenth birthday. As the day approaches, nightmares from the spirit world stalk and tear at his sanity; sorcery eats at his soul.
To survive, he'll need more than his usual tricks. He'll need help—and a lot of it—but on the kingdom's lawless frontier, his only allies are other outcasts. One of these outcasts is Caris, a mysterious, horse-whispering runaway, intent upon becoming the Queen's first female knight. The other is Sir Willard—ex-immortal, ex-champion, now addicted to pain-killing herbs and banished from the court. With their help, Harric might keep his curse at bay. But for how long? 
And both companions bring perils and secrets of their own: Caris bears the scars of a troubled past that still hunts her; Willard is at war with the Old Ones, an order of insane immortal knights who once enslaved the kingdom. The Old Ones have returned to murder Willard and seize the throne from his queen. Willard is both on the run from them, and on one final, desperate quest to save her.
Together, Harric and his companions must overcome fanatical armies, murderous sorcerers, and powerful supernatural foes.
Alone, Harric must face the temptation of a forbidden magic that could break his curse, but cost him the only woman he's ever loved.
A book I've been meaning to read for ages
A Long Way Down by Nick Hornby. It might sound like the antithesis of a summer read, but my sister (who has never once been off the mark on a book recommendation) promises, "Sounds heavy (it's about 5 people contemplating suicide) but is in fact really humorous and endearing."
Title:                A Long Way Down
Author:            Nick Hornby
Pages:              368
Publisher:         Penguin, May 2005
Buy links:        Amazon US | Amazon UK
Blurb:
Narrated in turns by a dowdy, middle-aged woman, a half-crazed adolescent, a disgraced breakfast TV presenter and an American rock star cum pizza delivery boy, A Long Way Down is the story of the Toppers House Four, aka Maureen, Jess, Martin and JJ. A low-rent crowd with absolutely nothing in common – save where they end up that New Year's Eve night. And what they do next, of course.
Funny, sad, and wonderfully humane, Nick Hornby's new novel asks some of the big questions: about life and death, strangers and friendship, love and pain, and whether a slice of pizza can really see you through a long, dark night of the soul.
A book that interests me although it's from a genre I don't usually read.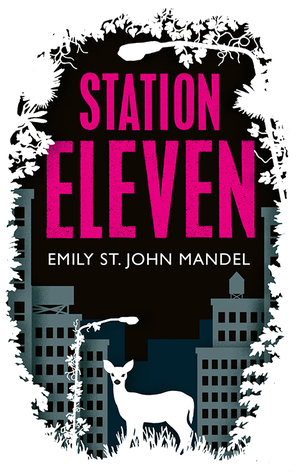 Station Eleven by Emily St. John Mandel is one of those books that's on every award list, that everyone is talking about, and that nobody can really describe. Or, actually, everybody thinks it's about something different. But the one quote that puts it on my must-read list? "Station Eleven is the kind of book that speaks to dozens of the readers in me—the Hollywood devotee, the comic book fan, the cult junkie, the love lover, the disaster tourist. It is a brilliant novel, and Emily St. John Mandel is astonishing."—Emma Straub, author of The Vacationers. Hey—I have all those readers in me too! Bring it!
Title:                Station Eleven
Author:            Emily St. John Mandel
Pages:              353
Publisher:         Picador, September 10, 2014
Buy links:        Amazon US | Amazon UK
Blurb:
"What was lost in the collapse: almost everything, almost everyone, but there is still such beauty."
One snowy night in Toronto famous actor Arthur Leander dies on stage whilst performing the role of a lifetime. That same evening a deadly virus touches down in North America.
The world will never be the same again.
Twenty years later Kirsten, an actress in the Travelling Symphony, performs Shakespeare in the settlements that have grown up since the collapse.
But then her newly hopeful world is threatened.
If civilization was lost, what would you preserve? And how far would you go to protect it?
And don't think you're getting away without this one…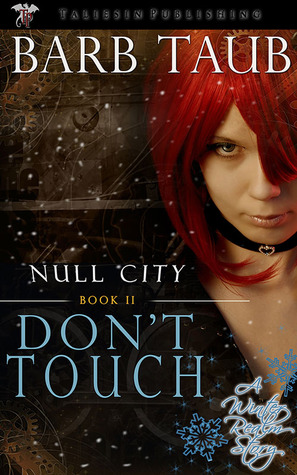 Don't Touch by Barb Taub. I have the only car keys. Okay, sure, there's a bus. Almost every day. But if you think you're going to visit over the summer and get away without one of my books, well… I hope you enjoy that loooooong walk to the nearest city.
Title:                Don't Touch
Author:            Barb Taub
Pages:              97
Publisher:         Hartwood, December 13, 2014
Buy links:        Amazon US | Amazon UK
Blurb:
Hope flares each morning in the tiny flash of a second before Lette touches that first thing. And destroys it.
Her online journal spans a decade, beginning with the day a thirteen-year-old inherits an extreme form of the family "gift." Every day whatever she touches converts into something new: bunnies, bubbles, bombs, and everything in between.
Lette's search for a cure leads her to Stefan, whose fairy-tale looks hide a monstrous legacy, and to Rag, an arrogant, crabby ex-angel with boundary issues. The three face an army led by a monster who feeds on children's fear. But it's their own inner demons they must defeat first.
I would love to hear what you're reading this summer. If you're going to be in Spain, let me know. I'll be the one stirring industrial-sized batches of paella with one hand and holding the Kindle with the other. (Wine will definitely be involved.)