Today's team review is from Chris, she blogs here http://cphilippou123.wordpress.com
Chris has been reading Joyful Trouble by Patricia Furstenberg to her children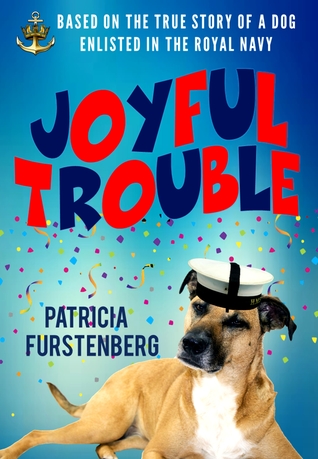 Joyful Trouble:
Cute and bubbly, this is book for little ones is all about friendship.
When Ana and Tommy go to a parade, their Grandad starts to narrate a story of his encounters with a Great Dane, Joyful Trouble, and the adventures they get up to together.
The story was sweet and the message strong. There were moments of comedy and verve sewn into the writing, and the book itself was a fun read. The narration structure was, however, a little overwhelming for a children's book, so that my young readers lost the threads of the story. A straightforward narrative or a less alternating narration may have suited the book better and kept the story at the forefront of the writing. Overall, a good read.
Book Description
A humorous read about an incredible dog and how he had found his true, yet unexpected calling.
A dog. A friendship. A purpose.
When a Great Dane arrives in a navy base nobody expects him to win everybody's hearts, although breaking some rules along the way. But things soon turn sour as somebody threatens to put him to sleep. Who will stand up for this for-legged gentle giant? Tackling universal themes and voicing animal rights and the importance of fighting for what is right.
About the author
Patricia Furstenberg came to writing though reading, her passion for books being something she inherited from her parents. She usually writes at her kitchen table, early morning while the kettle hums or in her car, while she waits for her children to come out from school. "When I write, I write," she usually says. When she's not writing she likes to read, listen to music, dance and bake.
One of the characters portrayed in her children stories is Pete, the yellow toy elephant. Not many know, but Pete exists and lives in Pat's home.
This Romanian born writer is living happily with her husband, children and dogs in sunny South Africa.