So we are just ending our first week of our holiday beach reads, everyone should be enjoying some sun and kicking back for a good rest.
Today my guest is E.L. Lindley
Beach Reads Blog Tour
I'm not much of a beach person so my ideal holiday destination is always a city break. I'm not overly keen on flying these days either so I can't think of anything better than taking the train to Paris and spending my holiday embracing the lovely cafe culture there. I would spend my days watching the world go by with a glass of wine and a good book. Wherever I go, I always have a paperback and my kindle in my bag so I'd have lots to choose from. My iPod is another permanent companion but curiously I have never listened to an audio book so this would be the perfect opportunity for me to give one a try.
A Fun Read – I think it would be a lot of fun to charge up my kindle and re-read one of my own books. The Georgie Connelly stories are light-hearted crime thrillers which would hopefully get me into a holiday frame of mind. I'd choose Business As Usual because it's the first one in the series and introduces us to Georgie Connelly. It's also the first book I ever wrote so it would be nice to re-visit it. I'd then like to spend the rest of the holiday channelling my inner Georgie as she's such a lively, mad-cap character who's up for anything.
Find a copy here from Amazon.co.uk or Amazon.com
 To be released soon
An Easy Read For Me – A book I'm really looking forward to reading is Thicker than Water by Georgia Rose, which I'll be downloading onto my kindle the second it's released. It's the third book in The Grayson Trilogy and I know this will be an easy read for me purely because I enjoyed the first two books so much. The stories are exquisitely written and introduce us to Emma Grayson and Trent who, despite neither of them having had easy lives, manage to connect and nurture their feelings for each other. As Thicker than Water is the final part of the trilogy, I'm really hoping that things will work out for Emma and Trent. For me the strength of the stories lie in the fact that they're not just love at first sight, happy ending style romance but deal with real issues such as bereavement and loneliness.
http://www.amazon.co.uk/Georgia-Rose/e/B00I4YW2ZA/ref=dp_byline_cont_book_1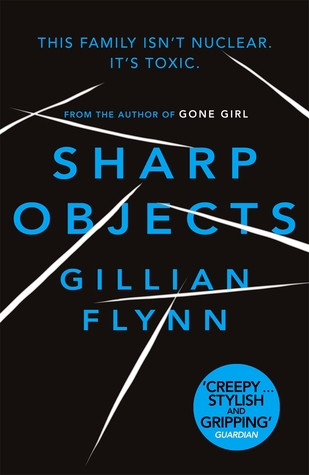 A Book I've Been Meaning To Read For Ages – I've had a paperback copy of Sharp Objects by Gillian Flynn on my bedside table for months. I loved Dark Places and Gone Girl and, everyone I know who has read them, keeps telling me that Sharp Objects is Flynn's best novel. It's the story of a journalist who returns to her home town after many years in order to cover the story of a missing girl. Flynn does seem to divide opinion, possibly because Gone Girl was such a phenomenal success, but readers seem to love or hate her. I'm definitely in the 'love her' camp and really enjoy her dark, spiky style.
Find a copy here from Amazon.co.uk or Amazon.com
 A Book From My Favourite Genre – My favourite genre is crime and so I'd get my kindle out to read Hollywood Shakedown by Mark Barry, which I really love. It's a gritty, old school crime novel and has a wonderful cast of dysfunctionally loveable characters. Frustrated writer, Buddy Chinn is at the centre of the story and he's the kind of character that readers will adore and want to kill in equal measure. He's very much a laid back Los Angeleno and so would provide the perfect antidote to all that stylish Parisian glamour. The plot has lots of twists and turns and takes the reader from LA to Chicago and London with lots of hilarious cross cultural shenanigans. It's the perfect accompaniment to a nice glass of chardonnay.
Find a copy here from Amazon.co.uk or Amazon.com
A Book I Could Truly Escape With – I recently saw Far From The Madding Crowd at the cinema and it really made me want to read the book. It's the story of Bathsheba Everdene, who's trying to be an independent woman when it wasn't really the done thing. She makes some terrible choices though and ends up in a bit of a pickle. I'm not a massive Thomas Hardy fan but I love The Mayor of Casterbridge because, when I was at school the teacher read it aloud to us and it was such a memorable experience. I think I would try and recreate that pleasure by listening to Far From The Madding Crowd on audio book. It's really long so it would be perfect for the train journey from Sheffield to London and then onto Paris.
Find a copy here from Amazon.co.uk or Amazon.com