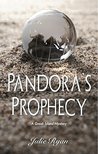 Pandora's Prophecy: A Greek Island Mystery by Julie Ryan
My rating: 4 of 5 stars
Pandora's Prophecy is a romantic mystery set on a Greek Island. The book opens with an introduction to Pandora, a child who discovers she has the gift of prophecy, she can read minds and see auras.
Next we meet several characters who will all meet on the Greek Island. Lisa and Mark are setting off on a family holiday. Ruth and her friend Suzie are about to share a holiday too. Vicky is seeking answers after an argument with her mother. They all stay at a hotel run by Jenna and Nikos.
Pandora's brother Dimitri is an author and he's on the island finishing his latest book. But when bodies start turning up in a copy cat style to one of his books, the police are stretched whilst racing to find the killer.
Fans of Julie Ryan's writing will be pleased to see characters and settings from previous work return to this idyllic Island.
View all my reviews on Goodreads
'Pandora's Prophecy' is the third in the Greek Island mystery series but can be read as a standalone although some characters from the previous books do make an appearance.
Lisa and Mark are going through a rough patch, Vicky is seventeen and has just discovered that the man she thought was her father really isn't, Ruth is getting over her husband's betrayal after nearly twenty-five years of marriage. On the surface they have nothing in common except that they are all staying in the same hotel on a Greek Island. As they each come into contact with the mysterious Pandora, their lives will change forever. Bodies begin to pile up as a serial killer is on the loose who might just be targeting the hotel. The Island's Police Chief, Christos Pavlides, tries to solve the puzzle but he has problems of his own to resolve. It seems that the local celebrity author is the one who holds the key.
Jenna's Journey www.amazon.com/dp/B00EXPDZD2
Sophia's Secret www.amazon.com/dp/B00LFJGCWA
Pandora's Prophecy http://amzn.to/1LeurJ7
Julie was born and brought up in a mining village near Barnsley in South Yorkshire. She graduated with a BA (hons) in French Language and Literature from Hull University. Since then she has lived and worked as a Teacher of English as a Foreign Language in France, Greece, Poland and Thailand. She now lives in rural Gloucestershire with her husband, son and two cats, a rescue cat and a dippy cat with half a tail. She is so passionate about books that her collection is now threatening to outgrow her house, much to her husband's annoyance, as she can't bear to get rid of any! They have been attempting to renovate their home for the last ten years.
She is the author of the Greek Island Mystery series, Jenna's Journey, Sophia's Secret and Pandora's Prophecy, each of which can be read as a standalone. She considers Greece to be her spiritual home and visits as often as she can. This series was inspired by her desire to return to Crete although there is a strong pull to revisit the Cyclades too.
www.facebook.com/Julieryanauthor
Twitter @julieryan18
Blogsite www.allthingsbookie.com
www.juliesworldofbooks.blogspot.co.uk
GIVEAWAY
Ecopy of the book (International)
£5 Amazon voucher (UK only)
a Rafflecopter giveaway