Today's team review is from Alison, she blogs here http://alisonwilliamswriting.wordpress.com/
Alison has been reading Castles In The Air by Alison Ripley Cubitt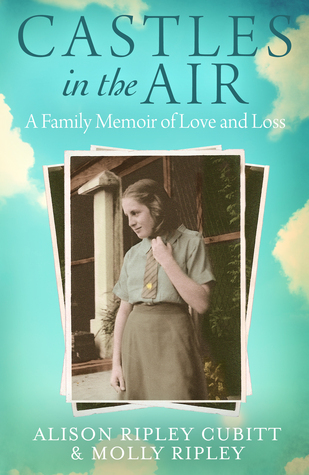 Using letters and journal entries, this book traces the life of the author's mother, Molly, from her childhood in Hong Kong and Malaya, through marriage and motherhood, detailing her career in nursing, living in New Zealand and her struggles in adult life.
I enjoyed the letters -they give an honest and authentic glimpse into Molly's life and the upheaval she faces in the war years. As the book progresses, the narrative is unflinching. The author hides nothing, and even though Molly has demons to struggle with, and even though these must have affected the author in her childhood and beyond, the love and affection she felt for her children  shines through and brings a real warmth to the book.
I found the historical detail fascinating and thought that Molly was so interesting. She must have been a fascinating lady, with so many experiences to share. That said, there was some repetition, and some details that, while I can see how they would be interest for the family, did become a little monotonous.
The book is well-written, and the author is obviously a competent writer. I found myself wishing that she'd taken the letters and journals and made them into a novel. I feel this would be much more interesting for most readers and there's an absolute wealth of material here.
An enjoyable read, but something I felt had the potential to be a great deal more.
3.5 out of 5 stars
A daughter is forced to confront the uncomfortable truth of her mother's seemingly ordinary life. By trying to make sense of the past, will she feel able to move on with her future? Honest yet unsentimental and told with abundant love and compassion, Castles in the Air is a profoundly moving portrait of a woman's life, hopes and dreams, in an era when women couldn't have it all.
Alison was born in Malaysia and like many an expat child, was sent away to boarding school in England at a young age. At the age of eight she moved with her family to New Zealand, where she went to school and university.
Bitten by the travel bug, she moved to Australia, then to the United Kingdom where she landed a job in TV and film production, working for companies including the BBC and Walt Disney. But her passion has always been for writing.
She is an author, memoirist, novelist, and screenwriter and co-writes thrillers with Sean Cubitt, writing as Lambert Nagle. Sean's day job is Professor of Film and Television, Goldsmiths, University of London. He has been published by leading academic publishers.
Serial expats, Lambert Nagle have also lived in Canada and although now based in Hampshire, travel back and forwards to New Zealand whenever they can.
Goodreads | AmazonUK | AmazonUS | Twitter