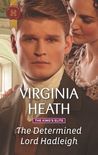 The Determined Lord Hadleigh by Virginia Heath
4 stars
The Determined Lord Hadleigh is book four of the King's Elite series of historical romances.
Although this can be read as a stand-alone, to get the most from the series I would suggest reading them in order.
The story is set in 1820 and opens with a trial at the Old Bailey. Viscount Penhurst was found guilty of being a key part in a large smuggling ring.
Although this was a satisfying result, Lord Hadleigh, the crown prosecutor, was left feeling guilty over the final sentence, because it left Penhurst's wife and son without a home and penniless.
I enjoyed the mix of themes within this story, particularly the backgrounds of both Penny and Hadleigh. Added to this were the strong secondary characters: Jessamine, the Dowager Baroness Penmor and Harriet. Their banter and delightful attitude lifted Penny when she was unsure of herself. The country house setting was also lovely and Penny's role there was very suitable for this genre.
Overall a good addition to this series.
View all my reviews on Goodreads
He's got iron control…
But she might be his undoing!
Part of The King's Elite: Haunted by Penny Penhurst's courage on the witness stand, meticulous barrister Lord Hadleigh offers her a housekeeper position at his estate. Despite trying to stay detached, Hadleigh is charmed by her small child and surprised by how much he yearns for this proud woman! Can he break through his own—and Penny's—barriers to prove he's a man she can trust…and love?