Today's Team Review is from Judith, she blogs at http://judithbarrowblog.com/
Judith has been reading Bittersweet Flight by Anne L Harvey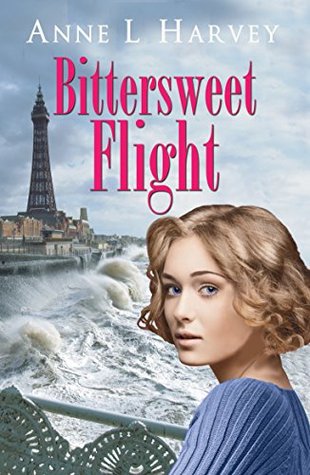 My Review:
Before I begin my review I would like to say I wonder if the Blurb gives away too much of the story?
I enjoyed reading Anne Harvey's Bittersweet Flight; the sequel to her début novel A Suitable Young Man. The story follows Sally Simcox as she leaves her home town of Horwich in Lancashire to move to Blackpool.
Although it can be read as a stand-alone book I would recommend reading A Suitable Young Man first.
Set in a decade I have studied and loved Bittersweet Flight begins in 1956. It is obvious from the descriptions of both the Northern industrial town and the seaside resort that the author has researched both the places and the era. There is a great sense of place throughout the story.
Told from an omniscient narrator's point of view we meet all the characters from the first novel and are introduced to some new ones. All add to the plot which moves smoothly and steadily throughout most of the novel. although there is an unexpected revelation towards the end which adds another layer to the book.
The reader gains more insight to Sally in Bittersweet Flight; I think she is actually portrayed as a more rounded character in this novel as she struggles to regain control of her life. The introduction of Phil Roberts adds a complication but I liked the way the author introduced the character and linked him to the protagonist's back-story.
On the whole the dialogue is good and easy to follow and can be identified with each character. Although occasionally stilted it's not enough to detract from the enjoyment of the book.
There is the minor plot-line threaded throughout the main plot, of Joyce Roberts and her secret boyfriend, Dave. Through this minor storyline we learn more of the life the protagonist has left behind and the correlation with her present situation.
Anne Harvey has a writing style that is very readable. I have no hesitation to recommending Bittersweet Flight to any reader who enjoys a family saga
Links:
Amazon.co.uk: http://amzn.to/26NNohJ
Amazon.com: http://amzn.to/1SItZJ4