Today's team review is from Terry, she blogs at http://terrytylerbookreviews.blogspot.co.uk/
Terry has been reading Bittersweet Flight by Anne Harvey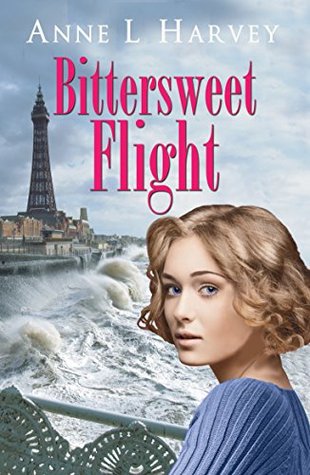 Bittersweet Flight by Anne Harvey
3.5 out of 5 stars
Reviewed by me as a member of Rosie Amber's Review Team
This is the sequel to A Suitable Young Man, and the two thread together well; it could possibly be read as a standalone. It starts in 1956, when Sally Simcox has run away from her home in Horwich, Lancs to Blackpool, because she is pregnant. The father is Nick, with whom she had a one night stand after having liked him for a long time; he offered to marry her out of duty, but Sally knew he loved another, so pretended she'd had a miscarriage to let him off the hook.
Once in Blackpool she meets Phil, who is in the RAF, and he helps her find a job and somewhere to live; there is an immediate attraction between them. Alas, Phil is unaware that Sally has a connection to his family—and he already has a girlfriend, Pam, who is in love with him and hopes they will marry.
It being the late 1950s, Sally has to go into a mother and baby home. I thought this bit was very interesting, mostly because it shows the difference in attitudes between then and now. When I was in my teens, having a baby out of wedlock was still seen as a fairly shameful thing, but this is the generation before, when to be an unmarried mother could ruin a girl's life.
Running alongside the main story is that of Joyce, Phil's young sister, which is connected to Sally's situation.
The book is very readable, certainly enough to keep me turning the pages because I wanted to know what happened, although I found it information heavy in parts; at times the dialogue was a little unrealistic. Near the end there is a revelation of sexual deviance which examined the darker side of working class life in those days, and an explicit sex scene, the latter of which I found incompatible with the otherwise 'clean read' tone of the book; it kind of jumped out and made me go 'woah, what happened there?' Aside from this, though, I would say that the many readers of nostalgia/family dramas will enjoy this book, as it's a basically good story, and well plotted. Sally is real and likeable, and Phil's dilemma very believable (though I thought Pam's character and reactions could have been developed more). There is plenty of day to day detail about life during the 1950s, too, that will appeal to this market.
Find a copy here from Amazon.co.uk or Amazon.com