Today's review is from team member Liz, she blogs at http://lizannelloyd.wordpress.com/
Liz chose to read and review The Secret Diary Of Eleanor Cobham by Tony Riches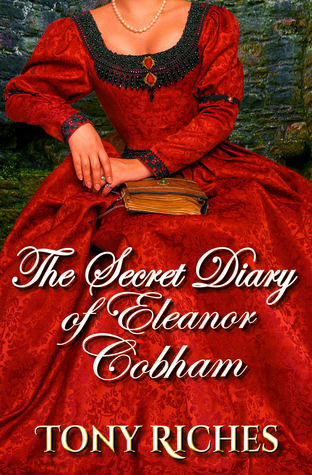 The Secret Diary of Eleanor Cobham by Tony Riches
Eleanor Cobham, Duchess of Gloucester was unknown to me until I began to read this book, but she features in Shakespeare's play, Henry VI, and was a significant historical character.
Written in the first person as a secret coded diary we soon learn that Eleanor is imprisoned in Beaumaris Castle on the island of Anglesey, her fourth prison over nearly 10 years. Although I sympathised with her plight I was interested in how she would explain her circumstances.
After the death of her mother at a young age and estrangement from her father after his remarriage, Eleanor considered herself lucky to become a lady-in-waiting to Jacqueline Countess of Hainault, Holland and Zeeland. Escaping civil wars at home Jacqueline was a guest at court, trying to terminate her marriage to her unpleasant husband, Charles, Duke of Brabant on the grounds that he was her first cousin. Eleanor found the lively, attractive Countess good company, although she had to adjust to her condescending manner.
Eleanor became Jacqueline's close friend so as a reader it is difficult to sympathise with Eleanor when she betrays that friendship. Jacqueline was staying at Baynard's Castle, near St Paul's wharf on the River Thames at the invitation of Humphrey Plantagenet, the Duke of Gloucester. When he joined the two women, both their lives changed for ever.
This story of Eleanor's early life is gradually revealed by Eleanor as she also describes her everyday life as a captive at Beaumaris. Looking back, she has some regrets, but her ambition and love for Humphrey, probably dictated her actions. Her complex character is not whitewashed, we see her "warts and all," and maybe begin to understand her better. Imprisoned for witchcraft and treason against King Henry VI, she is lucky to be alive, even though she has been banished from those she loves.
A necessary part of the plot is description of battle scenes including Agincourt. These would not be my first choice of reading but Tony Riches brings the horror to life in a convincing clear account which enriches our image of the Duke of Gloucester.
As a very readable story of the complex politics of medieval life, this is an excellent read. I particularly enjoyed the way in which the reader enters the mind of a strong, determined and humane woman, gaining understanding of her motives and actions.
Find a copy here from Amazon.co.uk or Amazon.com