Today's team review is from Cathy, she blogs here https://betweenthelinesbookblog.wordpress.com/
Cathy has been reading The Swooping Magpie by Liza Perrat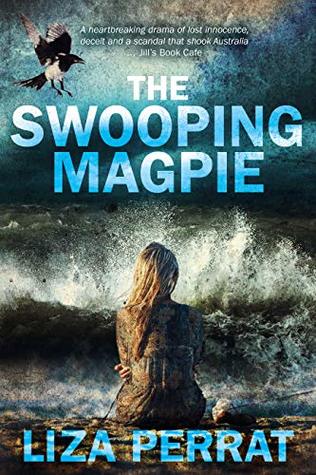 Lindsay Townsend, a pretty and popular sixteen year old, has set her sights on Jon Halliwell, the P.E. teacher at her school, regardless of the fact he is married. Although she is the daughter of wealthy parents, Lindsay's home life leaves much to be desired. Her father is a controlling bully who thinks nothing of physical or verbal abuse and his long suffering wife has been cowed into submission. Despite her seeming popularity, Lindsay is vulnerable, lonely and desperate for affection. When her interest in Jon is reciprocated, it develops into a secretive affair.
Naively, Lindsay dreams of a future with Jon but is brought down to earth when her life changes drastically. She has no control over the events which overtake her and is forced into a hopeless situation no-one should have to endure, especially in the so called liberated world of the 1970s.
The story is narrated in the first person from Lindsay's perspective and Liza Perrat captures the plight of girls in the same circumstances exceptionally well, the detailed research bringing it all to vivid, if sometimes horrific, life. Their shared experience forced the girls, who all had tragic backgrounds, to grow up quickly and they forged lasting friendships.
The Swooping Magpie is a fictional story based on fact. It's hard to imagine the forced incarceration and cruelty young unmarried girls, who found themselves pregnant, suffered. The circumstances of the pregnancy didn't matter, the girls had disgraced their families, sometimes through no fault of their own, and were ostracised. No thought or compassion for the trauma suffered was forthcoming and they were told in no uncertain terms to forget it and get on with their lives. In most cases the pain of loss and regret never left them. It's also incredible, thought not totally unexpected, that the perpetrators of the scandalous conduct meted out to the girls at every level, including the parents, never had to answer for their actions.
A wonderfully written, moving and compelling story with unexpected, sometimes devastating, twists as we follow Lindsay's journey into adulthood. The characters are realistically drawn and although Lindsay is preoccupied with her own feelings initially, regardless of anyone else, she becomes more sympathetic and likeable as the story unfolds to its satisfying conclusion.
As always, Liza Perrat has created evocative imagery of time and place, including social issues, wildlife, music and decor. And, although this is the second book in the 1970s Australian drama series, like The Silent Kookaburra it is a stand alone novel.
The thunderclap of sexual revolution collides with the black cloud of illegitimacy.
Sixteen-year-old Lindsay Townsend is pretty and popular at school. At home, it's a different story. Dad belts her and Mum's either busy or battling a migraine. So when sexy school-teacher Jon Halliwell finds her irresistible, Lindsay believes life is about to change.
She's not wrong.
Lindsay and Jon pursue their affair in secret, because if the school finds out, Jon will lose his job. If Lindsay's dad finds out, there will be hell to pay. But when a dramatic accident turns her life upside down, Lindsay is separated from the man she loves.
Events spiral beyond her control, emotions conflicting with doubt, loneliness and fear, and Lindsay becomes enmeshed in a shocking true-life Australian scandal. The schoolyard beauty will discover the dangerous games of the adult world. Games that destroy lives.
Lindsay is forced into the toughest choice of her young life. The resulting trauma will forever burden her heart.
Reflecting the social changes of 1970s Australia, The Swooping Magpie is a chilling psychological tale of love, loss and grief, and, through collective memory, finding we are not alone.