Today's team review is from Olga, she blogs here https://www.authortranslatorolga.com
Olga has been reading The Swooping Magpie by Liza Perrat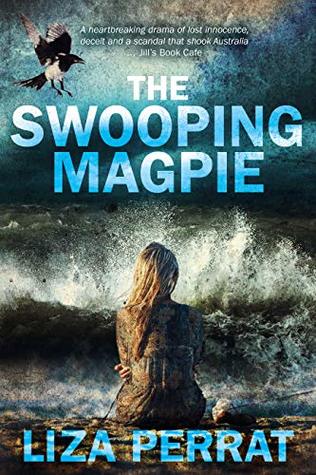 This is the fifth of Liza Perrat's novels I read, so you won't be surprised to hear that I am a fan. I have read her historical novels in The Bone Angel Series, and also The Silent Kookaburra, set, like this novel, in the 1970s. It seems that the author intends to write a new series of independent novels, set in Australia in the 1970s, reflecting the everyday lives and realities of women in the period, and this is the second one. All of the author's novels have female protagonists and closely explore their subjectivities and how they adapt to their social circumstances in the different historical periods. They might be fictional but the pay close attention to details and are the result of careful research.
Here, the main character is Lindsay Townsend, who narrates the story in the first person, in three different time periods, the early 1970s, the early 1990s, and the final fragment, set in 2013. The first part, and the longest shows us, Lindsay, when she is about to become 16. She is (at least on the surface), a very confident girl, clever, pretty, with plenty of money, from a good family, although not all is at it seems. She seems to lead a charmed life, but her home life is rather sad, with a violent father more interested in keeping up appearances than in looking after his wife and daughter, and a mother hooked on pills and spending as much time as possible out of the house on her charity work. Despite all that, Lindsay is not a particularly sympathetic character, and I know that might be a problem for readers who are not that keen on first-person narratives, as placing you in the skin of a character you don't like might make for an uncomfortable reading experience, even if it is for a very good reason. She is a typical teenager, overconfident, and a bit of a bully, showing no sympathy for anybody's circumstances at the beginning of the book. She dismisses her peers, feeling superior to all of them, and, as usual at that age, she believes she knows better than anybody and is invincible. That lands her in a lot of trouble, as she falls for one of the teachers, with consequences that readers might guess but that, at the time, don't cross her mind. At a time when society was far less tolerant of alternative families, and women's liberation had not taken hold, Lindsay is faced with an impossible decision and is suddenly confronted with a reality miles away from her everyday life. Her intelligence (unfortunately not accompanied by common sense) and her stubbornness don't provide her with any answers when confronted with a teenage pregnancy. Faced with hard work, and thrown in the middle of a group of girls from different walks of life and social classes, she discovers what she is really made off and learns a very bitter lesson.
Although Lindsay herself is not likeable, especially at the beginning of the story, when she goes to St. Mary's we learn about the varied experiences of other girls in her same circumstances and it is impossible not to feel touched and care for them. We have girls from the rural outback, abused by relatives, others who are the children of immigrant families who have no means to look after their babies, and with Downey, the little aboriginal girl whose story is, perhaps, the most heart-wrenching because she is a child herself, we get a representation of the scale of the problem (and a pointed reminder of the aboriginal experience in Australia). This was not something that only happened to girls of a certain social class or ethnic origin. It happened to everybody.  Through the different timelines, we get to follow the historic and social changes that took place, how laws affected adopted children and their biological parents, and we also get a picture of the ongoing effect those events had on those women, the children, and their families. We have women who never want to learn what happened to their babies, others who try but cannot get any information, others who get reunited with their children many years later, some who suffer ongoing negative consequences from their experiences, whilst others manage to create new lives for themselves. But the wound of the loss is always present.
The author deals with the tragic topic skilfully. If at times some of the scenes seem to have come out of a horrific version of a fairy tale (there are characters who are like evil witches, and Lindsay and her friends confront tasks that would put Cinderella to shame), and the degree of corruption and conspiracy stretches the imagination, we only need to read the news and listen to personal accounts of women who have been in such situation to realise that, whatever the concessions to fiction, the writer has done her research and has managed to capture the thoughts and feelings of the many women affected by this issue.
The action is set in Australia, mostly in Wollongong, New South Wales, with some events taking place in Sidney and other areas of the country. I have always admired the author's talent for recreating the locations of her stories and for making us experience them with all of our senses, submerging us in the smells, the sounds, the tastes (I don't know some of the foods and labels included, but they do add to the feel of authenticity), the flora and fauna, the clothing, the music, and the language of the time. Although forced adoptions are a widespread problem and it has affected a number of other countries (we might not know its full scale yet), the realistic location (and the family connection and research the author refers to in the author's note at the back of the book) makes it more immediate and real still.
The story is extremely well-written, with enough description, both of the place and of the period, to ground the action without making it drag, but although it manages to combine action and surprises with reflective passages, the strongest point of the novel is its exploration of the psychological effects of losing a child, especially in those circumstances. The author manages to capture the thoughts and feelings of the character and through her conversations; we also get some insight into the experiences of others. In the first part of the book we have a young girl, and we get to share her thought process, her hesitations, doubts, and we feel trapped with her by a situation she is not in control of, and even though we might not have much in common with her, we do empathise and get to see things from her point of view. We do suffer with her and her friends, and although we might not like everything she says or does, we appreciate her kindness and the way she gets to bond with the other girls at St. Mary's. Lindsay lives through much heartache, and grows and changes as a result, but people reading this book need to be aware that there are disturbing scenes and the topic of adoptions and depression might hit close home for many.
This is another great novel and although it can be read simply as fiction, I would recommend it in particular to readers interested in adoptions, particularly forced adoptions, and the perspectives of the families involved. I think it would make for a great book club choice, as the subject is one that will interest many readers, and it will bring much discussion, and the author includes a detailed list of some of the resources she has used to research the topic, providing extra material for those interested. Personally, I felt more empathy for other characters than for Lindsay, but no matter how much or how little we like each individual who went through such experiences, this novel will give readers pause and make them reflect upon the horrors that have been enforced in the recent past in the name of morality and decency. A powerful and poignant novel, to add to the catalogue of an accomplished and talented writer.
The thunderclap of sexual revolution collides with the black cloud of illegitimacy.
Sixteen-year-old Lindsay Townsend is pretty and popular at school. At home, it's a different story. Dad belts her and Mum's either busy or battling a migraine. So when sexy school-teacher Jon Halliwell finds her irresistible, Lindsay believes life is about to change.
She's not wrong.
Lindsay and Jon pursue their affair in secret, because if the school finds out, Jon will lose his job. If Lindsay's dad finds out, there will be hell to pay. But when a dramatic accident turns her life upside down, Lindsay is separated from the man she loves.
Events spiral beyond her control, emotions conflicting with doubt, loneliness and fear, and Lindsay becomes enmeshed in a shocking true-life Australian scandal. The schoolyard beauty will discover the dangerous games of the adult world. Games that destroy lives.
Lindsay is forced into the toughest choice of her young life. The resulting trauma will forever burden her heart.
Reflecting the social changes of 1970s Australia, The Swooping Magpie is a chilling psychological tale of love, loss and grief, and, through collective memory, finding we are not alone.