Today's team review is from Lilyn, she blogs here http://www.scifiandscary.com/
Lilyn has been reading Sleep, Merel, Sleep by Silke Stein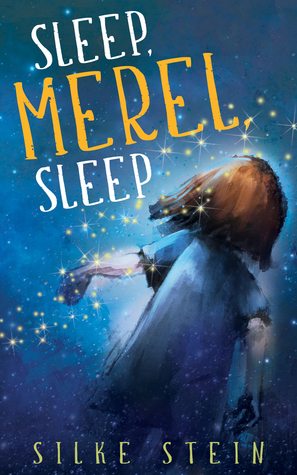 Sleep, Merel, Sleep puts us in the shoes of a young girl whose life has been disrupted by the bringing home of a very sick sibling. At first, because you as the reader don't know much about Merel's life, it's really easy to dislike the young girl. However, pretty swiftly (it's a short read) you start to feel some sympathy for her and root for her on her journey to regain her Sleep.
At 108 pages, this is a short book that would make for excellent bedtime reading with your child over a few nights. If they are a self-sufficient reader, I could see it being a good book for them to read independently as they're unwinding for bed as well. Get the idea of sleep percolating through their overly-active minds. I didn't get a chance to read much of it with my child, but she was curious and engaged with what she did hear.
I will say that if you have or had an infant in the house with severe respiratory issues, you might want to consider this one carefully. Nothing happens to the baby, but the illness and the sense of helplessness does pervade the book. That can cause some difficult thoughts/memories.
There's some imagery in here that was actually kind of disturbing once I stopped to think about it. However, nothing inappropriate or scary for younger readers! Just… weird. It's a fantastical tale that is well-imagined, and contains references to familiar fairy tales. Sleep, Merel, Sleep is similar in appealing weirdness to tales like The BFG. 
My only problem with the book was that the climax feels very anticlimactic. In fact I had to go back and re-read the section because I thought for sure that I had missed something. On the second read through, I got what had happened, but I still felt like it was missing something.
Overall, Sleep, Merel, Sleep is a nicely-written, well-imagined tale.
Who wants to be awake forever?
Life has changed for eight-year-old Merel. Since the birth of her sick baby brother, her parents seem to have forgotten she exists. But when she finds a tiny silver violin in her bedroom rug, things take a turn for the worse.
Merel learns that her sleep has abandoned her and that she must embark on a perilous journey to recover it or stay awake forever. Together with her devoted toy sheep Roger, tired Merel sets out in search of Lullaby Grove. Before long, she finds herself haunted by a scary stranger.
Follow Merel into a surreal world. Meet a sleepy king with an obsession for feathers and a transparent old man on a night train going nowhere. Discover why the moonfish cry, why you should never walk across the Great Yawns ― and if poor Merel can escape her pursuer, win back her sleep, and realize what matters most in her life.
Silke Stein is a graphic designer and the author of 'Trina Bell's Humming Summer' and 'Sleep, Merel, Sleep'. Silke currently lives at the west coast of Canada, where she combs the shores of the Pacific Ocean and tends to her ever-growing sea glass collection. When she is not at the beach, or writing, or helping her husband playtest his latest board game invention, she designs book covers for fellow authors.