Today's team review is from Jessie, she blogs here http://behindthewillows.com
Jessie has been reading In A Jam by Cindy Dorminy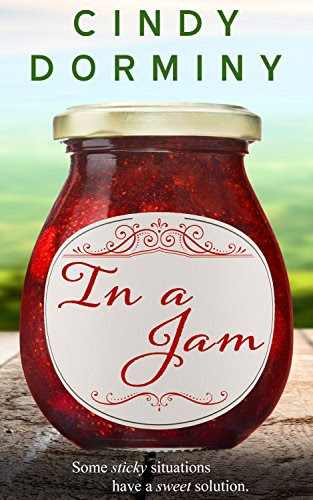 Some might consider waking up in the drunk tank rock bottom. I call it Thursday," isn't your typical start to a lighthearted romance but it did start me out with a smile. Things progressed from there all the way through your typical romantic comedy story line. City girl moves to small southern town (hilarity and smiles ensue), enter   brokenhearted man stage left (sweet smiles ensue)… By the time we got to the happily ever after, that small southern town had been fleshed out with so many fantastic characters I was smitten with the whole town.
Happy smiles all around.
Would I recommend it?  My favorite kind of romance. Funny, fairly predictable and not too risque, sort of like your family's favorite jam recipe (actually it's nothing like my family's favorite jam… who has funny jam?)… but this book, and the jam in it have a little something extra that makes it just that much better.  But, most importantly, it made me smile, a lot, and I can't think of a better reason to pick up a book like this than that.
I received a copy of this book in exchange for an honest review. I discovered this book because I'm a proud member of Rosie's Book Review Team!
Andie Carson has to do three things to inherit her grandmother's lottery winnings—sober up, spend a month running her grandmother's Georgia coffee shop, and enter homemade jam in the county fair. If she can't meet those terms, the money goes to the church, and Andie gets nothing. She figures her tasks will be easy enough, and once she completes them, Andie plans to sell the shop, take the money, and run back to Boston.
After a rough breakup from his crazy ex-fiancée, Officer Gunnar Wills decides to take a hiatus from women. All he wants is to help make his small town thrive the way it did when he was a kid. But when wild and beautiful Andie shows up, Gunnar's hesitant heart begins to flutter.
Gunnar knows that Andie plans to leave, but he's hoping to change her mind, fearful that if her coffee shop closes, Main Street will fold to the big-box corporations and forever change the landscape of his quaint community. But convincing her to stay means getting close enough to risk his heart in the process. Even though Gunnar makes small-town life seem a little sweeter, Andie has to decide if she's ready to turn her world upside down and give up big-city life. One thing's for sure—it's a very sticky situation.