Today's team review is from Georgia, she blogs here http://www.georgiarosebooks.com
Georgia has been reading Hiding by Jenny M Potts
I chose to read this book from those submitted to Rosie Amber's Book Review Team and as a member I received a free copy. This does not affect my review in any way.
Oh my goodness, how I loved this read. Hiding is a terrific title as there are so many ways in which the different characters are hiding in this story but essentially this is a tale of troubled upbringings, of cold, calculated killers and of murder and vengeance.
Rebecca was brought up, along with her brother and sister, in a remote, rambling and rundown mansion in Scotland by her grandparents after her parents were killed in a car accident. Keller was brought up, without an ounce of kindness, by his Aunt Joya in America and certainly had the most miserable time of it. These two are linked but you have to read an awful lot of words before you find out how. Fortunately, they are very good words so that is no hardship.
We follow the lives of these two individuals, assisted by the use of flashbacks which worked very well, as they grow up and carve out adult lives for themselves. The pace of the book is fairly steady and doesn't speed up until the final third, in fact I was surprised how far I was through the book before our two main characters even met. But that didn't matter because I was drawn through this intriguing story by each development, by the compelling multi-layered characters, by the reveals of crucial information at just the right time and most of all by the excellent writing.
This is the sort of book you read and realise that you will never write as well as this.
'That was the problem, you could tell just by looking at Keller, who he was. He knew his head sunk between his shoulders like a dejected turtle. He knew his eyes were shifty, that he scuffed along on the soles of his feet. You could see that he struggled with hope as soon as he got outside of his own bedroom walls. When the wider world and its expectations shone a light on Keller, his heart hammered and his throat dried up. It wouldn't take an expert profiler to figure out Keller Baye's circumstances. They were chiselled into his bones.'
I say I loved this read and yet I'm giving it four stars (4 ½ if I had the choice!), not five. That may seem harsh and I'm really torn on this but for me it all came undone on the ending. It happened far too quickly, and, more importantly, without enough reasoning behind it. Because after everything these characters had been through, the build-up and the inevitable fallout, with each detail being worked out so meticulously and all those little clues the author so cleverly scattered falling into place I needed the ending to be as rich as the rest of it. Having said that, it might just be me so I'm still highly recommending this read.
A gripping psychological thriller with chilling twists, from a unique new voice.
Keller Baye and Rebecca Brown live on different sides of the Atlantic. Until she falls in love with him, Rebecca knows nothing of Keller. But he's known about her for a very long time, and now he wants to destroy her.
This is the story of two families. One living under the threat of execution in North Carolina. The other caught up in a dark mystery in the Scottish Highlands. The families' paths are destined to cross. But why? And can anything save them when that happens?
Jenny Morton Potts was born in a smart, dull suburb of Glasgow where the only regular excitement was burglary. Attended a smart, dull school where the only regular excitement was the strap. Worked in smart, dull sales and marketing jobs until realising she was living someone else's life.
Escaped to Gascony to make gîtes. Knee deep in cement and pregnant, Jenny was happy. Then autism and a distracted spine surgeon who wanted to talk about The Da Vinci Code, wiped out the order. Returned to wonderful England – and unlikely ever to leave again – Jenny, with assistance from loyal hound, walked and swam her way back to manageable health.
Jenny would like to see the Northern Lights but worries that's the best bit and should be saved till last. Very happily, and gratefully, partnered for 28 years, she ought to mention, and living with inspirational child in Derbyshire.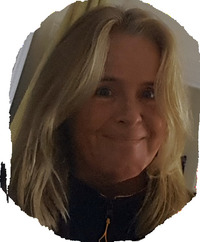 Goodreads | AmazonUK | AmazonUS | Twitter