Today's team review is from Judith B, she blogs here http://judithbarrowblog.com/
Judith has been reading Hiding by Jenny M Potts
My Review:
I enjoyed this book; Jenny Morton Potts has created a good psychological thriller; great plot, believable characters, good dialogue.
Hiding follows two main characters from different countries, both well-rounded and many layered: Rebecca, the protagonist, brought up in the Scottish Highlands with her siblings by her grandparents. It's a bleak seemingly loveless household according to the narrative from Rebecca's point of view. But there are many unanswered questions, especially about the death of here parents; killed in a car accident. And Keller Baye, the antagonist; an American youth, and son of a murderer. His narrative is revealed slowly and is, initially, more difficult to grasp. But what is obvious is the lack of love in his upbringing, and explains his total absence of empathy for anyone in his world. (I use the word 'world' on purpose, rather than his 'life'; right from the start his character is portrayed as distanced from any other character in the story – he seemed to me to be more of a spectator). The most unsettling is his graphic, almost internal narration of his presence at his father's execution.
Told alternately from each of the two main characters' point of view, the plot lines are related both in the present and in flashbacks, (a device I like as a reader; to me this always adds so many more layers).
But it wasn't only these two characters that came alive for me; most of the minor characters are many layered as well; some I liked, some I didn't – which, is, undoubtedly, as the author intended
And both the internal and spoken dialogue expands on all the characters and there is never any doubt who is speaking.
The descriptions of the settings give a great sense of place; it's easy to envisage each scene. From the descriptions of the isolated chilly mansion in Highlands of Scotland to the cramped unloving house that was Keller Baye's home with his aunt in the USA, to the external scenes when each character is telling their own narrative and on to the scenes where they are eventually together.
As I said earlier it's a great plot; seemingly separate tales with no connection, both well told, until a sudden realisation that there is an inevitable link.
Initially there is an even pace to the two separate narratives but then the suspense builds up as threads of the parallel stories intertwine and connect.A gripping read.
And right up to the last chapter I would have given Hiding five stars. So many small twists and turns, so many suspenseful moments joining up all the past narrative. But then, for me, it ended too abruptly. I won't say how, and no doubt other readers will have their own opinions. But the gradual deepening of the plot and the lead up towards the end worked so well – and then…it was over; a sudden and unsatisfying denouement.
A last point; I love the cover; the silhouette of the woman looking outwards as though searching, the grim image of the man's face as though watching; the contrast of light and dark. Wonderful!
Despite my reservations of the ending (and I leave that point for other readers to decide), I would certainly recommend Hiding. Jenny Morton Potts has a great style of writing.
A gripping psychological thriller with chilling twists, from a unique new voice.
Keller Baye and Rebecca Brown live on different sides of the Atlantic. Until she falls in love with him, Rebecca knows nothing of Keller. But he's known about her for a very long time, and now he wants to destroy her.
This is the story of two families. One living under the threat of execution in North Carolina. The other caught up in a dark mystery in the Scottish Highlands. The families' paths are destined to cross. But why? And can anything save them when that happens?
Jenny Morton Potts was born in a smart, dull suburb of Glasgow where the only regular excitement was burglary. Attended a smart, dull school where the only regular excitement was the strap. Worked in smart, dull sales and marketing jobs until realising she was living someone else's life.
Escaped to Gascony to make gîtes. Knee deep in cement and pregnant, Jenny was happy. Then autism and a distracted spine surgeon who wanted to talk about The Da Vinci Code, wiped out the order. Returned to wonderful England – and unlikely ever to leave again – Jenny, with assistance from loyal hound, walked and swam her way back to manageable health.
Jenny would like to see the Northern Lights but worries that's the best bit and should be saved till last. Very happily, and gratefully, partnered for 28 years, she ought to mention, and living with inspirational child in Derbyshire.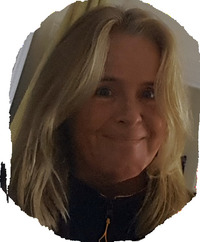 Goodreads | AmazonUK | AmazonUS | Twitter