Today's team review is from Sandra.
Sandra has been reading Hiding by Jenny Morton Potts
Hiding by Jenny Morton Potts is a well-written and tightly plotted thriller that keeps you guessing right to the very end. Keller Baye's father is being executed on death row for his involvement in a crime we know nothing about. Rebecca Brown is living on the remote northwest coast of Scotland with her brother, sister and grandparents, overshadowed by the death of her parents in a mysterious accident. Keller and Rebecca are introduced to us in alternate chapters and to begin with their stories have no obvious connection but gradually converge as we learn more of their backstories. The characters are believable if not entirely sympathetic (except perhaps Rebecca's grandfather); Rebecca is weird and Keller is completely loathsome (in no small part due to their strange childhoods), but you still want to know how it will all work out. Why did Keller target Rebecca (and not one of her siblings) as the cause of his father's incarceration and death?  This is left to the reader to decide for themselves. The pace is slow to begin with to build up the suspense then rushes towards an ending with even more surprises in store. The cover art is striking and would stand out on a bookshop shelf. This is the first book by Jenny Morton Potts that I have read but it certainly won't be the last. Thanks to the author for a free copy of this book which I review as part of Rosie's Book Review Team.
A gripping psychological thriller with chilling twists, from a unique new voice.
Keller Baye and Rebecca Brown live on different sides of the Atlantic. Until she falls in love with him, Rebecca knows nothing of Keller. But he's known about her for a very long time, and now he wants to destroy her.
This is the story of two families. One living under the threat of execution in North Carolina. The other caught up in a dark mystery in the Scottish Highlands. The families' paths are destined to cross. But why? And can anything save them when that happens?
Jenny Morton Potts was born in a smart, dull suburb of Glasgow where the only regular excitement was burglary. Attended a smart, dull school where the only regular excitement was the strap. Worked in smart, dull sales and marketing jobs until realising she was living someone else's life.
Escaped to Gascony to make gîtes. Knee deep in cement and pregnant, Jenny was happy. Then autism and a distracted spine surgeon who wanted to talk about The Da Vinci Code, wiped out the order. Returned to wonderful England – and unlikely ever to leave again – Jenny, with assistance from loyal hound, walked and swam her way back to manageable health.
Jenny would like to see the Northern Lights but worries that's the best bit and should be saved till last. Very happily, and gratefully, partnered for 28 years, she ought to mention, and living with inspirational child in Derbyshire.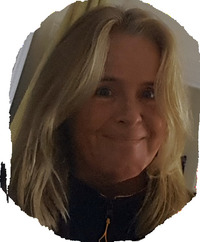 Goodreads | AmazonUK | AmazonUS | Twitter