Today's team review is from Barb, she blogs here http://barbtaub.com/
Barb has been reading A Clerical Error by J New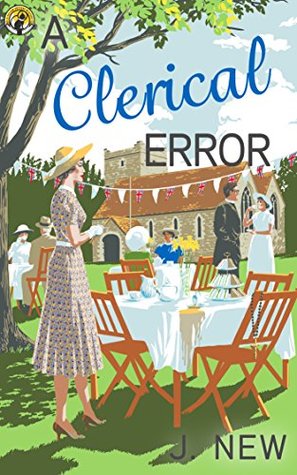 Protagonist Isobella (Ella) Bridges is a young widow whose husband died in somewhat mysterious circumstances. Two years after his death, she returns to the little village where her family spent happy holidays and purchases the Yellow Cottage after visiting with its owner—who, Ella later discovers, had already been dead for seven months when they spoke. Her cottage predecessor leaves the young widow several mysteries to solve, including a ghost cat. Ella is a perfect example of her class—posh, casually prejudiced, and so supremely assured of her place in the world that she is perfectly willing to ignore fashion and custom when it suits her while unconsciously adhering to their dictates in almost every aspect of her life.
Wikipedia defines a cozy mystery as "…a subgenre of crime fiction in which sex and violence are downplayed or treated humorously, and the crime and detection take place in a small, socially intimate community." True to the definition, sex, profanity, and violence are "behind the door" and only gently referenced. Sleuth Ella is an amateur who gathers a posse of essential helpers—in this case the Police Commissioner, his chief medical examiner, and her own well-connected family.Having grown up in and around old houses, Ella accepts the ghosts with the same aplomb as she greets her quirky new neighbors. In the first book of the series, most of the action centers around London, so we also meet Ella's brother Jerry and his wife Ginny, as well as Ginny's "Uncle" Albert, Scotland Yard's Police Commissioner. In the second book, we get to know more of her neighbors in the quintessentially English village setting.
One of the challenges with any ongoing series is to move the backstory forward by adding little unresolved threads, while still solving each book's central mystery arc. For example, in A Clerical Error, the role of Mrs. Shaw, Ella's somewhat mysterious housekeeper, is finally explained. But…
[spoiler-ish alert! If you haven't read the first two books, you may want to skip the next paragraph…] At the end of Book 2, Ella is stunned to receive a call from John, the husband she believed was dead. In A Clerical Error, she is still, naturally, more than a bit upset about this. Without revealing too much, I have to admit I found this development and its resolution unsatisfying. While it did set up Ella's distrust with authorities, also hinting at the global forces already moving to end the interlude between two World Wars, it was just so… off-screen, leaving me with a strong sense of "what was that about?" It wasn't until Ella was deeply involved with the new ghosts she meets in A Clerical Error that I was able to step back and realize (or at least hope!) that John's phone call is the setup to another ghost's appearance.
Ella's confusion and absorption with the shocking news about her "dead" husband makes it difficult for her to focus fully on the mysterious death of the local vicar. In her role as a consultant to Scotland Yard, she finds herself investigating the suspicious circumstances, forced to consider which of her new friends and neighbors might be the murderer in their midst.
The element that brings this series to a different level (at least for me) is that Ella sees ghosts, and even talks to them. Her cat, Phantom, is usually a ghost. Except (he's a cat after all) when he's not. Mixing the paranormal elements with the main mystery, and adding dessert toppings of secondary mysteries, puzzles, and mysteriously puzzling ghosts, keeps the story lively and makes the reader look forward to learning more about the characters (both living and dead). Still, even with the assistance of the occasional ghost, author J. New plays fair with her readers most of the time. If she delays in explaining a critical clue, I could usually forgive her if—as with the earlier books of the series—it sets up that most essential of cozy mystery tropes, the detective addressing the gathered suspects. Unfortunately, in this case the resolution and final confrontation with the murderer happens off-stage, reported third-hand and unwitnessed by Ella (or the reader).
With the minor exception of the third-person resolution, I still found that its setting and characters make A Clerical Error—as I said in my reviews of the earlier books—an enchanting example of a cozy mystery, a paranormal detective story, and a completely entertaining series in a historical setting. I am delighted to recommend A Clerical Error, and look forward to more adventures with Ella and her family.
When the crime scene is pure coincidence and there's no evidence, how do you prove it was murder?
Ella Bridges faces her most challenging investigation so far when the vicar dies suddenly at the May Day Fete. But with evidence scarce and her personal life unravelling in ways she could never have imagined, she misses vital clues in the investigation.
Working alongside Sergeant Baxter of Scotland Yard, will Ella manage to unearth the clues needed to catch the killer before another life is lost? Or will personal shock cloud her mind and result in another tragedy?
'A Clerical Error' is set in 1930's England, and is the third of The Yellow Cottage Vintage Mystery series.
'Miss Marple meets The Ghost Whisperer' – Perfect For Fans of Golden Age Murder Mysteries, Cozy Mysteries, Clean Reads and British Amateur Sleuths
J. New is the British author of The Yellow Cottage Vintage Mystery series. Set on the fictitious island of Linhay in the south of England during the 1930's, they are an homage to the Golden Age mysteries but with a contemporary twist.
Goodreads | AmazonUK | AmazonUS | Twitter