Today's team review is from Jenny R,
Jenny has been reading A Clerical Error by J. New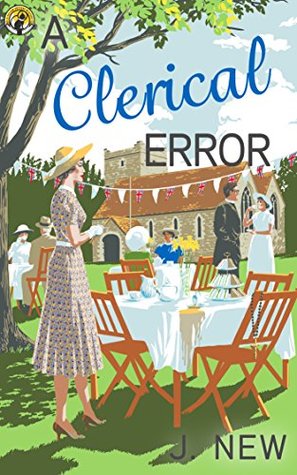 5 Stars
I enjoyed this book so very much. The story unfolds at a nice pace and is very easy to keep up with. There is nothing confusing or complex in the way that the author has built up and unraveled the plot. The story is well written, so much so that I could feel myself visualizing the scenes, the people and the unfolding of the plot.
The description and feel of the little village is warm and welcoming, the characters are well placed, and I especially love the way that Jocaster manipulates Ella into helping out at the village fete. I myself have come across this in my village. I think that village life is actually like that, so to use this in the story is a lovely touch.
Ella Bridges, what a fine sleuth she is along with her aunt and sidekick 'Phantom' This is a cosy read, you can snuggle up on a winters evening with this book and you will not want to put it down.
The substance in this book is simply perfect.
When the crime scene is pure coincidence and there's no evidence, how do you prove it was murder?
Ella Bridges faces her most challenging investigation so far when the vicar dies suddenly at the May Day Fete. But with evidence scarce and her personal life unravelling in ways she could never have imagined, she misses vital clues in the investigation.
Working alongside Sergeant Baxter of Scotland Yard, will Ella manage to unearth the clues needed to catch the killer before another life is lost? Or will personal shock cloud her mind and result in another tragedy?
'A Clerical Error' is set in 1930's England, and is the third of The Yellow Cottage Vintage Mystery series.
'Miss Marple meets The Ghost Whisperer' – Perfect For Fans of Golden Age Murder Mysteries, Cozy Mysteries, Clean Reads and British Amateur Sleuths
J. New is the British author of The Yellow Cottage Vintage Mystery series. Set on the fictitious island of Linhay in the south of England during the 1930's, they are an homage to the Golden Age mysteries but with a contemporary twist.
Goodreads | AmazonUK | AmazonUS | Twitter